Cycling classic Tour de France climbs
Every Tour de France supporter will know the mountains of the Maurienne. Many a champion has been made on these slopes. The mighty Galibier, the demure Madeleine, the iron-hard Croix de Fer: they all stare dispassionately down upon any cyclist daring to challenge the mountains' slopes. Rarely will they pity any efforts to gain the summit. But, once there, the effort, the tireless struggle and the pain are worth it. Views to snow-capped mountains stretch as far as the eye can see. Far below, mere mortals are going about their everyday business while cyclists touch the sky and share the rewards of a labour tough enough to have challenged the mighty Heracles. It isn't difficult to understand why folklore believes the high peaks to be the domain of the gods.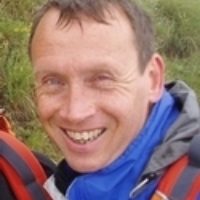 Andy Hodges
Andy Hodges was born in Wigan in 1967. He has been enjoying adventures in the outdoors since joining Cub Scouts in 1976. Learning to read a map and being allowed to tackle adventures were instrumental in nurturing a life-long love for mountains. His student days allowed extended visits to the Provence region of France where he became a modern sports climber, while a summer holiday job saw him leading walking groups in the UK hills and mountains. He has been a volunteer member of Mountain Rescue for 23 years and is part of the Hasty Team, a fell running element of the rescue team.
View Articles and Books by Andy Hodges