Bulgaria – A relatively unexplored corner of Europe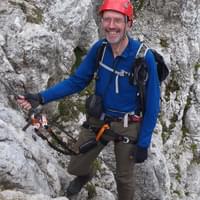 What's on the checklist for your next trip? Unspoiled mountains; good paths and guidebook; day walks and multi-day treks? Bulgaria offers all this and more.
Bulgaria – A relatively unexplored corner of Europe
What's on the checklist for your next trip? Unspoiled mountains in a National Park – tick; favourable climate – tick; fantastic biodiversity – tick; waymarked path network – tick; mountain huts – tick; served by low-cost airlines – tick; day walks and multi-day treks – tick; scrambly ridges – tick; good walking guidebook coverage – tick; dinner, bed and breakfast in a hut for less than £20 – oh yeah! Well Bulgaria offers all this and a lot more…
The town of Bansko nestling below the Pirin is well known to Brit skiers for a low cost winter holiday, but little information in English about the hiking prospects is available other than in Julian Perry's Cicerone guide. Like the guide, an article in the Alpine Journal is worth reading and is very complementary about the area and its prospects for hiking and scrambling.
We went on a recce trip to the Pirin Mountains in SW Bulgaria in February to combine some snowshoeing with sightseeing, prior to returning for a two week trip in June with friends from a mountaineering club for some high level hut-to-hut touring.
Returning from Ribno Ezero
From a base in an apartment in Bansko, we initially did two snowshoe hikes in the Rila Mountains to the north: the first from the Treshtenik Hut up through the silent pine forest to the frozen Ribno Ezero (Fish Lake) and the second up through misty virgin slopes to the summits of Chermerha (2511m) and Srednia Vrah (2531m). The weather could have been better, but at least there was plenty of snow!
Bulgarian food is good, plentiful and cheap. The beer slips down a treat after a day on the hills and the local wine is surprisingly good. Bansko had plenty of choice for places to eat and there were good supermarkets too.
Rila Monastery courtyard
We visited the Rila Monastery which is the best known in Bulgaria and was founded in 1335. Its imposing fortress-like exterior belies the spacious courtyard and its graceful arches inside. The murals on the outside walls of the church are splendid and include detailed scenes of bat-winged beaked demons tormenting unhappy sinners in full technicolour!
Demonic murals on the exterior of Rila Monastery's Church
Bulgaria's second city Plovdiv will be the European City of Culture in 2017 and thus merits a visit. We drove on a circuitous route through the Rhodope Mountains and stayed overnight. There was plenty to see including the old town and its mansions, the Roman remains and Ottoman mosques.
We did two more snowshoe trips both in the Pirin. We drove up to the Popovo Livadi Hut at the eastern end of the range and followed the winter route to the summit of Mt Orelak (2099m). The market poles were very useful in the cloud which fortunately lifted at the top to offer excellent views across the Central Balkan ridge and to the Greek mountains.
View from Mt Orelak
On our last day, the weather improved and the Bezbog chairlift was used for the final snowshoe route in bright blue skies. Giving the avalanche-prone eastern slopes a wide berth, the summit of Bezbog (2649m) was soon underfoot, with fantastic views to nearby Polezhan (850m) and a host of other snow-clad peaks, which provided more inspiration to come back again.
Polezhan from Bezbog summit
The Cicerone guide was very useful to help plan the return visit to Bulgaria in late spring with my mountaineering club as it has detailed itineraries for 4 walks in the Pirin over a total of 8 days, which we did. In particular, we did not want to miss the spectacular scramble along the Koncheto ridge described under Walk 12!
We had timed our two-week return in late June so that the mountain huts would have opened but would not be very busy, and the high ridges would be sufficiently clear of snow to be safe. We used Leeds-based Pirin Adventures to facilitate our trip on a self-guided basis – Lizzie and Lukasz can be warmly recommended and have great local knowledge.
Tevno Ezero Hut
Over our two weeks, we criss-crossed the Pirin from a base in Bansko mainly using the hut network for multi-day trips revelling being in these great mountains. The granite peaks still held snow in places and some of the many glacial lakes were still partially frozen. Melting snowfields allowed new purple crocuses to appear every day – it was really special to see them.
Some of the highlights were staying at the remote red-roofed hut nestling beside Tevno Ezero (the Dark Lake) reached after an amazing days trekking from the Bezbog chair lift via Dzhangalska Porta and an impromptu scramble over Valyavishki Chukar (2664m) from Mozgovishka Porta. In the second week, we were blessed with good weather for our two-day traverse from Predel to the Yavarov hut. We had the marble Koncheto ridge to ourselves as we traversed over Kutelo (2908m) with the mist coming and going like a veil. We finally reached the metal tower on the top of Vihren, the Pirin's highest summit at 2914m, before descending for a celebratory beer at the Vihren Hut.
The sensational Koncheto Ridge
In summary, Bulgaria is a very interesting destination and represents amazing value, being substantially cheaper than Western Europe. The Pirin Mountains are outstanding and competent navigators will be able to self-guide across the range without difficulty on day or multi-day walks.
Mozgovishka Chukar towers above the Chairska Ezera lakes
Have a go at the Koncheto ridge, it's a big day but very satisfying if you can handle the exposure. Having walked into a hut such as the Tevno Ezero refuge you could also spend a few days exploring the surrounding easy peaks and ridges such as Kamenitsa. The SummitPost website has more information on the Pirin's mountains and some great images to whet your appetite. One thing's for sure, you will have an unforgettable holiday and some great memories.
Cicerone reader Mick Borroff enjoyed Bulgaria so much he wrote a blog for us - thank you to Mick and we hope you enjoy his recollections of a fabulous trip. If you'd like to write a guest blog post for us please contact hannah@cicerone.co.uk.
To read more articles like this get our newsletter
Sign up today for a 20% discount on your next purchase. Join over 30,000 enthusiasts from around the world. If you don't love our mix of new books, articles, offers and competitions, you can unsubscribe at any time. We will never spam you, sell your data or send emails from third parties.