Camino Invierno: Walking the Camino Francés in winter
There may be many things that make walking the Camino Francés in winter a very different experience to more popular times of the year, but the fundamentals remain the same, found Cicerone's Madeline Williams
It is still dark, and desperately cold as I set out in the morning. Under the light of my headtorch, I see my breath freeze into mist, while the thick frost under my feet glitters like diamonds under the beam. It will be another half hour at least until the sun rises.
The track starts to twist and climb up from the valley that sheltered the tiny village of Hornillos del Camino. The valley had appeared abruptly yesterday; like a deep ice-cream scoop taken out of the plateau of the meseta; with no sign it was there until the path dropped into it.
There's now a steady glow, like a building fire, gathering in the east, washing the land in tones of grey and bruising the sky violet. There's enough light to see some of the other pilgrims; accelerating ahead are the two fast walkers, trekking poles driving them up the hill, and behind a couple of other dots in the distance.

A pilgrim at dawn
Dawn at Torres del Rio
There was quite a crowd of five us in the albergue last night, and we're already scattered across the trail, unlikely to see much of each other until we reach tonight's stop over 30km away.
The lip of the valley is close, and as I reach the plateau again, the sun crests the horizon and lights up the expanse of meseta in red, my shadow thrown 100 metres across a field sprouting shoots of winter grain.
Those first few hours of the day when the world awakes were some of my favourite times on the camino. Around 30 days of walking, and nearly every day featured a breathtaking sunrise.
I would wake up, snug in my sleeping bag in an albergue, and be driven by the excitement of starting another day's adventure. 'Let's go!' I would think, the usual demands of daily life distilled down to the essentials; where was I going today? Where would I sleep? Where was I going to eat?
There may be many things that make walking the Camino Francés in winter a very different experience to more popular times of the year, but the fundamentals remain the same. This is a long walk, filled with changing landscapes, depth of history, and a cultural stamp of pilgrimage that has defined the route for centuries.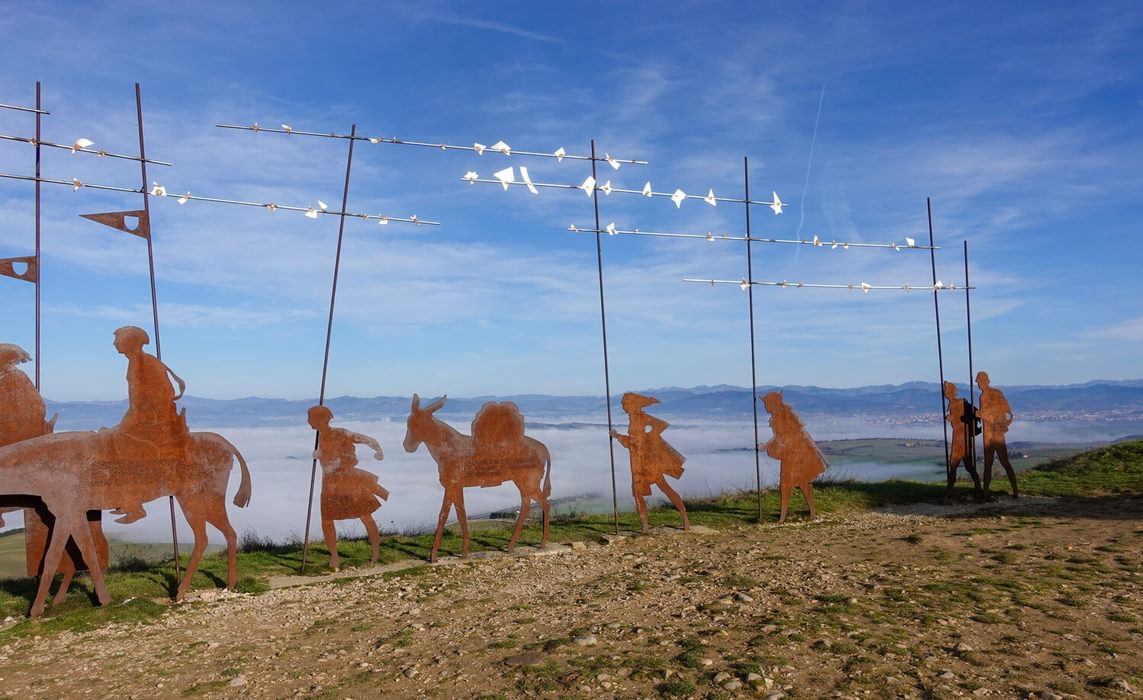 There is friendship and shared experience with other pilgrims, there are blisters, the quiet afternoon hours of siesta, the curiosity of entering a new albergue, the enormous trust placed in waymarks, the regularity of a tapas menu. But what makes the winter walk different?
Patchwork fields beyond Estella
Looking back to Castrojeriz
Pilgrims
There will be pilgrims; but there won't be many of them. This is the greatest and most fundamental change to the experience in spring, summer and autumn.
As the most popular camino, the Francés is often bursting at the seams with pilgrims. But the floods of the summer are barely a drip in January. A 7-hour day of walking could pass with barely seeing another soul, lending the route a deeply contemplative experience.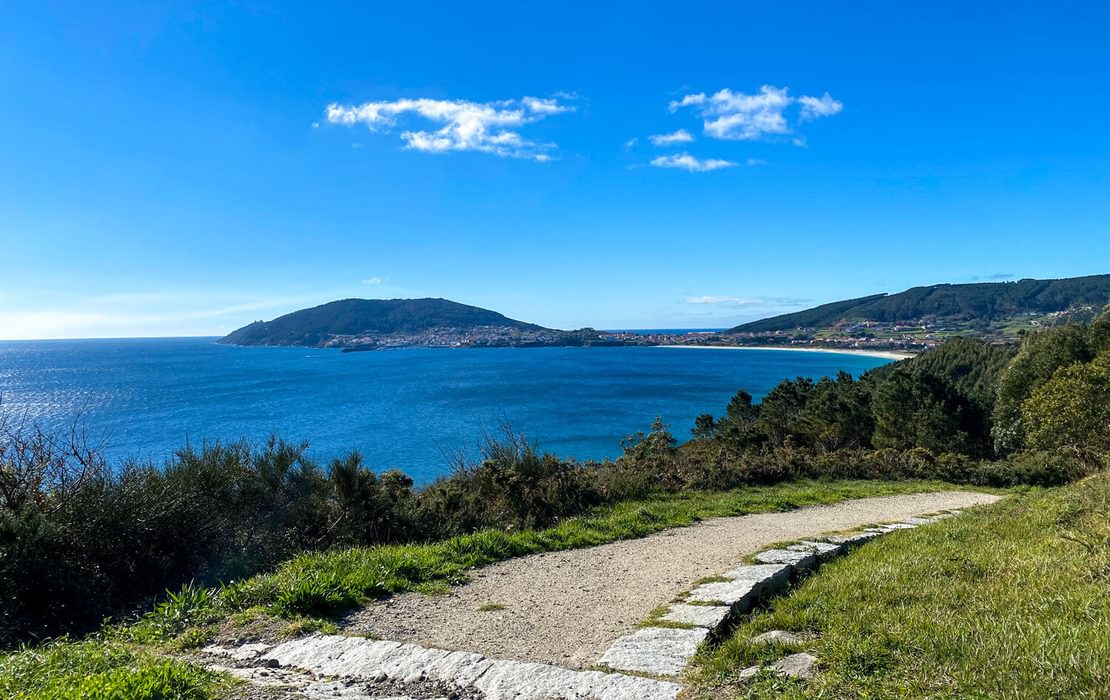 There were even a few days when I was the only pilgrim in the albergue (which, at 8 to 12 euros, surely makes those nights the most cost effective private en-suite room in Spain!).
But most of the time, there was good company and the camaraderie of being a very select group on the journey. As with myself, most of the other pilgrims I met were solo travellers.
With so few walkers, we would end up forming a network and keep in touch even when some dropped behind or went ahead, which gave us all a sense of security that there were others watching out for us.
Having so few pilgrims also meant that you noticed when some went home. For a few it was because they only planned a week's worth of walking. For most of the others, it was injury or the shock of what walking everyday demanded of them that drove them off the trail.
Until Burgos (roughly the first two weeks), I counted the drop-out rate at over 50%. I have no idea whether the summer sees similar numbers going home, but that sort of statistic is staggering, and really emphasises that this isn't a route to take lightly.
Aside from some longer weekend walks, and carrying a full pack on daily dog walks, I hadn't 'trained' for my camino. But combining that walking experience with careful planning of the first few days (to avoid going too hard too early) meant that I happily avoided some of the struggles other pilgrims experienced.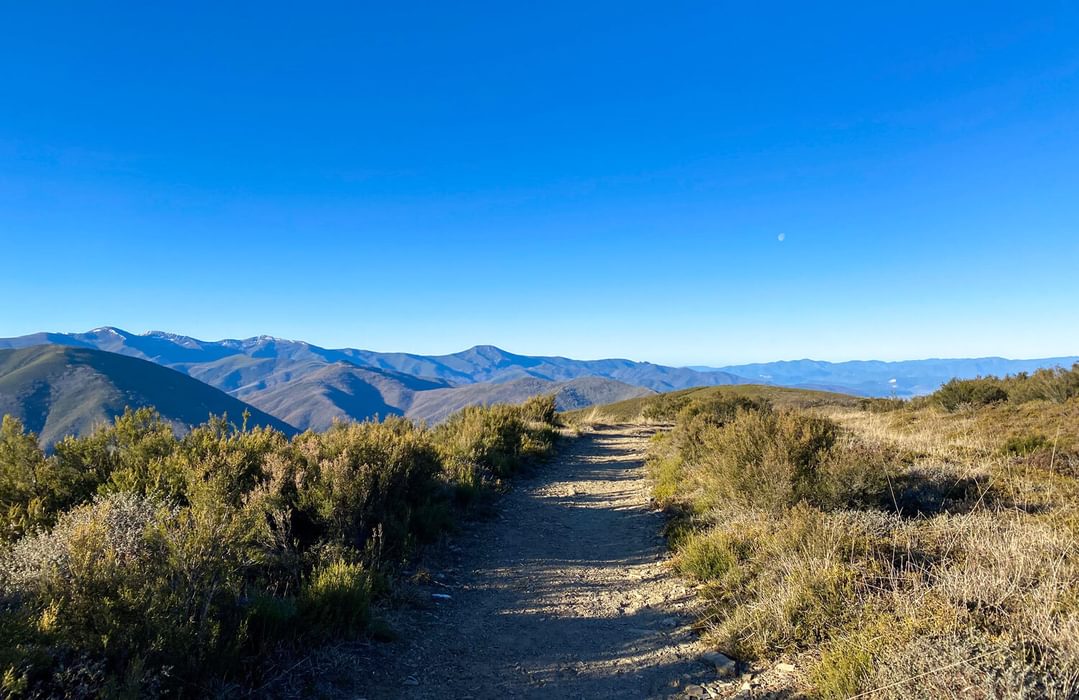 Weather
When thinking about what kit to take on the camino, the question of weather was foremost in my mind. Average rainfall and snow data showed me the near certain chance of struggling through days of rain and ice-bound mountains.
As much of the route is at altitude, I knew overnight temperatures could be merciless (and some albergues have more heating than others) and that I'd be lucky if the temperature climbed up to 10 celsius during the day.
I thought I was ready for anything January could throw at me. But I wasn't prepared for a month of glorious clear skies. It was freakish; many afternoons, I was comfortable walking in shirtsleeves in the gentle warmth of the sun. It rained once the entire time, and that was barely more than drizzle.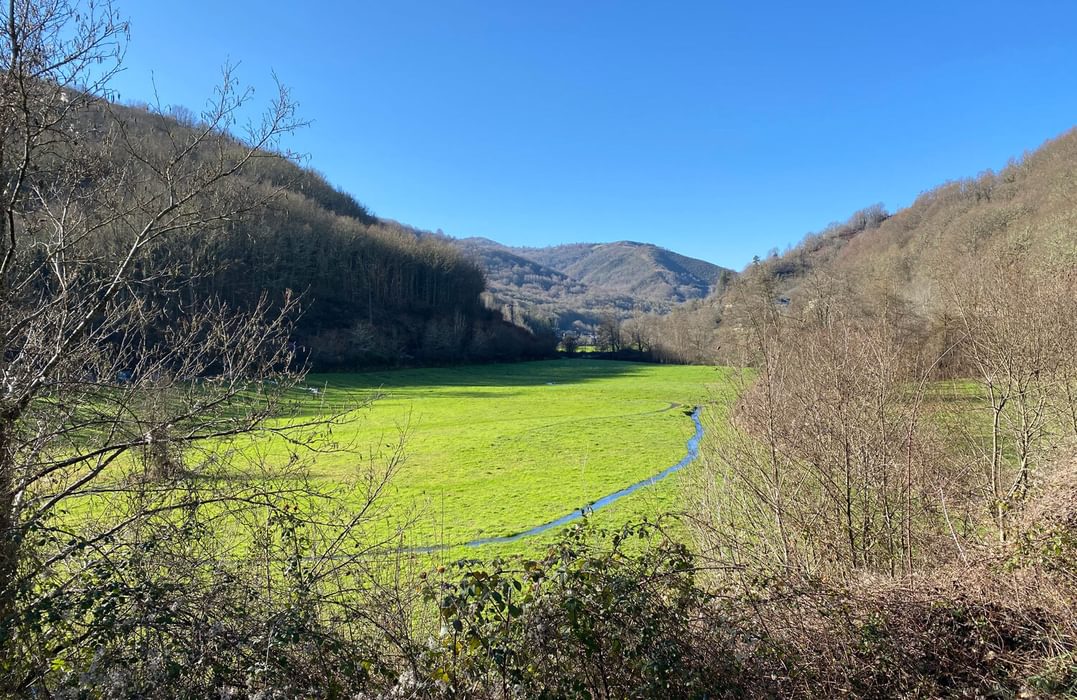 I was unbelievably lucky with the weather; even in Santiago, a city known for its rain, I was sitting out under the sun, the temperature in the high teens. I even had an ice cream!
But I won't deny that it could be desperately cold. Minus-6 celsius was common in the mornings, the temperature climbing above freezing by midday. The coldest was the morning I woke early to reach crux de ferro, the highest point on the camino at 1500m, for sunrise.
The altitude, the cold, and a stern easterly combined into a bitter morning that lingered around -10. I didn't stop at the landmark cross for long.
Facilities
The Camino Francés has to be the best-served long-distance route in the world. The sheer numbers of pilgrims passing through have formed a mini-economy stretching across Spain, covering everything from physiotherapists to vending machines stocked with snacks and Compeed blister plasters.
But January is the quiet month. And a village that may host half a dozen albergues in warmer months often doesn't have a single one open in winter. Good planning, in that case, becomes essential.
Luckily, the resources are on hand to help; a combination of Sandy Brown's Cicerone guidebook and a couple of online lists of winter albergues meant I could work through various options for stages.
A quick phone call to the next night's albergue was enough to reserve a bed and give peace of mind. No one wanted to be caught out in an empty village with a closed albergue.
Another 'usual' aspect of the camino are the regular cafés and bars along the route. I assume in summer it would even be possible not to carry food in your pack!
It very quickly became clear that in winter, an open café should be an unanticipated blessing; if you saw one, you stopped, it could very easily be the only open facility that day.
The hospitality and welcome chance for a hot drink and bite to eat made those stops worthwhile. The planning focus then shifted, to make sure that I always had about a day's worth of food in my pack.
So, what's different about the camino in winter? Aside from the route itself, it has to be thought of as a different experience with unique challenges. It's a test of self-reliance and resilience. But the rewards are enormous.
By the time I arrived in Santiago, I had gone through icy cold and driving headwinds. Through deep forests and across endless plains. I had walked to and from some of Spain's grandest cities and eaten an impressive array of patatas bravas (the best were in Puente la Reina).
I had worried, before I left, that solo walking would feel lonely or isolating. But I found a fresh joy in the trail every day, and the friendship of fellow pilgrims in the evening.
Instead of the repetition and habits of daily life, every day offered a new adventure. It may not be the same camino experience that so many thousands of others remember, but it was deeply rewarding, and it was mine.
If interested in more photos, I also covered my trek on Instagram @maddy_adventuring.
Winter kit list
Getting the warmth-to-weight ratio right is the most important aspect, and the biggest challenge to pack for a winter trek.
I went into ridiculous detail in thinking about the combination of gear I planned to take, and how to minimise weight. My pack ended up at just under 6kg (without food and water).
Aside from not needing the microspikes and the emergency bivvy, I used everything I brought, and found the combinations to work very well. Ultralightoutdoorgear.com is a brilliant find for those, like me, who scrutinise every gram!
Rucksack (35-40litre – but other pilgrims had far larger packs!)
Waterproof rucksack cover
Stuffsacks
Sleeping bag (comfort level to 5 degrees at least: some albergues are cold)
Sleeping bag liner
Boots (or tough trainers)
The lightest possible shoes for the evening/towns
2 long sleeve base layers
1 fleece
1 down/synthetic gilet
1 down jacket
1 trekking leggings (softshell)
1 thermal leggings
Socks and underwear
1 waterproof jacket
1 waterproof trousers
1 hat
2 buffs
3 gloves (lightweight, heavyweight, and waterproof mitts)
Toiletries
Trekking towel
Headtorch
Water bottle
Microspikes
Emergency bivvy
Sunglasses
Phone and chargers
Wallet and passport
First aid kit
Guidebook!

To read more articles like this get our newsletter
Sign up today for a 20% discount on your next purchase. Join over 30,000 enthusiasts from around the world. If you don't love our mix of new books, articles, offers and competitions, you can unsubscribe at any time. We will never spam you, sell your data or send emails from third parties.