BookSource is closed for stocktake and orders will not be processed until the 24th.
Canyoning in the Alps
Graded routes in Northern Italy and Ticino, Austria, Slovenia and the Valais Alps
A guidebook to the best canyoning descents in the alps of northern Italy and Ticino (Switzerland), with additional routes in Austria, Slovenia and the Valais Alps. Routes are split into seven separate grades, for beginners through to experts. Includes comprehensive information on equipment, hazards and techniques.
Seasons
In general, the summer months (mid-July to mid-September) are the best time for canyoning in the Alps and Ticino.
Centres
Domodossola (Val d'Ossola); Bellinzona, Biasca, Maggia (Ticino); Colico and the northern lake shore (Lake Como); Belluno (Belluno and Friuli Dolomites); Tolmezzo (Carnia and the Julian Alps)
Difficulty
All routes are graded for difficulty. Although there are canyons of all grades, many routes are aquatic and technical, requiring good abseiling skills, physical fitness and a head for high water. A good wetsuit is essential, and a hand-bolting kit gives peace-of-mind in case anchors are damaged.
Must See
The superb granite-gneiss aqua-parks of north-west Italy and Ticino, including Rasiga, Lodrino and Val Bodegno, along with the classic limestone canyons of the Dolomites and north-east Italy, including Grigno, Val Zemola and Rio Simon.
Overview

Table of Contents

Maps

Updates

Reviews

Downloads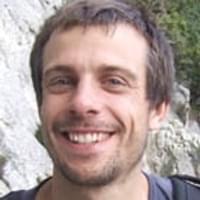 Simon Flower
Simon grew up in Sheffield, spending much of his free time mountain biking and climbing in the Peak District. In 1998 he took up caving at Bristol University and was pretty content until discovering canyoning a year later. He was refreshed to discover a serious mountain sport that didn't take itself, well, too seriously, and seemed to combine everything he loved about the outdoors. Since then he has been canyoning enthusiastically (bordering on obsessively) all over Europe and beyond, taking in a handful of first descents along the way.
View author profile