Via Ferratas of the French Alps
66 routes between Geneva and Briancon
This guidebook covers 66 varied via ferratas in the French Alps. The routes are spread over six areas: Geneva and the Northern Alps, Chambéry, Tarentaise and Maurienne valleys, Grenoble and Briançon, amid the Mont Blanc, Vanoise and Queyras ranges. Difficulty ranges from easy, protected routes through to exposed, technical challenges.
Seasons
the bulk of the routes are open from early summer to mid-autumn, with a fair number being open from early spring to early winter depending on local weather conditions
Centres
Geneva, Chambéry, St Jean de Maurienne, Grenoble, Briançon as well as numerous mountain resorts
Difficulty
a wide range of routes from straightforward protected walks ideal for beginners to highly strenuous, massively exposed endeavours suitable only for the most daring. All routes graded for difficulty, exposure and the seriousness of the environment. A full explanation of the techniques and equipment required is given
Must See
Routes on or near the Mont Blanc Massif, Lac Bourget, the Beaufortain Massif, the Vanoise Massif, the Chartreuse Massif, the Écrins Massif, the Queyras Massif and many other scenic highlights of the French Alps
Overview

Table of Contents

Maps

Updates

Reviews

Downloads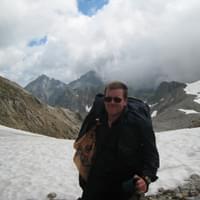 Richard Miller
Born on Jersey, Richard Miller first discovered a love of high places among New Zealand's Southern Alps. His passion for travel and exploring has since led to walking, scrambling, mountaineering and climbing across the globe. Latterly, having discovered the pleasures of continental Europe, he has focused on the Alps and Pyrenees.
Like many Brits, his first experience of a via ferrata was in the towering spires of the Italian Dolomites. Having found it much to his liking, he set about visiting as many via ferratas as he could and soon discovered a burgeoning number of new routes across Western Europe.
View author profile