Mountain Walking in Southern Catalunya
Els Ports and the mountains of Tarragona
This guidebook has 30 routes for mountain walkers of all abilities in Southern Catalunya. The routes are in 3 national parks between Barcelona and Valencia; around the River Ebre: the els Ports massif, Serra de Cardo and the Serra de Montsia, including the immense limestone crags of the Parc Natural dels Ports overlooking the Mediterranean.
Seasons
good walking from October through to May; when strong winds or the occasional dusting of snow arrive on the high ridges the sheltered coastal slopes provide good routes
Difficulty
from broad tracks to airy scrambles round huge cliffs; walks graded for routefinding, scrambling and exposure; all within capabilities of experienced hill walkers – rockclimbing skills and equipment are not needed
Must See
Parc Natural dels Ports, herb-covered hillsides, high pine forest, Templar castles, picturesque hill villages
Overview

Table of Contents

Maps

Updates

Reviews

Downloads
Philip Freakley
Mountains have been an essential counter-balance to busy academic careers for Philip & Vivien for many years and the opportunity to live among mountains was one that could not be resisted.
View author profile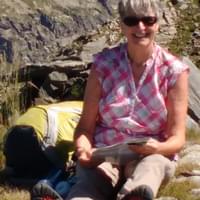 Vivien Freakley
For many years it was weekends in Derbyshire, long weekends in Snowdonia, weeks in the Lake District and summer holidays in the Pyrenees, Alps and Rockies that provided the antidote to academic life in the midlands. The discovery of a little known winter walking area in Southern Catalunya in 2005 brought a new project.
View author profile