Cycle touring in Ireland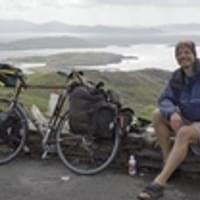 After some years of bashing out stories and editing copy for newspapers in both England and Australia, Tom Cooper decided to turn his hand to writing a book. His inspiration? It was Ireland itself – happy scene of many teenage and adult holidays alike. When Tom decided to explore it further by bike he couldn't find a suitable guidebook, so decided to write one that he hoped would help, and inspire, cyclists to enjoy cycle touring in Ireland as much as he does. We asked Tom to answer a few questions about planning a cycle touring trip to Ireland.
What's the best way to get there from the UK mainland?
For a low-carbon start to your holiday consider taking the ferry. Airlines are quicker on paper, but overnight ferries save you a night's accommodation and you can arrive in say Dublin before the city wakes up and be in the open countryside by mid-morning. Flying often means a night spent in your arrival city caused by a later start, unpacking, setting up your bike and luggage and chasing around for things you couldn't take on the plane – like gas canisters.
The main arrival ports are Dublin, or nearby Dun Laoghire, Belfast and Larne on the Northern Irish coast, Rosslare in the south-east and Cork (from France) in the south west. Which route you chose will depend on your plans in Ireland as well as which departure point is most convenient. Ferries from Fishguard and Pembroke (South Wales) embark for Rosslare. Holyhead (Anglesey) has ferries to the Dublin area, while Belfast is served by ferries from Merseyside. My favourite link to Larne is via Troon (about 35 miles south-west of Glasgow). The main departure point for Larne is Cairnryan, further to the south of Glasgow, but it is a much busier port with a lot of HGV traffic.
If you prefer to fly, there can be some unbelievably cheap fares to Ireland. It's particularly convenient for getting to tours starting in the west, for example Galway or Limerick (Shannon airport). Watch the baggage charges and check how the airline wants your cycle packed. The Cyclists' Touring Club forum is a good place to check and find out about other people's experiences of flying with bikes.
Can you hire bikes locally?
In the main cycling areas, the west, south west and the Kingfisher Trail (Irish lakelands) and Causeway Coast, there are companies hiring touring bikes and usually offering other services such as route planning, accommodation booking and luggage transfers. If you are on a non-cycling holiday and just fancy a day's riding or so, most tourist hotspots have one or more operators doing short-term hire (Aran Islands and Killarney for example). But your own touring bike is like a good friend – it might be more convenient to hire one when you get there, but it won't be the same as the real thing.
Do you need to take spare parts or can you get sorted out along the way?
As a bare minimum take what you need to repair punctures (including spare inner tubes) and spanners/allen keys to fit every nut and bolt on your bike. Adding a spare chain, chain tool and folding spare tyre is not a bad idea as failures involving these can really strand you. Beyond that there is no point taking tools/spares beyond your mechanical knowledge and the extra weight can make breakdowns more likely.
Ireland is not as well-supplied with bike shops as England or France, but there is usually a shop, or sometimes a garage, in any area that 'does bikes' even if you have to hop on the bus to the nearest town. If you have a state-of-the-art bike with the latest components, spares can be hard to get locally and they may not even be in the country. There is a lot to be said for an older, easy-to-fix bike when touring in Ireland.
What type of accommodation is available?
This varies considerably from tour to tour. The tours can mostly be completed with a combination of campsites and hostels, or just hostels, although for a handful of stages a night in a bed and breakfast might be needed to plug the odd gap. Fortunately, however, B&Bs are ubiquitous in Ireland. Cycle camping is not for everyone but taking a tent (make it a good waterproof one!) saves your cash for other things and increases your options on the road.
Regional food – is there a must-try dish?
I'm no gourmand but it's hard to pick out a really characteristic Irish dish. The most memorable meal I've had in Ireland is the seafood chowder at O'Sullivan's pub in Crookhaven, County Cork. It's just a beautifully simple recipe, well prepared using fresh ingredients – I wish I was there right now!
Don't forget to try a few Irish beers on your travels. Everyone's heard of Guinness (which I think tastes best in County Clare!), but there are some other porter-style beers worth a go. Murphy's Stout, from Cork, has a lovely smoky flavour while another dark beer from the south west, Beamish Stout, has it's own unique characteristics.
The best time of year to go
The touring season in Ireland is April to September, although if you are lucky enough to live in Ireland there will be some brilliant riding days throughout the year. My favourite months for touring are May for the north and September for the south. May is a fantastic month in Ulster with the gorse splashing yellow across the hillsides and filling the air with a curiously tropical, coconut smell. September is the month of harvest home (although this can vary considerably!) when the stubble of cereal crops and the stacks of hay bales glow in the light of the yellowing sun. The woodlands around Killarney are never more beautiful than at this time of year as the first copper tones begin to fringe the leaves and the bright-red berries of the mountain ash flash in the sunshine.
Which is your favourite tour?
Favourites are always tricky – as I tell my nieces and nephews, you are all my favourites! Ireland has a surprisingly diverse landscape and I've tried to capture this in the various tours in my book. But if I had to pick one it would be the Donegal to Sligo tour Route 3 in Cycling Touring in Ireland) which includes the Irish lakelands and parts of the Kingfisher Trail cycle route. Upper and Lower Lough Erne are beautifully undeveloped lakes studded with tree-shrouded drumlin islands. The gentry knew a good thing when they saw it and the area has some of Ireland's finest country houses, many of which are open to the public.
This border area was very unstable during 'The Troubles' and has been spared the untempered building that has blighted some of Ireland's beauty spots. It really is unbelievably beautiful here and with much of the tour being in Northern Ireland (which is still considerably cheaper than the Republic) it's a relatively inexpensive trip – another bonus in these 'credit crunch' times. Throw in the extra day's tour of the limestone scenery around Sligo (also in the book) and you've seen some of Ireland's most memorable landscapes.
Where's the best view you can ride to?
The Cliffs of Magho (again on the Donegal-Sligo tour) stand out because the view is so unexpected. Ireland has some amazing sea cliffs, but these are lake cliffs and the gentle climb through the Navar forest contains no clues as to the views ahead. The cliffs stand some 300m high and run for about 9km on the south side of Lower Lough Erne. The view extends to the Donegal coast in the west and the birds-eye view reveals the complex lacustrine (sedimentary lake plains) topograghy of Fermanagh.
Other memorable views in Ireland include the big climb to the TV transmitter on Minuan (403m), Achill Island, County Clare and the Conor and Coomakesta passes in County Kerry.

What would you never be without?
A good book! Let's face it – even if you are a complete cycling nut, there will be an awful lot of time when you aren't actually on your bike. Picking literature that reflects the area you are travelling in can also add an immense amount of interest to the time you spend riding. Ireland has a wonderfully rich literary culture. John McGahern's novels and short stories are ideal companions in central Ireland – try the collection Creatures of the Earth for starters. Other authors worth checking out are Patrick McCabe and Shane Connaughton.
And, of course, Ireland has produced some top-drawer English-language poets. Nobel prizewinner Seamus Heaney's poetry reflects both a northern rural childhood and contemporary tensions in Irish society, while his fellow laureate WB Yeats had many ties with the Sligo area. Patrick Kavanagh's poems are illuminated by wonderfully evocative imagery from his County Monaghan home. Read on and ride on!
To read more articles like this get our newsletter
Sign up today for a 20% discount on your next purchase. Join over 30,000 enthusiasts from around the world. If you don't love our mix of new books, articles, offers and competitions, you can unsubscribe at any time. We will never spam you, sell your data or send emails from third parties.