E-bikes are just for softies
I've never been a strong cyclist, but until recently I've always enjoyed cycling. Now I simply love it! This is not just an isolated remark overheard in a pub, it's a growing phenomenon, and cyclists who scorn e-bike riders should pause to consider the motives behind the choice made by their e-powered friends.
In early April this year I became one of those cyclists who has a little help. Let me explain...
Cycling with Jonathan in and around Cumbria and the Dales has always been a lonely affair. Whichever way we turn, it's uphill from our house, and within just a few minutes Jonathan would be a fair distance in front, leaving me to have much of 'our' evening or weekend bike ride in solitude. Occasionally we have time for day rides, and we have also completed some short cycle tours – the C2C and Coast and Castles, and each time it has been the same story, as soon as the incline ramps up to over 5 or 6%, I simply can't keep up, while Jonathan then has to wait and get colder/wetter/sunburnt while he waits for me at the top of any long hill.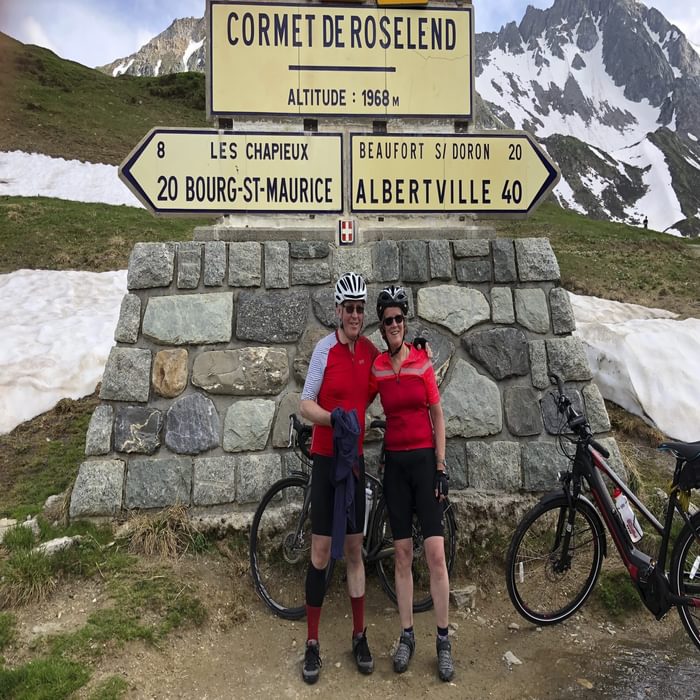 Important things about E-bikes and their riders
There are different types of e-bikes
You can get an e-bike in just about any form you can think of – mountain bikes, touring bikes, urban/hybrid and folding bikes and even road bikes (often with small, heavily disguised batteries!). The common factors are that they will all be a little heavier than their non-powered counterparts, they will all provide assistance when turned on and when the rider turns the pedals, they have a legal top assisted speed of 25km and they will all have some sort of computer. So there's a wide choice available, both in type of bike and in price, but with a general starting price close to £1000 it's important to choose what's right for you and your style of riding, and like all good things, usually best to buy the best you can afford.
2. Hills
There is no denying that the steeper the hill, the harder you have to work. Even pro cyclists will tell you that steep hills raise their heart rate and their breathing becomes more laboured. There's also no denying that riding an e-bike uphill helps with both these things. It helps a lot, even in 'economy' mode as, although you are working (sometimes quite hard in 'economy'), it takes the top nasty edge off the experience, and you arrive at the top of a hill able to breathe and with a healthily raised heart rate, but knowing that your legs have had a bit of a workout. Click it into 'sport' or 'turbo', and you have a whole different experience, but it really saps battery power!
If you've ever had to stop while cycling up a steep hill you will know how incredibly difficult it is to re-start. Some of the tiny Dales and Lake District roads have gates across, and remounting a bike on a steep gradient can be really difficult. With an e-bike it's easy to stop and start.
3. How much help
Most e-bikes provide a range of power levels, and many also have a number of gears, the idea being that you select the appropriate gear for the terrain as you would with a normal bike, and then boost yourself as much as you need with the engine. This works really well, and the transition through gears and power modes is seamless, particularly with the higher-priced bikes. The only problems come when you're on prolonged alpine climbs at over 7% and for 30 km or more, as I found out this summer. Steep gradients over long distances meant that my bike computer was predicting under 40 km range in 'economy' and less than 20 km in the next setting, so I had no option but to use 'economy' for the huge climbs such as on the Galibier, Izoard and Bonette. Believe me, you are definitely working hard, but it always felt in control and I never felt I needed to stop.
On the descent from the Col de la Bonette
Col de l'Izoard
4. Features
E-bikes are heavier, and if you run out of battery can be much more demanding to cycle than an ordinary bike, so the simple answer is don't run out of battery power.
They are very strongly constructed, and will look after you well, particularly for example in urban conditions where you and your bike are more vulnerable.
The computer mounted on the handlebars will give you constant information about the status of the battery, your speed, distance covered, average speed, top speed, the time…
Most e-bikes come very well equipped with a number of extras as standard. My bike is specifically for touring, with a good size battery, and came with a rear luggage rack, front shocks, a kick-stand, disc brakes and front and rear lights – which you can turn on and off with one switch on the computer, a feature that became very useful when passing through numerous alpine tunnels!
In general the ride position for most e-bikes is more upright, providing good visibility.
Handlebars tend to be straight and wide, similar to those on a mountain bike, providing greater stability when cornering and balancing – something we noticed was useful on long alpine descents, when I became the more confident rider!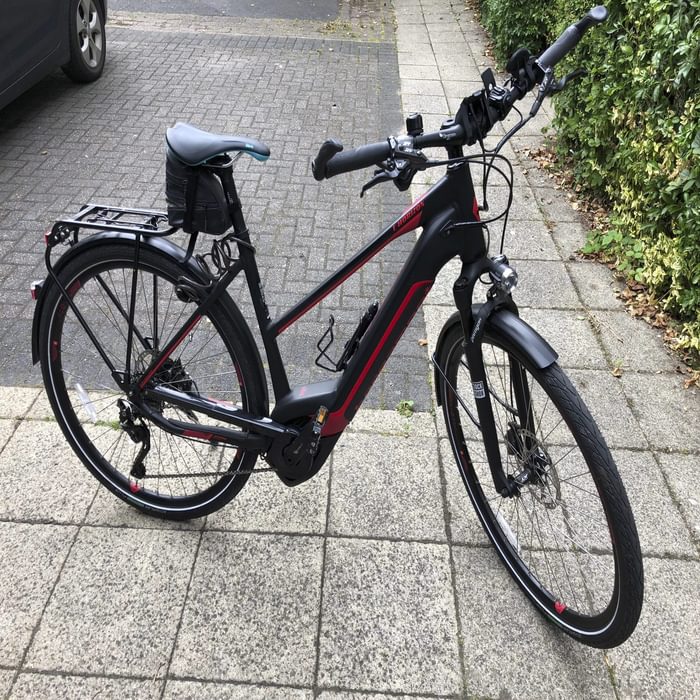 5. Benefits
For a couple of years, every bike ride in hilly Cumbria had resulted in renewed problems with my hypermobile left hip. I was becoming less and less enthusiastic about going out for a ride. The more upright riding position, combined with the motor assistance when needed on hills has had a dramatic effect. Firstly I no longer think twice about the hills, as they are all possible, even the insane 20% hills sometimes found in the Lakes and Dales. Also I have had no further problems with my hips since getting my e-bike.
It may not be just joint mobility that drives people towards getting an e-bike. People of a certain age, or those with heart or breathing difficulties are now able to start, or continue to enjoy cycling, while benefiting from being outside and getting a good level of exercise, but at a level of exertion that is right and safe for them.
Surely it is better to be cycling on an e-bike than not cycling at all!
There are other benefits too. Stopping and starting on hills is so much easier on an e-bike. On our recent alpine tour I would stop quite frequently to take photographs while on the climbs, something that most riders didn't want to do as their rhythm would have been broken. I would certainly have regretted not having photographs on different stages of each day, as otherwise we would have returned with just a selection of 'col summit' selfies, which would have been very boring!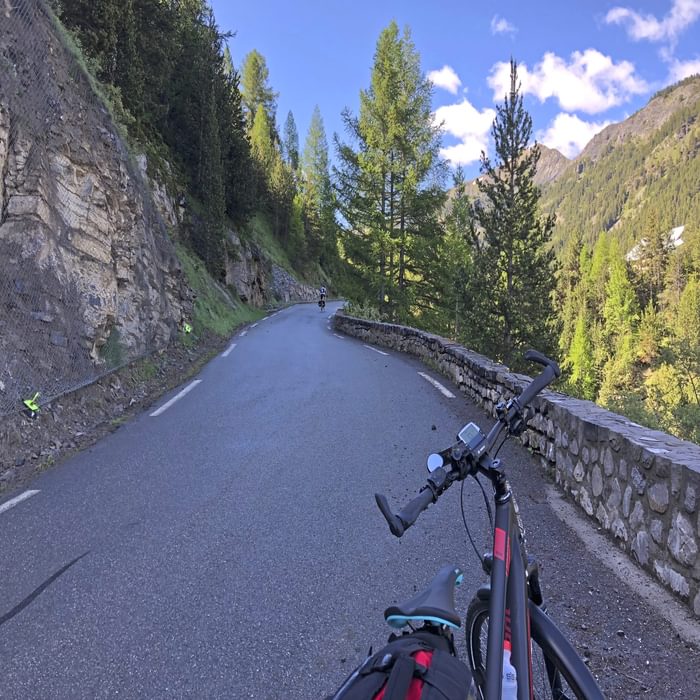 E-bikes build confidence, as the wide tyres, wide handlebars, ride position and general sturdiness of them provide great balance and stability.
Having an e-bike allows you to broaden your horizons and increase your endurance. I know I would not have been able to ride with Jonathan on the Route des Grandes Alpes with my normal bike. I'm not strong enough, and it would have been misery for us both, lengthening the days and leading to who-knows-what in the way of injuries. My e-bike allowed me to not just complete what many cyclists only dream about, but to REALLY enjoy it. I also do much more cycling now. Since early April I have ridden nearly every day and have just booked the bike in for its 2000 km service, which isn't too bad for just three months of cycling, something that has even impressed the guys at BikeTreks!
In conclusion
If you're healthy and young, then there is every reason to only consider riding a real bike, as it will give you immense satisfaction that you have tackled great distances and hills under your own power. However for many, the advent of the e-bike has opened up possibilities for activity and adventure that they would otherwise never be able to achieve and enjoy. So please, if you're a 'real' cyclist, don't mock the e-bike riders, as you may well not know any of the story as to why they choose or need the extra help.
As one 72 year-old cyclist said to me in the alps, 'the main thing is you're doing it!'
To read more articles like this get our newsletter
Sign up today for a 20% discount on your next purchase. Join over 30,000 enthusiasts from around the world. If you don't love our mix of new books, articles, offers and competitions, you can unsubscribe at any time. We will never spam you, sell your data or send emails from third parties.