Fastpacking the Alta Via 2 in the Dolomites
Tips and ideas for multi-day trail running on the Alta Via 2 route in the Alps. The Dolomites make a great place for a running holiday, staying in huts.
Planning our Alta Via 2 trip
Cicerone publishes over 350 guidebooks, dozens of which are for long, multi-day treks in the UK, Europe and across the rest of the world. I had long wondered whether any of these treks could be run, with the aim of completing a two- or three-week trek within a matter of days. My girlfriend Caroline and I began to do some research and I came home at the end of some work days clutching piles of Cicerone books to read. We had just five days available, but wanted something that would give us a big challenge in some beautiful mountains. In the end, we settled on the Alta Via 2 route (AV2): 100 miles/160km (or so) with 12,500m ascent through Italy's stunning Dolomites. Our guidebook would be Gillian Price's Trekking in the Dolomites and we intended to run two to three of Gillian's stages per day, giving a planned longest day of 36km with 1820m ascent.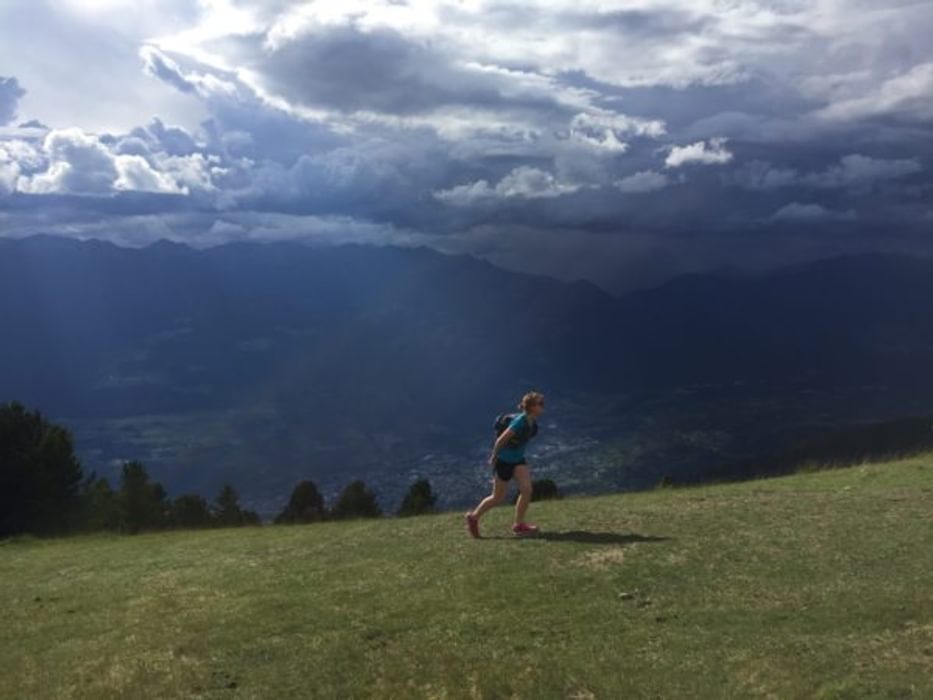 Logistics of a fastpacking trip
The reality is that this was a very straightforward trip to plan. The Alta Via 2 runs from Bressanone/Brixen in the north, through to Croce d'Aune (near Feltre) in the south. Here's how we got to the start:
Train down to stay at the airport hotel in Manchester the night before
Early morning flight from Manchester to Venice
Taxi from Venice airport to Mestre train station
Train (change in Verona) from Mestre to Bressanone.
We were at the starting point by 3pm, ready for stage 1: a 1900m climb straight up to the first night's rifugio.
We planned on one half day, four full days, and a final half day of running to complete the route. Never having done multiple big days running back-to-back before, we weren't sure how our bodies would cope, so we were mentally prepared should we not be able to finish the route in its entirety.

An Italian Rifugio
So what is a rifugio? Well, it's basically a mountain hotel, or hostel, often situated at a key pass or position high on a mountain, generally without vehicle access. In the Dolomiti rifugi, you can generally stay for c.€50 per night, which gives you a three course dinner, a bed in a dormitory (often bunk beds) and breakfast. On Alta Via 2, we typically booked the rifugi by calling ahead one night in advance, having no problems with availability (remember that the sister route, Alta Via 1, is much more popular than Alta Via 2).
What did we take with us?
We basically took the obligatory equipment for UTMB, plus a few extras that would be required for overnighting, such as silk liner, limited toiletries and plenty of money. We were able to fit everything into the standard c.10 litre race vests (I used an Ultimate Direction AK Mountain Vest, while Caroline had UD's Adventure Vesta) which was really convenient. I benefitted here as working for Cicerone gives me access to the layout files for every book! So I was able to print, double-sided, only the pages of the guidebook that we needed, rather than having to rip out pages from the precious guidebook! As we went along, we just threw away the pages we'd already done. I also spent a happy hour photocopying (double-sided) only the 1:25,000 map areas we needed (again, throwing away the pages once we'd run through that area).
We Basically Carried Utmb Required Kit Plus A Sleeping Bag Liner, Toothbrush And A Lot Of Cash. Everything Was Comfortably Carried In Our Race Vests Although We Sometimes Had To Strap Extra Food To The Bungees!
We Woke Up On Our Fourth Full Day To A Cloud Inversion Below Rifugio Pradidali
Food was an interesting issue. Breakfast and dinner were catered for by the rifugi. But what about lunch and snacks throughout the day? Well, each morning we bought enough chocolate bars, sweets and crisps to last us through to the next rifugio we'd run through. Then, around lunchtime, we'd stop at a rifugio for a light lunch (fried egg, cured ham and potatoes was a big favourite) and to pick up enough snack food to keep us going until evening. Expensive, but very easy. We had some gels as emergency food and had a pile of electrolyte tabs for water to keep our sodium levels in check.
Multi-day hut-to-hut run trekking
Though that's not a very elegant term for it. Fastpacking might be better, but there again we weren't camping. On the trail, everyone goes at their own speeds - it really doesn't matter. Our four full days were long: the shortest was 9 hours and the longest as 11.5 hours. There was a focus that came along with needing to do 20-25 miles of rugged mountain running (and walking) per day. Realistically, we walked most of the uphills and ran the flats and downs. We found this way of moving through the mountains to be totally and immediately absorbing. After day three, it felt like we'd been doing it for several weeks. On our last night in the mountains I realised I'd, not even for a split second, thought about home, work or the UK even once. We were completely immersed in our process of travelling through the Dolomites on foot.
Of course, this does come with disadvantages. So often when on trek, you feel the urge to linger in a particular place, to rest at a col, to gaze at the view, or to lie down on the soft grass beside a mountain lake and simply go to sleep for an hour or so. The pleasures that come with an unhurried journey were off limits to us with our chosen mode of travel. Sure, we took in the views and completely appreciated the stunning surroundings we were a part of, but we didn't have the luxury of time.
I Really Wanted To Just Lie Down Beside This Lake For A Few Hours. Unfortunately Caroline Was Having A Strong Patch And I Had To Try To Keep Up!
Yup Thats Simply A Massive Block Of Polenta Covered In Hundreds Of Grams Of Melted Cheese. Beef Stew For Me
Alta Via 2
AV2 has got to be one of the world's greatest trekking routes. It's hard! Generally speaking, the route gets harder as you progress. The Dolomites are comprised of many 'micro-ranges' of mountains, such as Sella, Marmolada and Pale di San Martino to name just a few. Each has their own character (though all have the classic vertical limestone rock faces and towers), and we found ourselves comparing them, trying to decide which we liked to best. Caroline decided the moon-like Sella, with its massive valleys and high altiplano plateau was her favourite. For me, it had to be the Pale di San Martino, an area I'd longed to see with my own eyes, which truly didn't disappoint. The mental list of rock faces I wanted to come back to climb grew out of control once we entered this region. It also seemed to be the biggest and wildest area, with a network of wonderful rifugi with charismatic guardians/wardens.
Underfoot, we came to be familiar with 'typical AV2 paths'. Narrow singletrack, abutted against a vertical rock face above (sometimes protected with a cable for protection), with a precipitous drop below. Many times we had to walk the descents due to their technicality, and many of the 'flats' were so exposed that we needed to take great care, running a hand along the cable as we walked.
The big question facing Alta Via 2 trekkers is whether to take via ferrata or other protection gear. For UK and US readers, if you're happy on scrambling Grade 2 or Class 4 terrain (without a rope) you will be fine without any gear on AV2. But if you are less sure footed, or are more freaked out by big drops, I'd suggest taking a couple of slings and carabiners to make into an impromptu harness/lanyard. A helmet is probably unnecessary, so long as you're careful. Trekkers that feel the need for full via ferrata equipment and a harness should consider whether they are capable of tackling a route that has many kilometres of cabled terrain.
Climbing To Passo Del Comedon - What A Path
We Climbed Up To The Optional Summit Of Piz Boe At Over 3000M In The Sella Massif Which Is Also The High Point For The Famous Dolomites Skyrace
What's next?
Running AV2 was one of the most satisfying mountain adventures of my life. I loved every minute of it, even the first minutes of the day when the body was achy and stiff; even the thunderstorm on the toughest climb of the route; even the slithering around on mud in shoes worn smooth by the rough limestone rock after 11 hours on the go.
If you're a solid fell, trail or ultra runner, i'd highly recommend giving fastpacking a go. Alta Via 2 is a tough one. The Tour de Mont Blanc, Chamonix to Zermatt, Munich to Venice or GR5 would all make great Alpine fastpacks too. As for Caroline and I, we're considering our options for next time: Nolan's 14 in Colorado and Tor de Geants in Italy are currently on the cards....
To read more articles like this get our newsletter
Sign up today for a 20% discount on your next purchase. Join over 30,000 enthusiasts from around the world. If you don't love our mix of new books, articles, offers and competitions, you can unsubscribe at any time. We will never spam you, sell your data or send emails from third parties.