When Kev met Big Oz and Little Al on the TMB
Tour of Mont Blanc guidebook author Kev Reynolds regularly re-walks the route around Europe's most iconic mountain. On this trip he bumped into a couple of Australians he called Little Oz and Big Al. Over the next few weeks, they became regular - if a bit noisy - acquaintances. Illustrations by Clare Crooke
Little Oz had a voice like a swarm of bees. You could hear him across a room full of people; maybe not what he was actually saying, but his dreary monotone buzz was like a backdrop of sound you couldn't ignore.
By contrast the fella with him was the silent type whose eyes wandered without focus, while his mouth remained shut. He was either jet-lagged or unable to get a word in when his friend was speaking.
We met them on the first night of our trek round the Tour of Mont Blanc when we checked in at our regular gîte in Les Houches. There they were, draining bottles of Eurofizz in the dining room, with an open copy of my guidebook on the table, and a pristine map of the Mont Blanc range on which the talkative one was outlining the route with a blue marker pen.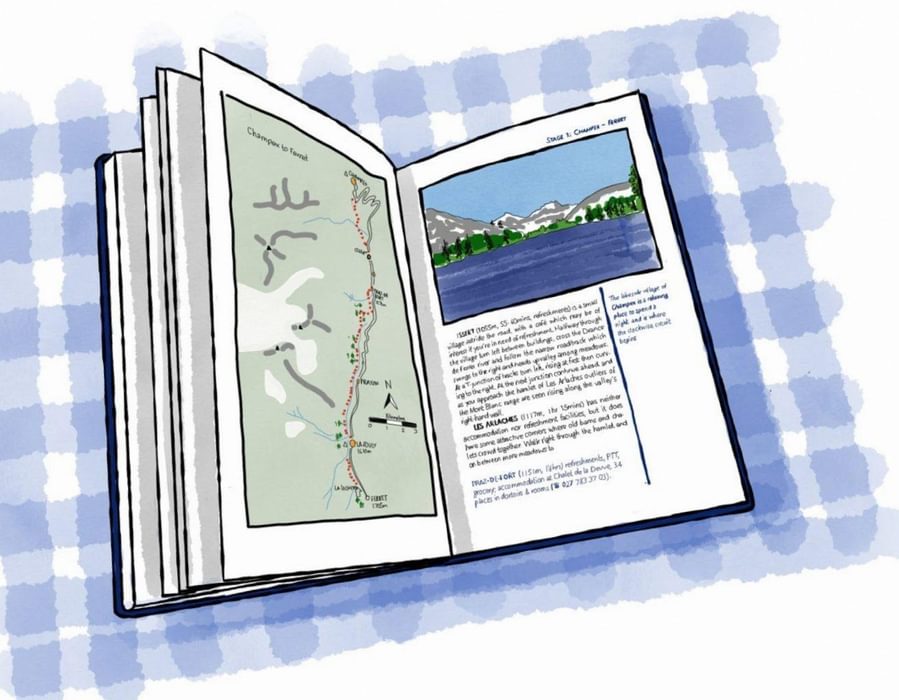 They were from Australia, that much was clear; somewhere in New South Wales if memory serves me well. Mid- to late-30s, I guess, making their first foray into Europe and already awestruck by what they'd seen when they arrived in Chamonix earlier in the day.
I don't recall if we exchanged names, but if we did I'd have forgotten theirs within two minutes; I'm lousy with introductions. Not that it mattered. The shorter of the two with the droning voice became known to us as Little Oz, while his mate, the quiet one with the empty eyes, simply had to be Big Al.
Since we planned to make a start in the morning and were trekking the same route apart from variations, it was obvious that we'd be seeing more of them in the next couple of weeks. We did.
Not the next two days, though. While we crossed the Col de Tricot, they took the lower route to Les Contamines and we'd forgotten about them until the day after that when we arrived at Refuge des Mottets at the head of the Vallée des Glaciers.
They checked in at the converted dairy farm shortly after us, and were allocated bed space in the same dormitory – the one that was formerly used as the milking parlour. We could hear that familiar drone coming across the yard from the main building, and when they appeared at the door they paused for a moment before Big Al dumped his rucksack beside the first bed, and Little Oz was heard to say: 'Jeez, will ya take a look at this. I sure hope I wake up in the morning to find a milkmaid beside me.'
Early start
We were away early next day before the two Ozzies had got their act together, and found ourselves on the Col de la Seigne to discover the Italian side of Mont Blanc marooned above a cloud-sea that would have evaporated by the time Little Oz and his side-kick had finished their breakfast.
Our early start to the day was nothing to do with wanting to reach our destination in a hurry, but so we could stray here and there and soak in the whole experience. It didn't matter that we'd walked the TMB before; every time was different, and with the guidebook to keep up-to-date we knew we'd be back again. And we'd never grow tired of it.
The next time we saw Little Oz and Big Al was in a busy restaurant in Courmayeur. Big Al was fighting his way through a pizza the size of a waggon wheel, his eyes squeezed half shut above cheeks bulging with a slice of Margherita, a string of cheese dangling against his chin. Little Oz had chosen spaghetti Bolognese and was staring at the overflowing pasta bowl before him. 'I dunno whether to eat it, or use it to knit a sweater,' he buzzed.
With its relaxing atmosphere, charming little back streets and alleys, and its stunning view of an immense wall of mountains to the north, Courmayeur is no place to hurry through, so we gave it two full days before getting back to business on the TMB trail.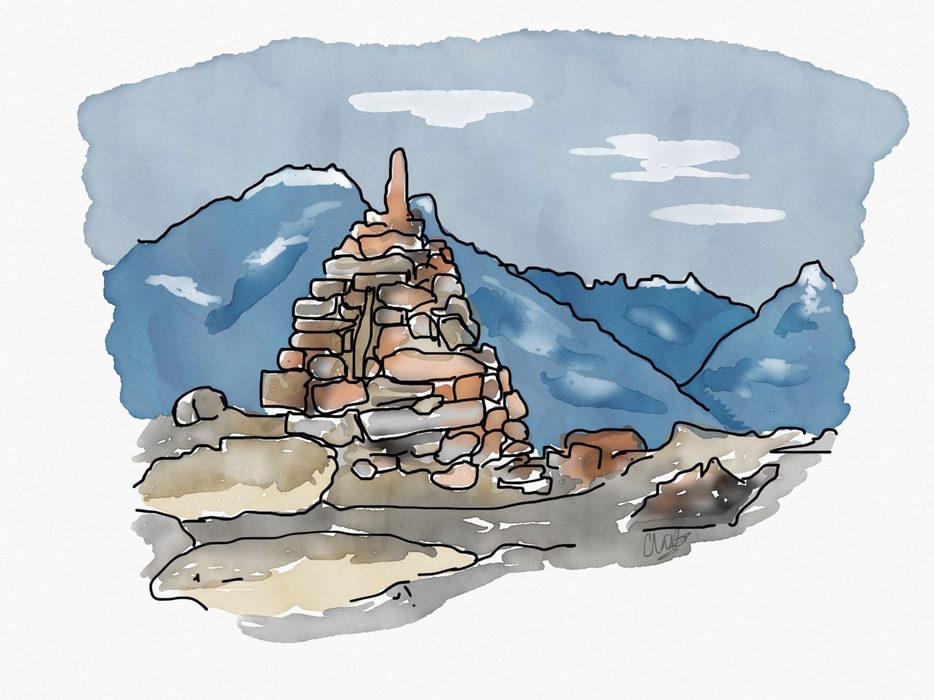 By now we were recognising other trekkers as we leapfrogged one another along the route, but there was no sign of our Ozzie duo until we arrived at Rifugio Elena below the Grand Col Ferret. Big Al was nowhere to be seen, and Little Oz's bee-like drone was directed elsewhere.
He sat with another group of trekkers for dinner, so it was not until I bumped into him in the washroom that I had an opportunity to enquire about his friend. 'Went sick in Courmayeur,' he told me. 'I dunno if it was the pizza, or he's just plum trail-weary. Anyway, he took a bus through the tunnel and says he'll wait for me in Chamonix. There's no way I was gonna cut the hike short,' he added.
Over the col we entered Switzerland and descended into the Val Ferret to spend the night in an empty dorm in the first hotel we came to, and watched from the balcony as Little Oz plodded past, his monotonous droning voice like a shadow of sound following him down-valley.
And that's the last we saw and heard of him for three days. We'd walked through the valley's meadows and woodlands, and strayed among the sweet-smelling, hay-strewn hamlets with neither sight nor sound of him. We spent a night in the gîte at Champex-Lac, then crossed the lung-straining pass of the Fenêtre d'Arpette and descended beside the Trient glacier before taking the last beds in Trient itself.
Little Oz had disappeared from our TMB experience. We didn't see him next day either as we crossed back into France at the Col de Balme, and it wasn't until midday on the penultimate stage of our circuit that he suddenly reappeared.
We were eating our bananas beside the massive cairn at the Tête aux Vents high above the Chamonix valley, having that morning climbed the numerous steel ladders bolted to the rock face to get there. That was always one of the highlights of the route for us, although we know plenty of other trekkers who baulk at that section and choose the easier alternative. But we love the exposure when we look down to see the rooftops of Argentière hundreds of metres beneath our feet, and the spectacular panoramic view of Mont Blanc, with its row of aiguilles, glistening snowfields and glaciers, and the mighty Grandes Jorasses standing at the head of a highway of ice when we arrive at the top.
And that's what we were admiring when Little Oz popped up beside us, beads of sweat on his forehead and chest heaving from the effort of his climb. When that settled he looked across the valley to one of the world's finest views and said, in that bee-like drone of his: 'Until I came to Europe I'd never even set eyes on a glacier. But here – here they're 10-a-bloody-penny!'
To read more articles like this get our newsletter
Sign up today for a 20% discount on your next purchase. Join over 30,000 enthusiasts from around the world. If you don't love our mix of new books, articles, offers and competitions, you can unsubscribe at any time. We will never spam you, sell your data or send emails from third parties.