Frame packs or panniers: what's right for you?
Almost all cycle luggage manufacturers offer a range of frame packs alongside more traditional panniers. Richard Barrett explores the different choices and matches the optimal luggage-carrying system to different types of cycling.
On the last Saturday of March in 1919, Liverpool insurance man and part-time cycling journalist Walter MacGregor Robinson (1877-1956), and two friends from the Anfield Bicycle Club rode over the top of the Berwyn Mountains in North Wales. Several weeks later Wayfarer, as Robinson became known, wrote an article about their ride titled 'Over the Top' in Cycling magazine. For cyclists looking for adventure after the dark years of World War I, it was inspirational and marked the beginning of movements that resulted in both the founding of the Rough-Stuff Fellowship in 1955 and the growth of adventure cycling.

You could even make a strong argument for tracing the development of the mountain bike in California during the 1970s back to Wayfarer. However, I'm not entirely sure he would have approved of being associated with mountain bikes.
His motto was to ride with 'as little bicycle as possible', telling youngsters to ditch their 'sit up and beg' bicycles for lighter racing bikes.
Road touring in the Hebrides with sleeping mats strapped to the rack (Image by Richard Barrett)
A rack that clamps on to a metal seat post may be required if your bike does not have rack lugs or has rear suspension (Image by Richard Barrett)
A pair of rear panniers is ideal for lightweight road touring. (Image by Richard Barrett)
And if they couldn't afford to do that, fit dropped bars, narrower tyres, a lightweight saddle and celluloid mudguards. If he were alive today maybe he would choose a gravel bike rather than a mountain bike. Who knows?
Wayfarer also advocated throwing away rear carriers and using a saddlebag, so we can be fairly sure he would have welcomed the arrival of frame packs, which have become available in recent years. Not that he would have been taken in by all the hype because if you look through some of the old photographs from the early days of cycling you will see both saddlebags and sleeping rolls tied on the handlebars. Let's explore the pros and cons of the different systems.
Traditional panniers
The traditional way for carrying gear is using panniers hanging from a rack that is bolted to rack lugs that are an integral part of the bicycle frame. Almost all bikes sold as touring or adventure bikes will have lugs for mounting racks and those with steel forks may also have lugs for fixing front panniers either side of the front wheel. If you own a bike with a steel, aluminium or titanium frame without mounting lugs, there are other options such as racks specifically designed to fit on the rear axle and clamp on the seat stays, or even racks that clamp directly on to a steel or aluminium seat post. However, unless they are firmly attached to the seat post they tend to swing around when loaded with panniers and rub against the rear wheel. If you have a carbon-framed road or mountain bike and want to carry luggage, then even this workaround won't work – the rack and pannier system is simply not for you.
A pair of rear panniers typically has a load carrying capacity of 70-80 litres and a pair of front panniers has a load carrying capacity of 25-30 litres, meaning that a set of panniers is the ultimate system for carrying large loads for prolonged journeys. Many cycle tourists who stick to roads and gravel tracks swear by them in that a good-quality set of panniers made from a durable polyester fabric will keep your gear totally dry and give many years of trouble-free service.
Although I am often derided as being a 'credit-card tourist' in that I travel light and overnight in hostels or B&Bs, I prefer traditional panniers as I can quickly unhook them once I get to my overnight accommodation and carry them up to my room.
Panniers – and a few other bags for things like camera, valuables and snacks (Image by Richard Barrett)
A cheap option for extra capacity is to attach a dry bag to the rack with elastics (Image by Richard Barrett)
A tidy set of frame packs in almost every space including down the front forks (Image courtesy of Jeff Moser on Flickr)
A fully laden set of panniers (Image courtesy of Kitty Terwolbeck on Flickr)
Pros
Best for high volume load carrying and long tours
Quality brands are totally waterproof
Quick and easy to attach and remove
Ideal if you're sticking to roads and gravel tracks
Cons
Budget brands may not be waterproof necessitating using plastic liners
Any zip closings are prone to fail
Stick out from the sides of the bike
On bikes without mounting lugs, you may need a special rack
Incompatible with carbon frame bikes
Different systems compared



WEIGHT
(grams)
CAPACITY
(litres)

RETAIL
PRICE


WEIGHT PER
LITRE
COST PER
LITRE

Frame packs

Expedition-size handlebar pack

275

14

£96

Expedition-size full-frame pack

395

14

£142

Expedition-size saddle pack

425

17

£118

Total

1095

45

£356

24.3g

£7.90

Pair of rear panniers

Rear rack

740

-

£100

Pair of rear panniers

2370

70

£125

Total

3110

70

£225

44.4g

£3.21

Complete set of front and rear panniers

Rear panniers and rack (as above)

3310

70

£225

Pair of front panniers

1680

30

£120

Pair of front pannier mounts

500

-

£80

Total

5490

100

£425

54.9g

£4.25
The systems compared were Apidura Expedition frame packs (see www.Apidura.com); Ortlieb Top-roller panniers (see www.ortlieb.com) and Tubus Cargo racks (see www.tubus.com). Other makes are available.
Frame packs systems
In recent years a new category of bike luggage has emerged out of the long-distance racing and off-road touring scenes.
These frame pack systems consist of bags that strap directly on the frame, seat post or handlebar and sit in line with the rider.
They mostly rely on their contents to give them shape, although some have internal reinforcement.
Choosing frame packs may mean using tarps, bivvy bags and ultra-lightweight tents (Image by Cicerone author Jim Sutherland)
A hybrid solution using both panniers and frame packs (Image courtesy of Northpak on Pixababy)
Cicerone author Tom Cooper riding with a full set of panniers (Image by Tom Cooper)
By eradicating the need for racks and with little in the way of attachment fixings, frame bags are obviously far lighter than panniers. For instance, a complete frame system consisting of a large expedition-size handlebar pack, frame bag and saddle bag will weigh just over 1kg, whereas a pair of rear panniers and rack will tip the scales at over 3kg and a complete set of front and rear panniers and front and rear racks will top out at nearly 5.5kg. But let's look at the carrying capacity you get in return, comparing the specification of the leading manufacturers of the various systems.
Clearly, frame bags are the most efficient system in terms of their weight per litre of carrying capacity (see table). However, the carrying capacity of even a complete set of expedition-size frame packs means there are constraints. The lower capacity of frame packs means you will need to severely limit your kit. So, if you are looking to go bike-packing in remote areas, you will need to be prepared to be pretty spartan, sacrificing all those little 'nice to haves' and using a bivvy bag, tarpaulin or ultra-light for overnight shelter. Before you invest in a frame pack system, assess whether you will need to replace some of your existing kit, such as tent, sleeping bag and sleeping mat with ultra-light gear and make that part of your overall budget. It could add up to a tidy sum, but you will be able to ride tracks and trails faster, and with a far narrower profile there is less risk of catching obstacles along the way as can sometimes happen when riding singletrack trails with panniers.
You should not expect to save money by purchasing a frame pack system rather than a rack and pannier system. The table above shows that the retail price of a full set of quality frame packs is not much less than that of a full set of quality front and rear panniers – and the cost per litre of carrying capacity is nearly double.
But don't be tempted to skimp by buying a budget brand of either frame packs or panniers as the last thing you want when you are in the back of beyond is a bag to fail.
Quality lasts
The best cycle luggage lasts for years for years – my own rack and panniers are both in their second decade now. If you cannot afford to buy new, identify the brand you want and buy it second-hand.
If you have either a mountain bike or road bike with a carbon frame, then frame pack systems are your only choice when it comes to luggage. Despite their limitations, they provide adequate capacity for lightweight touring using hostels or B&Bs for overnight accommodation. However, be aware that the Velcro and nylon straps used to secure frame packs to the frame do rub and eventually abrade the finish on carbon frames (and eventually even steel and titanium frames), especially if dirt and grit get between the straps and the frame.
If you're concerned about keeping your frame in pristine condition use clear 'race tape' to protect your frame at the contact points. Some frame pack manufacturers recommend it and it is easy to find either in your local bike shop or online. But before you apply it, first clean your frame to remove any grime and give it a protective layer of frame wax or car wax. Then be sure to apply the race tape well beyond the nominal width of the Velcro straps so when they slide back and forth – as they undoubtedly will – they won't come into contact with the frame. Also, if you tend to leave the frame packs on the bike for extended amounts of time, check the condition of the protective tape occasionally and clean out any grime that may have accumulated under the straps. It is well worth doing if you don't want your expensive new bike to look worn too quickly.
Logic has it that when packing for cycle touring you should keep most of the weight, and hence the centre of gravity, as low down as possible. Once you're in the saddle and the bike is in motion, it is hardly noticeable where the weight is located. But once you are out of the saddle it most certainly is and overloading seat and handlebar packs with heavy kit will make bike-handling more problematic. As will riding in strong crosswinds with a large frame pack that fills the entire centre triangle. It effectively acts as a sail, so you need to be prepared for some buffeting.
FRAME PACK SYSTEMS

PROS

CONS

The lightweight solution for riding fast

Budget brands may not be waterproof

Best for off-road riding on narrow tracks

Limited load carrying capacity

Limited capacity instils the discipline of packing only the essentials

Carrying heavy loads high up may affect handling

Weight is kept close to the frame

Need to protect frame from abrasion

Only choice for carbon frames

Packs that fill the centre triangle occupy space usually taken by feed bottles

Handlebar packs can interfere with cables
Suppliers of frame pack systems include Alpkit , Altura, Apridura , Arkle, Blackburn, Passport and Ortlieb.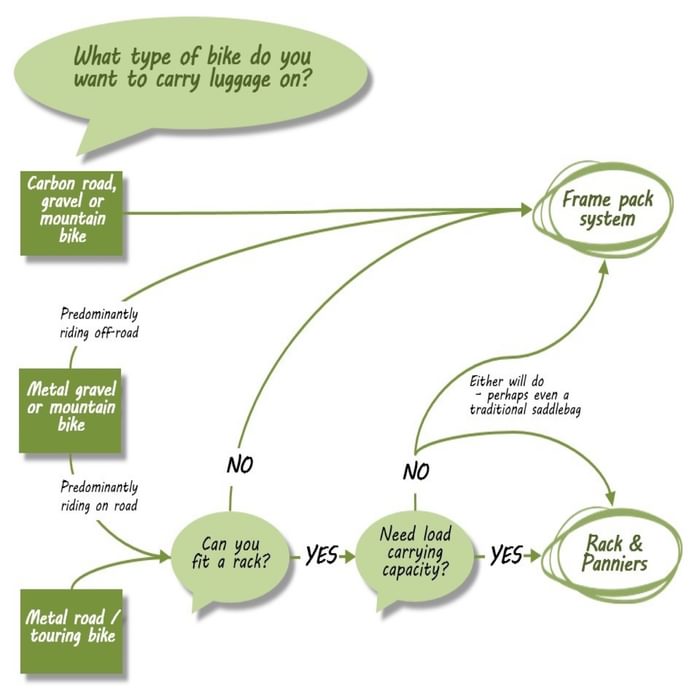 What's the best choice for you?
It depends on what type of bike you have and what type of riding you want to do. The decision chart below is designed to help identify your options based on the factors I've discussed so far.
But remember it doesn't have to be a binary choice. You can easily pair up a lightweight rack carrying a small pair of rear panniers with a handlebar pack or even a frame pack in the centre triangle. Some manufactures are now offer matching ranges of bike-packing bags and panniers. There is no cut and dry right way to carry luggage on a bike and everyone has their own preferences, me included – I abhor anything attached to the cockpit area except a Garmin and a bell.
If you want to carry a lot, but not necessarily on your bike, you could investigate a trailer. There are plenty of other solutions to add just a little bit more extra capacity, such as tool caddies that fit in bottle cages, rack top bags and fittings for attaching dry-bags to front forks. If you think they will work for you then give them a go. But whatever you do, try to avoid carrying things that won't fit into your existing capacity in a rucksack. It's one thing commuting with a rucksack or riding trails for an afternoon with a hydration pack; but it's another having to put up with a sweaty and probably aching back day after day.
So, what would Wayfarer make of all this choice? I guess he'd be up in the hills on a carbon gravel bike with a couple of frame packs attached. What say you?
To read more articles like this get our newsletter
Sign up today for a 20% discount on your next purchase. Join over 30,000 enthusiasts from around the world. If you don't love our mix of new books, articles, offers and competitions, you can unsubscribe at any time. We will never spam you, sell your data or send emails from third parties.