Glyndŵr's Way: one of Britain's quietest National Trails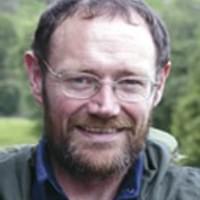 Paddy Dillon rewalks Glyndŵr's Way, one of Britain's quietest National Trails, where people and facilities are sparse, but history and legend are everywhere.
After three circuits of Glyndŵr's Way, I'm beginning to feel that I know the empty spaces of mid-Wales. The first spin was before the route became a National Trail, followed by further explorations once it had been re-aligned and equipped with new signposting. Like all other National Trails, Glyndŵr's Way features the acorn logo, but it also retains its original two-legged red dragon.
This is one of Britain's quietest National Trails, where I have yet to encounter anyone else walking the route. In fact, at one point I invited Cicerone author and mid-Wales expert Lawrence Main to walk with me for half a day. He regaled me with talk of ley lines, spirit paths and earth goddesses, as I tried to concentrate on stiles and signposts while keeping my route description flowing. (Editor's note: Sadly Lawrence's unique book to the Spirit Paths of Wales is now out of print.)
I also beat a path to the door of the trail officer, Helen Tatchell. What a door that was, leading me into the Parliament House associated with rebel leader and would-be Prince of Wales Owain Glyndŵr himself. Helen was shuffling the paperwork that sought to refine the route even further, dealing with path diversions around farmyards, or avoiding boggy areas, all requiring patient negotiation with farmers.
A good plan, and a pleasant surprise
On some parts of the route, lodgings are limited to one or two addresses, and not every little country pub or café will be open when you want them to be. Sure, seasoned trekkers know how to make use of public transport to leave the route in search of further facilities, but on Glyndŵr's Way whole days can pass without transport being available.
Patience is something that walkers need on Glyndŵr's Way, in order to create a route plan that offers accommodation, food and drink in the right places.
I always say that half the fun lies in planning a route, and being aware of all the options available along the way. Get a sound plan together and the actual walking should take care of itself, with no nasty surprises along the way. In fact, there are chances for rather pleasant surprises, as I found when walking down the remote valley of Nant yr Eira, which is bereft of services. I came across a woman who had just made a cup of tea for a passing cyclist, and she immediately offered one to me, rather than have me pass without refreshment.
Owain Glyndŵr
Anyway, once the security of a good plan is in place and the walk can unfold pleasantly, there is time for contemplation. This is Glyndŵr's Way, but who was Owain Glyndŵr, what did he do, and what became of him? There are some solid facts and figures, and there is no doubt that he was descended from the original Princes of Powys. Although he appeared loyal to the English King Richard II, this was a time of turmoil, with Richard being deposed and Henry IV taking the crown.
Shakespeare imagines some fine conversations between Henry 'Hotspur' and Owain 'Glendower', with Edmund Mortimer as pig-in-the-middle. There were some who credited Glyndŵr with magical powers, enabling him to control the weather. To this day, thoughts about who controls the weather regularly concern long-distance walkers!
There is no doubt that Glyndŵr scored some notable military victories for a while, and he was clearly adept at forging alliances, but in due course English military might prevailed. What became of Glyndŵr, no-one knows for sure, and like an old soldier he just seems to have faded away. Those who walk Glyndŵr's Way will occasionally walk in his footsteps and will have plenty of time to think about his life and times.
Three notable Welsh rivers, the Severn, the Wye and the Rheidol, have their sources here, and a lovely legend explains why they take such remarkably different courses to the sea.
According to an old story, Father Pumlumon had three daughters – Hafren, Wye and Rheidol. When they were due to leave home, he promised them as much land as they could cover between dawn and dusk on a single day. On the appointed day, Hafren hurried away at the break of day and managed to cover an enormous distance before reaching the sea. Wye woke later, and with less time available, took a more direct route to the sea, but still had the time to cover some distance. Rheidol woke very late, and realised she would have to dash straight for the sea or risk getting no land at all!
As a result, Hafren (Severn) is the longest river in Britain, charting a circuitous course, well endowed with sweeping meanders, and claiming a huge amount of land. Wye claims less land, but nevertheless includes charming countryside and occasional meanders. Rheidol is short and direct, spilling directly westwards in a headlong rush to the sea.
The route - plenty of options for extensions and diversions
Your footsteps will likely begin at Knighton, which is on the mighty earthwork of Offa's Dyke. The course of Glyndŵr's Way wanders apparently aimlessly through the countryside, crossing shapeless, sheep-grazed hills, passing through forests, crossing valleys and visiting small towns and villages. Highlights include Abbey-cwm-hir, where some fine stone columns were taken from the abbey ruins to Llanidloes and incorporated into the parish church.
The reservoir of Llyn Clywedog is passed, on the way to extensive moorlands above Dylife.
I recommend a diversion to 'bag' the remote moorland summit of Pen Pumlumon Fawr, on the grounds that it might be a long time before you ever find yourself within easy reach again.
Glyndŵr's Way briefly rubs shoulders with the Wales Coast Path on its way to Machynlleth, which has strong associations with the warrior/statesman. Make the most of this little town, because the convoluted route continues back into remote hills, where only occasional small villages offer the most basic services. Moorlands and forests eventually lead to the big reservoir of Llyn Efyrnwy, with its monumental stone dam.

The route plays hide-and-seek with the outflowing Afon Efyrnwy, sometimes following the river, and sometimes climbing nearby hills. A short stretch of Glyndŵr's Way runs concurrent with the Ann Griffiths Walk, where imaginative waymarking in the form of open books commemorates a pious woman. Ann saved all her spare change, then walked barefoot across country to Bala to buy a Bible. She also composed hymns in Welsh, which were published shortly after her death.
After Glyndŵr's Way leaves the Afon Efyrnwy, it makes its way to an elevated viewpoint before descending to Welshpool. As the Offa's Dyke Path is nearby, keen trekkers could easily link with it and follow it southwards for a couple more days to return to Knighton. This would turn an open-ended trail of 135 miles into a larger circular trail of 164 miles. Once you are attuned to a long-distance trail, you don't want it to end, so it's always worth looking for excuses to keep walking.
For more information on Glyndŵr's Way see the National Trail website, as well as the Cicerone guidebook and other Cicerone Extra Articles.
To read more articles like this get our newsletter
Sign up today for a 20% discount on your next purchase. Join over 30,000 enthusiasts from around the world. If you don't love our mix of new books, articles, offers and competitions, you can unsubscribe at any time. We will never spam you, sell your data or send emails from third parties.