Hiking the Overland Track in Tasmania
Living in Melbourne has given Rob Houghton ample opportunity to visit his favourite state: Tasmania. At the start of the year he and his wife, Jess, set off on one of the island's iconic hikes.
Waterfalls? On the Mersey?
On our drive in from Sheffield we passed the River Dove. Part way through our second day of hiking, we got our first view of Lake Windemere. On our third day, we crossed the headwaters of the Forth River and late on the fourth day we had a swim in the Mersey.
The early settlers of Tasmania, far from home and, no doubt, feeling isolated and lonely, took to naming their unfamiliar surroundings with very familiar monikers. It may well have been a comfort for them but to an Englishman hiking the Overland Track for the first time, it makes for a slightly surreal experience.
The Overland Track is THE Tasmanian hike and if you ever mention to an Australian that you like walking and are off to Tasmania, they'll definitely ask you if you've done it. It's quintessential Tasmania, too. It's rugged, mountainous, wild and quite wet. Those homesick settlers knew what they were doing when they stuck labels on this land. Although I don't remember there being actual waterfalls on the original Mersey, to a Briton – particularly a northern Briton – the landscape is at once alien and vaguely familiar.
Everything seems the same: here are the treeless mountains with their weather-shattered rocks; here are the moorlands with their bogs and shrubs; here is the mizzle and low cloud. And yet, nothing is quite the same: those mountains aren't made of limestone, they're dolerite intrusions; those moorland shrubs aren't heather and bilberry, they're buttongrass and cushion grass; and when that mizzle clears, the sun comes out and you can feel the prickles on your skin.
It's not deer, badgers and squirrels elusively hiding in the foliage, it's wallabies, wombats and quolls. Toto, I've a feeling we're not in Buxton anymore.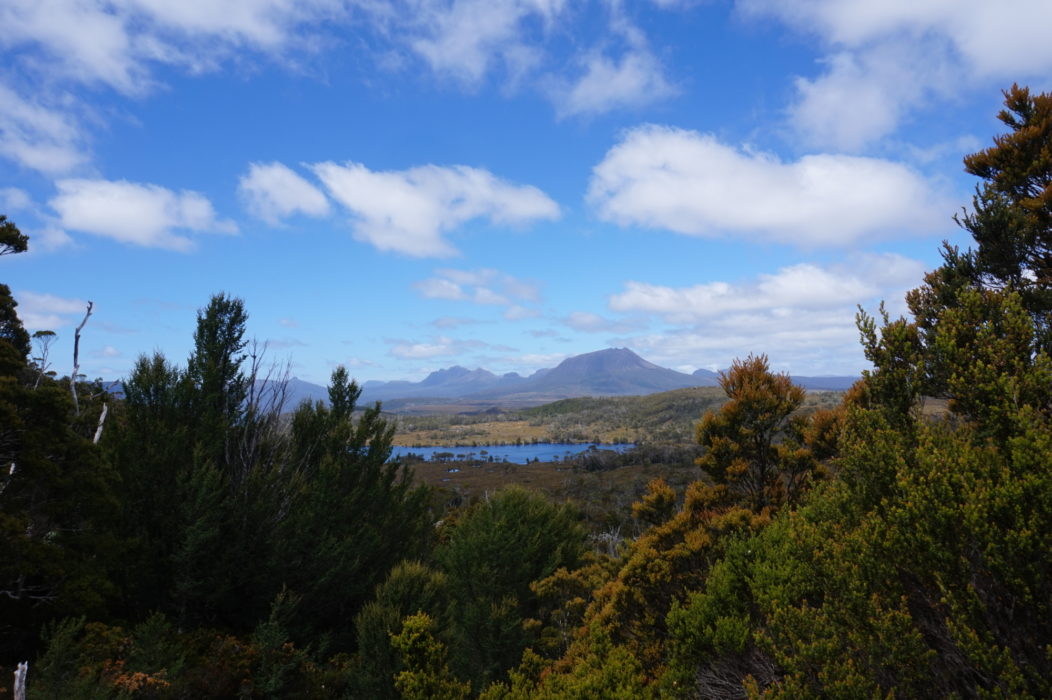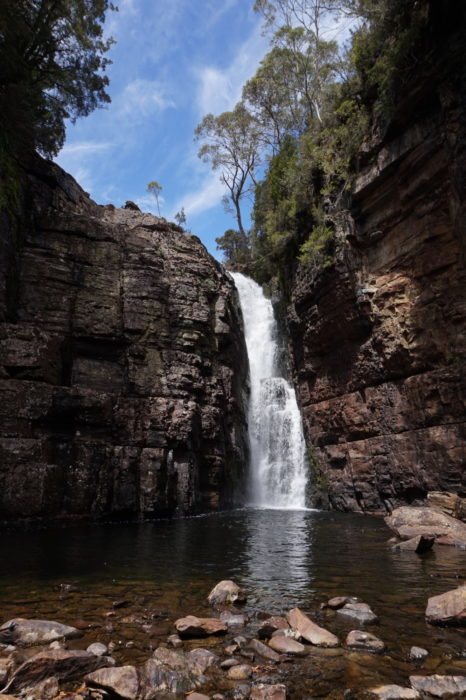 Taking the scenic route
The Overland Track is 65km from Cradle Valley to Lake St Clair and it's usually covered in six days. Those distances sound pretty doable but there are complicating factors. Although there are public huts available at the end of each day, the weather is fabulously changeable and everyone is required to carry a tent in case they get caught out. In addition to the cooking equipment and six days worth of food, this can make for some heavy packs and can seriously slow you down, making the route a challenge for most.
There is another way to do it, however. You can pay for the private huts. You get guides, who don't just lead the way, they interpret the landscape for you. You get to ditch the tent from your pack. And, best of all, the guides cook for you so you also get to ditch the food. Thus, unencumbered but for your clothes, lunch and water for the day, you get to travel further and faster. Almost double the distance, in fact, if you decide, as we did, to take all of the available side excursions.
And those side trips really are worth it. The main trail weaves its way on a mix of duckboards, rocks, gravel paths and bare earth through the valleys of this breathtaking landscape. There is real variation as you make your way through this land, from the moors and mountains to the cloud-forest and snowgums, and there are stunning views up to peaks that surround you. However, take the side trips and you get to climb those stunning peaks. Take the side trips and you get to see lakes that others have to pass. Take the side trips and you get to swim in the Mersey.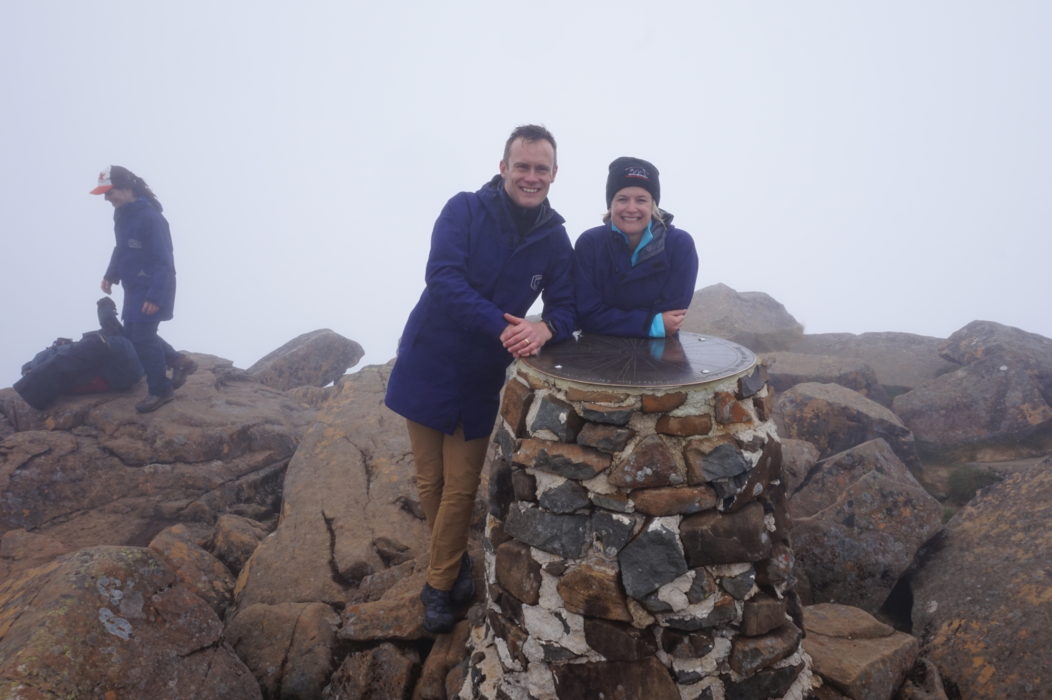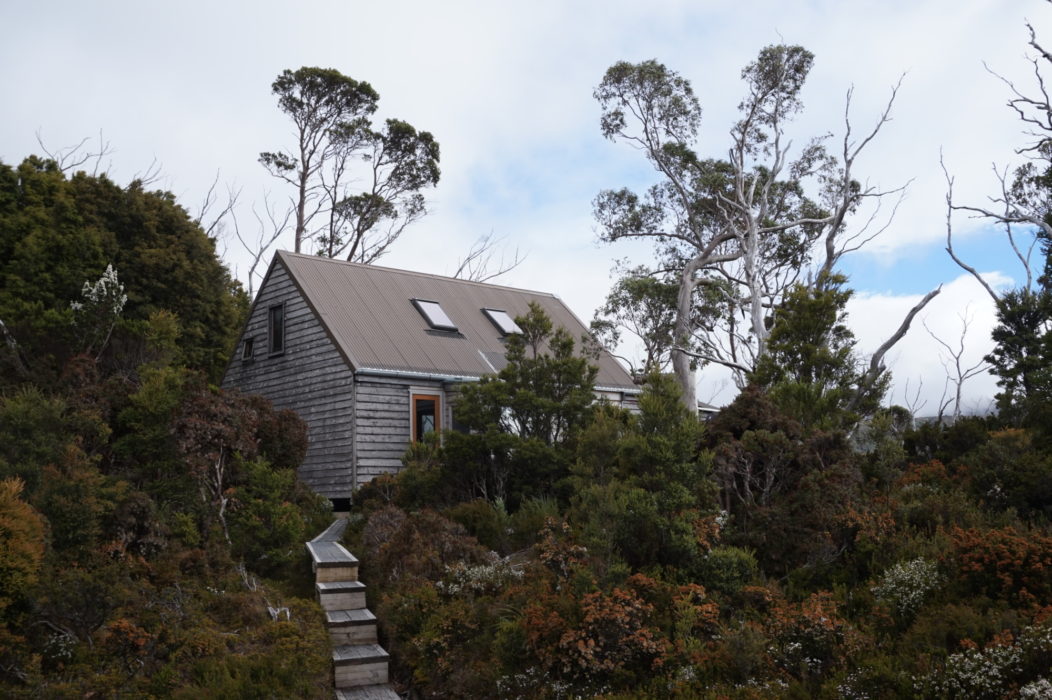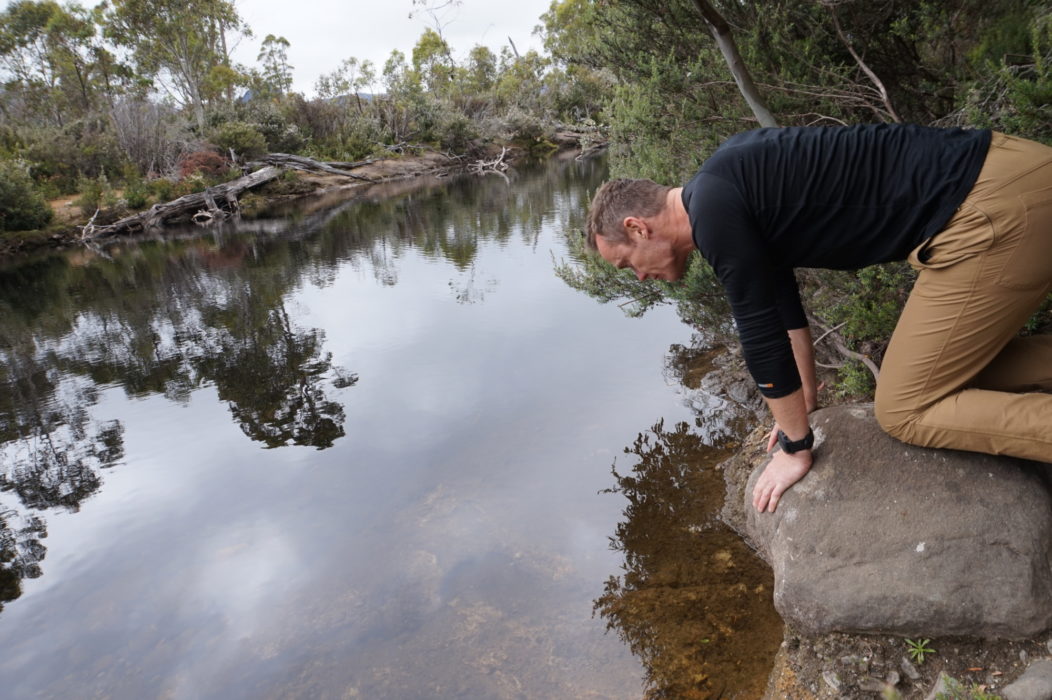 Putting in the effort
The first diversion is on day one. Cradle Mountain is synonymous with the Overland Track and many people refer to it as the start of the hike although, in truth, the route normally passes it by. Our hardy (possibly foolhardy?) crew tackled it on 1 January and we found ourselves scrambling up the tangle of boulders on its upper slopes in low cloud and persistent mist. The rock was damp, there were no views from the top and the photos look like they were shot in soft focus. I loved it. For a chap who cut his teeth on the slopes of the Glyderau, I felt right at home.
Add fresh-baked muffins upon reaching the hut and a glass of Tassie pinot with our two-course dinner – after the hot showers, of course – and the day was complete.
Day two was a much more gentle affair. Under clearing skies we ambled along the undulating trail, ditching our packs for a short tramp through flower-flecked heath to Lake Will. Here, I lay on a beach and listened to the breeze through the buttongrass, watched over by a hungry currawong.
It was day three's excursion that did for my good mood.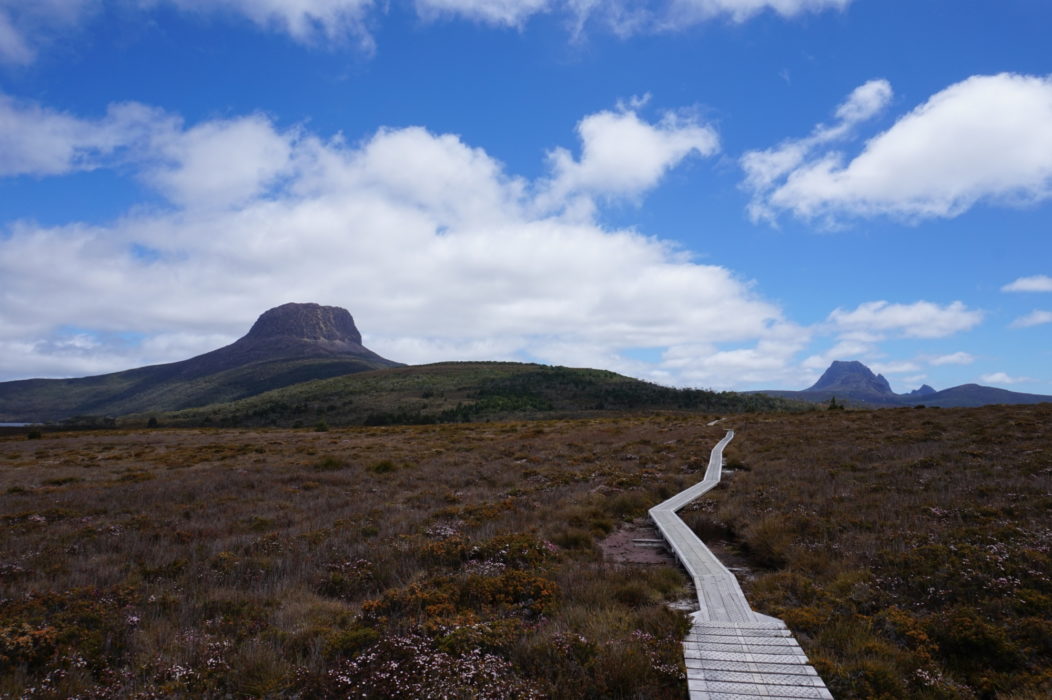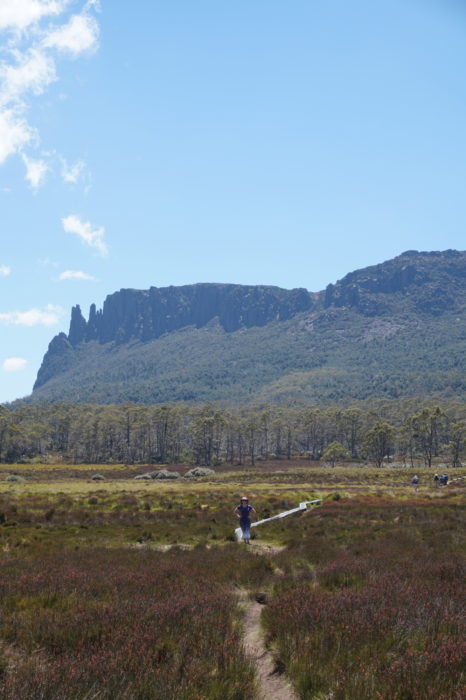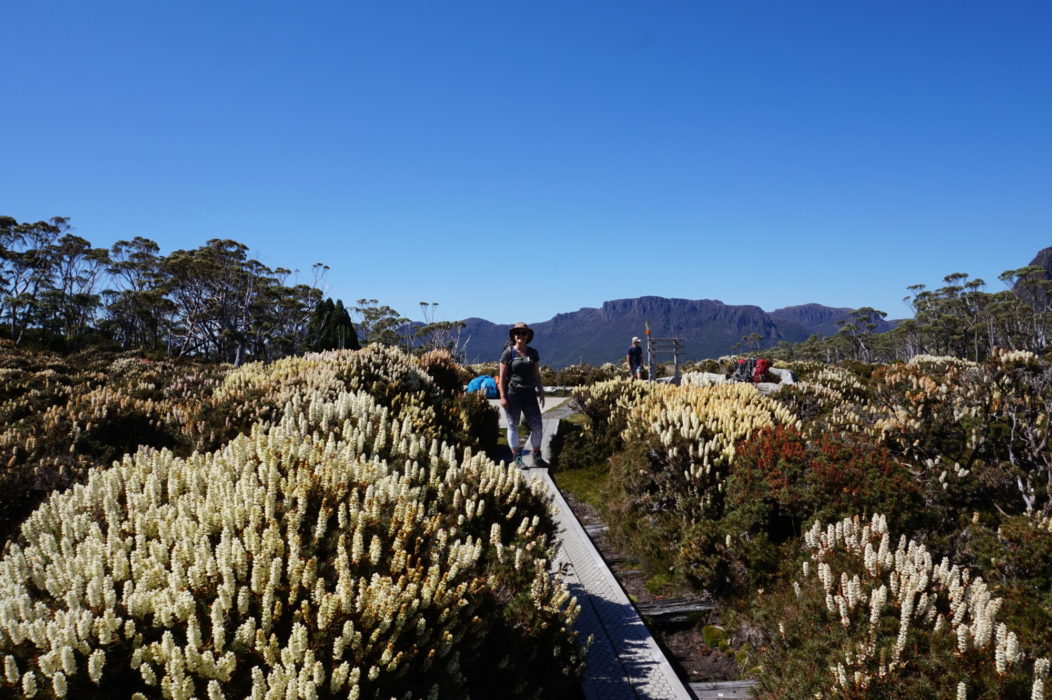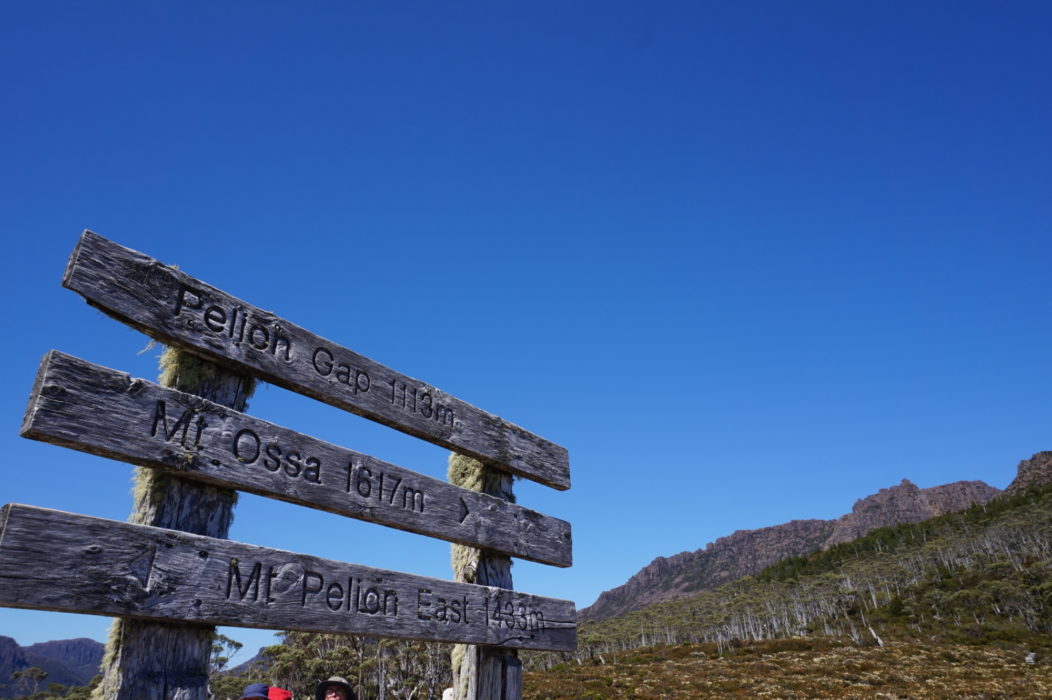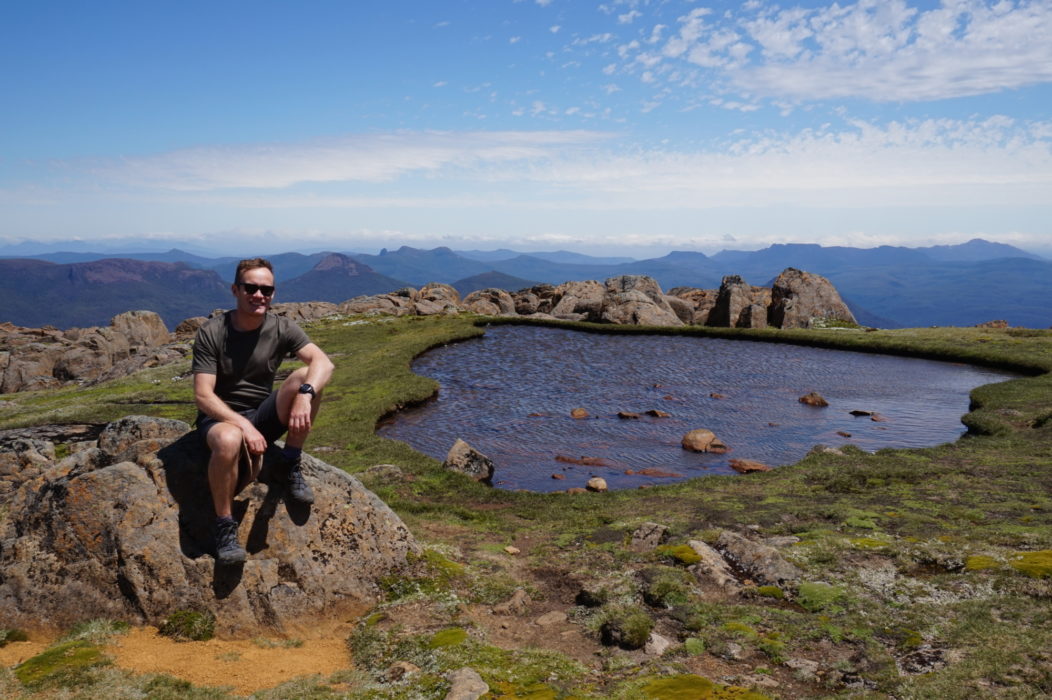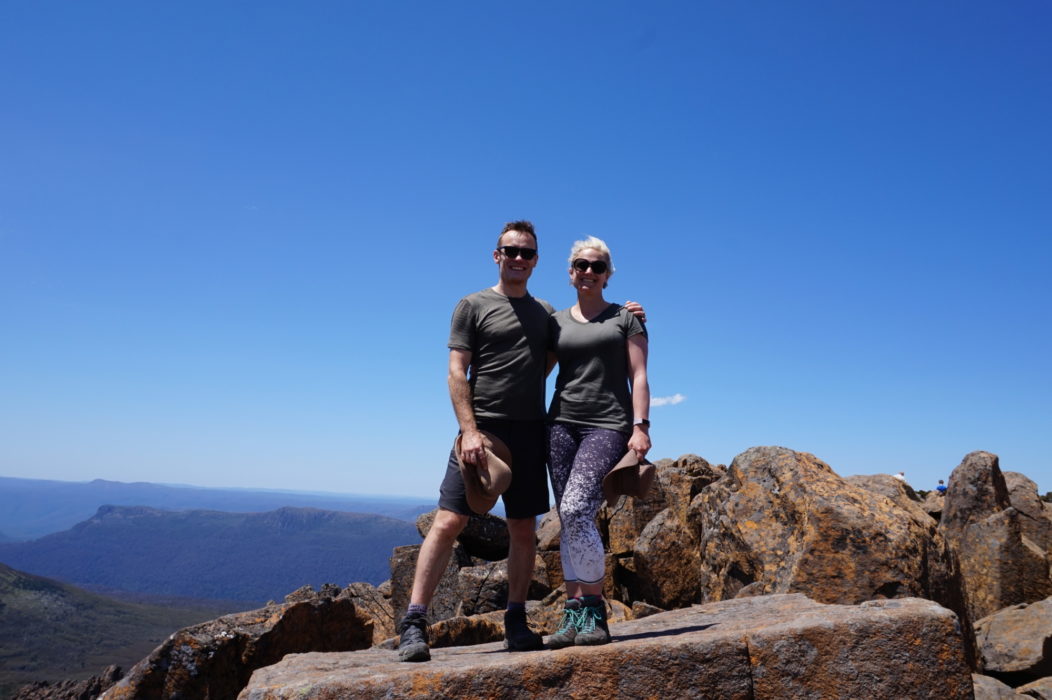 Day three was hot and still. Two things Tasmania rarely is and the Overland Track, almost never. The walk to the foot of Mount Oakley was lovely, it was the climb up it that tested my patience. Winding our way up the steep sides among the breathless trees, pestered by mosquitoes and forever wiping sweat out of our eyes, it was clear we were on a different continent with its own ideas of what constitutes climate. It and I, it seemed, were going to have a falling out.

I recovered my composure as we topped out onto the plateau and made our way to the dolerite intrusions that thrust up from the valley floor like broken teeth and give Oakley its distinctive outline. It was a spectacular view back out along the track we'd walked, all the way to Cradle Mountain. Grudgingly, I had to admit, the effort had been worth it.
The top of Tasmania
Day four was the highlight. Mount Ossa is the highest mountain in Tasmania. At 1617m, it's not a giant but then, when has that necessarily mattered? It's a genuinely beautiful walk. Beginning on stairs, you reach the top of these at the foot of Mount Doris and enter a little magical wonderland the locals call the Japanese Garden. Not a garden at all but a natural concordance of wind-stunted trees and cushion grass that give the area the look of a cultivated bonsai garden. It's lovely but you can't tarry long because there's a mountain to climb.
From the Japanese Garden, it's mostly scrambling to the summit plateau and, despite the sun, we were cooled by a howling wind that blew down over the saddle we were climbing. For those thinking of giving it a go, it's not technically demanding but it does require a steady nerve, particularly in the wind. It's certainly worth it, however.
On a clear day like ours, the summit seems to give a view of the whole island. We could see the bush fires hundreds of kilometres away that would, later that week, be making headlines. We could see almost all of our hike so far and got a sneak preview of what was to come. What a spot to sit and ponder. It was all we could do to drag ourselves away for the descent.
That night, a change in the weather came through and, from our hut, we had a front row seat as the sky above Cathedral Mountain appeared to catch fire.
We all gathered on the deck, wine in hand, and watched as the sunset delivered a firework display of dramatic brilliance. It was the perfect end to a wonderful day.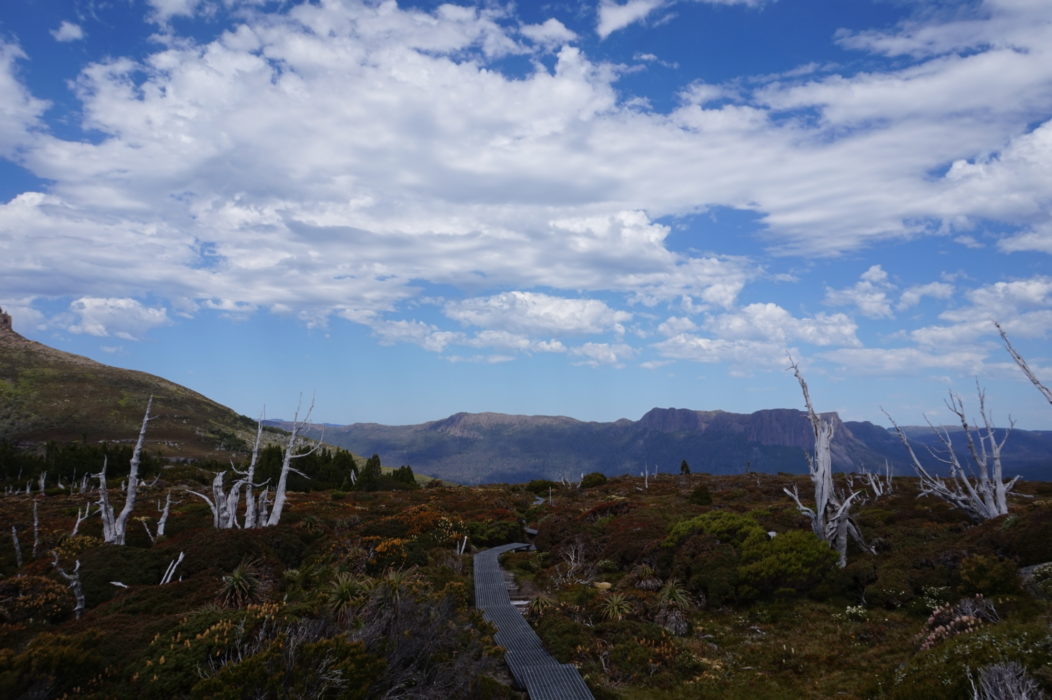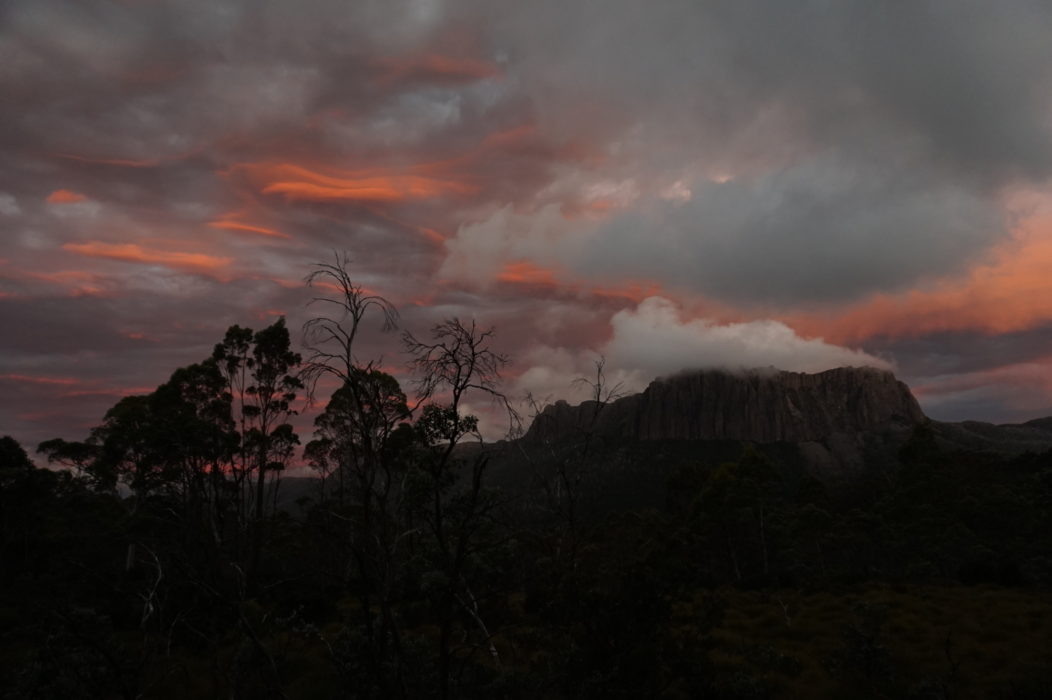 Last push (avoiding the Bunyip)
That's not the end of the walk but the hard yards are behind you now. The next day was an eerie walk through ancient cloud forest. Roots underfoot, fungi sprouting from rotten old logs and old man's beard draping decorously from branches lent an air of mystery and suspense to the woods. It's almost as if you have stumbled into a different era, a time before science and rationality. It's almost like you might expect to see fairies flitting mischievously between the tree trunks. Although, of course, as it's Australia, it's more likely to be the Bunyip.
It's from these woods that you might like to divert down to the river Mersey for your dip and a view of the striking waterfalls.
The final day sees you at the top end of Lake St Clair. You can walk the length of the lake if you feel like it, but most catch the small ferry service that dumps you, rather unceremoniously, at Lake St Clair station.
For me the sudden rush of people and noise and distraction was almost too much. For days we had done away with phones, we had had nothing to see but the majestic landscape and had had no company but our small band of warriors. And now, this onslaught of people and things, stuff to buy and decisions to make was quite overwhelming.
The effect wears off of course, and after a few days back in Melbourne and back at work and that sense of bewilderment at modern life is almost inconceivable. But hang on to it, because it's a reminder not to leave it too long before pulling on the boots again. Remember the hills and the moors, the sun and the mist, the wallabies and even the snakes because they are a bulwark against the everyday and they are their own guarantee that you will see them again.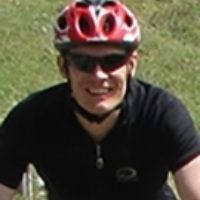 Rob Houghton

Rob Houghton has been an outdoor instructor, leader and educator for more years than he cares to remember and he has led educational expeditions on five continents. For as long as he can remember, Rob has always been a cyclist and his first bike was a Raleigh Striker back when they had fake suspension forks on the front. He only took up mountain biking ten years ago after a friend first took him around a trail centre in Wales. He was hooked.
View Articles and Books by Rob Houghton