An Introduction to St Cuthbert's Way
St Cuthbert's Way is a long-distance trail that leads the walker through a series of beautiful, diverse and at times remote landscapes as it winds its way from the historic abbeys of the Scottish Borders, across the remote uplands of the Anglo-Scottish border, to the superb scenery of the Northumberland Coast.
Walking St Cuthbert's Way
Melrose and Jedburgh to Holy Island
£16.95
This guidebook describes the long-distance trail of St Cuthbert's Way through Northumberland and the Borders. The route starts in Melrose and travels 100km (62 miles) through the Northumberland National Park to Holy Island. It also includes a description of the route from Holy Island up the coast to Berwick-upon-Tweed.
More information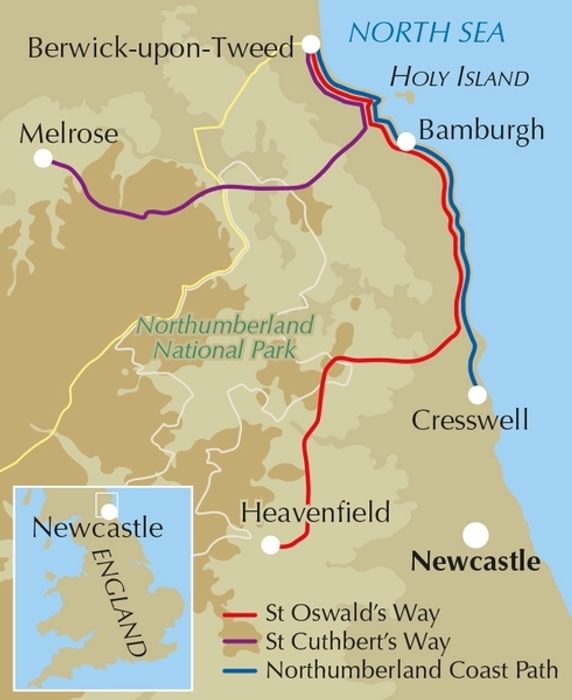 How long is St Cuthbert's Way?
St Cuthbert's Way stretches 62 miles (100km), from Melrose in the Borders to Holy Island, and is described in this guide as continuing up the coast to Berwick-upon-Tweed, following a stage of the Northumberland Coast Path, making a total distance of 77½ miles (125km). This allows for better transport links from Berwick, and takes in some of the most beautiful coastal scenery anywhere in Britain.
Why should you walk it?
This short long-distance route links several sites associated with the life of the seventh-century St Cuthbert: Melrose Abbey, of which St Cuthbert was prior; St Cuthbert's Cave, where monks fleeing from Lindisfarne carrying the saint's body and other relics stopped to rest; and Holy Island itself, where St Cuthbert was prior and later bishop.
St Cuthbert's Way is divided roughly equally between the Borders and Northumberland, visits three of the great Border abbeys and several unspoilt villages, before crossing the Cheviots and winding through more history-studded landscape to the Northumberland coast. Both St Oswald's and St Cuthbert's Way meet and share routes at times with other, well-known trails, including the Pennine Way and Hadrian's Wall Path meaning that the signage is mostly very good and directions are easy to follow.
Best time to walk St Cuthbert's Way?
St Cuthbert's Way can be walked at any time of year. However, the weather is generally at its finest from May to July, and as a result this period together with August sees the largest number of visitors.
December and January are usually the wettest months – although sustained periods of fine weather are not impossible in January in the Borders, on the Northumberland coast and in Northumberland National Park.
Winter walking over snow-covered hills can be extremely beautiful for those suitably prepared, although recent winters have seen fairly extreme snowfall, which effectively shut down the local infrastructure, including public transport, and resulted in enormous snow drifts and obliterated trails.
How hard is St Cuthbert's Way?
No technical difficulties are encountered on St Cuthbert's Way or the Northumberland Coast Path, and the walk can safely be described as easy. There are no high-level or exposed sections.
Some of the stages are quite long, however, and some of the stiles can be quite steep. The crossing of Gains Law and Humbleton Hill in the northern Cheviots on St Cuthbert's Way could cause navigation problems in low cloud or poor weather, and both these areas can be exposed to strong winds.
Best bit:
There's so much going on in this area of Northumberland - magnificent architecture, sites of enormous archeological and geological interest, Special Areas of Conservation and, according to Rudolf Abraham, some outstandingly good pubs!
Stage Summary - St Cuthbert's Way
| Stage | Locations | Distance |
| --- | --- | --- |
| 1 | Melrose to Jedburgh | 19½ miles (32km) |
| 2 | Jedburgh to Kirk Yetholm | 16 miles (26km) |
| 3 | Kirk Yetholm to Wooler | 13 miles (21km) |
| 4 | Wooler to West Mains | 13 miles (21.5km) |
| 5 | West Mains to Holy Island | 6 miles (9.5km) |
| 6 | Holy Island to Berwick-upon-Tweed | 11½ miles (18.5km) |
To read more articles like this get our newsletter
Sign up today for a 20% discount on your next purchase. Join over 30,000 enthusiasts from around the world. If you don't love our mix of new books, articles, offers and competitions, you can unsubscribe at any time. We will never spam you, sell your data or send emails from third parties.