The best UK long-distance walks you can do in a week
While you can make up your own route for a week of walking, here are fifteen suggestions for some of the best ideas for a week-long walking holiday. Suitable for 'beginner' trips, and also for more experienced walkers, these treks are in all parts of the UK.

The British Isles is covered in a fantastic network of footpaths which cross the countryside, providing access to mountains and moorland, coast, valleys, woodland, meadows and rolling hills. If you are new to long-distance walking, then it might be best to choose something not too demanding, as it's always much better to return from your walking holiday wanting to do more, rather than to hope you never need to repeat the experience! With this in mind, these suggested routes are roughly graded in terms of difficulty.
Long-distance walks you can do in a week
Choose the perfect long-distance walk for difficulty, length, history or scenery
These long-distance walks will take between 4 and 10 days to complete, so will fit roughly within a week of holiday and two weekends. You can always tackle longer routes by choosing sections to walk on different trips, to suit the time you have available.
| Route | length | days | highlights |
| --- | --- | --- | --- |
| Hampshire Test Way | 44 miles | 4-6 days | AONBs, Iron age forts |
| Borders Abbeys Way | 68 miles | 4-6 days | ruined medieval abbeys |
| Norfolk Coast Path | 90 miles | 7 days | coastal cliffs and beaches |
| Suffolk Coast Path | 60 miles | 7 days | coast, cliffs and heaths AONB |
| Northumberland Coast Path | 62 miles | 4-6 days | coastal scenery and birdlife |
| The Sandlings Walk | 59 miles | 7 days | Suffolk coast and heathlands AONB |
| The Ridgeway | 87 miles | 7 days | views, Downs and Chiltern Hills AONBs |
| Cotswold Way | 102 miles | 7-10 days | views, picturesque villages, historic Bath |
| South Downs Way | 100 miles | 7-10 days | chalk downs, river valleys, views |
| Great Glen Way | 79 miles | 5-6 days | river, loch, mountain scenery |
| Hadrian's Wall Path | 84 miles | 7 days | Roman wall, forts and settlements |
| The Dales Way | 79 miles | 6 days | riverside, Yorkshire Dales, Lake District |
| The Ribble way | 72 miles | 5-7 days | river paths, quiet tracks and lanes |
| The Cumbria Way | 73 miles | 5-8 days | river valleys, low fells, lakes, mountains |
| West Highland Way | 95 miles | 6-9 days | mountain and loch landscapes |
| The Wye Valley Walk | 136 miles | 7-10 days | riverside and hill walking |
| Snowdonia Way | 97 miles | 6-8 days | mainly low level, mountain scenery |
| The Skye Trail | 80 miles | 7 days | stunning scenery |
The South Downs Way has excellent views like this spot along the Fulking escarpment near Devil's Dyke
Sign for the Ridgeway
The Cotswold Way is a wonderful walking route for quintessentially English scenery like at Dodington Park
The character of any walk tends to be based around the geology and landscape. For example, there are several walks in this list which follow natural chalk ridges and escarpments, and yet each one is very different. The Ridgeway is characterised by the lengthy stretches following an ancient track along the ridge line of the North Wessex Downs, dropping to the River Thames at Goring Gap, and then continuing along the line of the Chiltern Hills. The views are immense in all directions. This is a similar story for the South Downs Way, although in general the South Downs are more frequently visited both by day walkers and long-distance walkers. Accommodation in both cases is found in the villages and small towns at the foot of the hills, just off-route. This is also the case for the wonderful Cotswold Way, where much of the time the route stays high on the escarpment, but in this case the national trail itself drops directly down to visit the pretty villages and towns.
For an easier long-distance trek why not walk through the valleys alongside one of the UK's pretty rivers
Riverside walking is always a good option for walks of a generally less strenuous nature, and both the Test Way and the Wye Valley Walk offer interesting riverside and hill walking. The River Test is particularly interesting in that it is a crystal clear chalk stream, one of only a handful in the country. It could be argued that the Great Glen Way is also a riverside walk. Much of the route is beside either river or Loch Ness, with only the last one or two days in the highlands before reaching Inverness. The Ribble Way follows the Ribble valley, from the estuary mouth near Preston to the river's source on Cam Fell in the Yorkshire Dales.
The Test Way offers beautiful scenery and less difficult walking. The long bridge at Wherwell, Test Way
On the Suffolk Coast Path
A long-distance walk close to London but it doesn't feel like it on the Wye Valley Walk
St Aldhelms Head on the South West Coast Path
Coastal walks
Coastal walks may sound inviting, but the clever thing is to choose the right coast, depending on how much energy you have. Some coasts, such as many sections on the South West Coast Path are physically demanding as high cliffs create a rollercoaster ride, dropping steeply to the sea before rising again. Other coast paths are more accessible, such as the Norfolk Coast Path between Hunstanton and Hopton-on-Sea, and the pretty Suffolk Coast Path which passes through an area of outstanding natural beauty of coast and heathlands. The lesser-known Sandlings Walk is a similar length, but explores the heathlands inland. The Northumberland Coast Path takes in the whole of the Northumberland Coast AONB with its breathtaking coastal scenery and birdlife.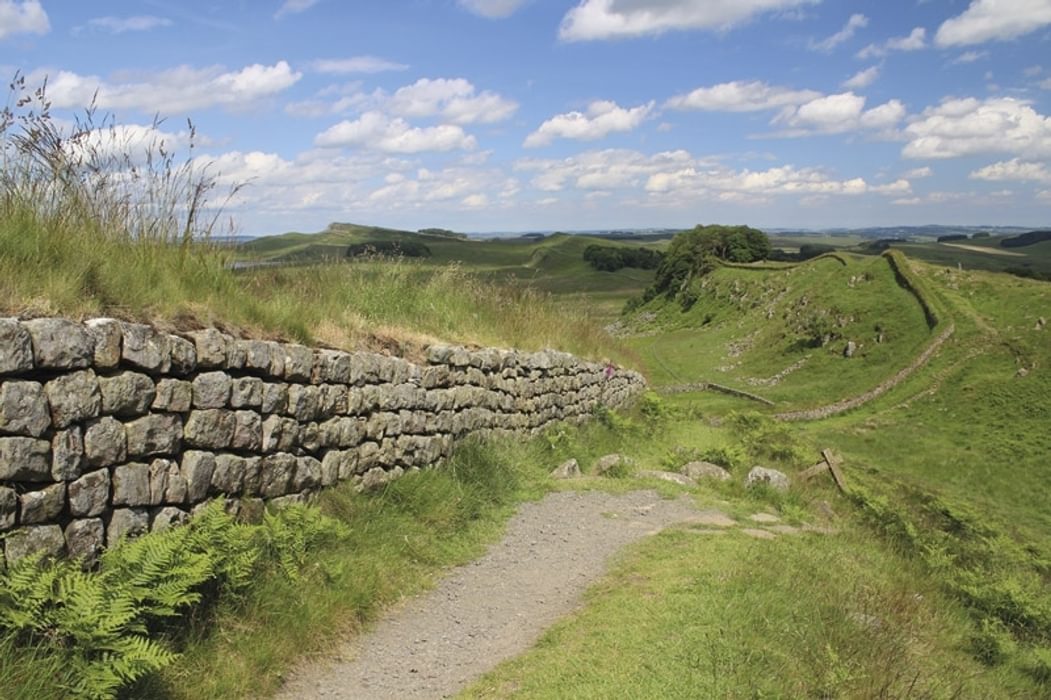 The best long-distance walks for historical interest
Hadrian's Wall Path National Trail is well signed, and is considered to be the most walked of all the national trails. Take time to explore Vindolanda, Housesteads, Birdoswald and Heddon-on-the-Wall, as you cross northern England between the Cumbria Coast and Newcastle. Here are also plenty of ancient historic sites such as Iron Age forts, long barrows and tumuli on the Cotswold Way. The Borders Abbeys Way links four of Britain's grandest ruined medieval abbeys in the central Scottish Borders. The route is a well waymarked and is one of Scotland's Great Trails
The best UK long-distance walks in the mountains
For long-distance hikes in the mountains of the UK, the suggested routes are generally accessible for anyone who has some level of hill walking experience. Mountain walking, even when not venturing too high, can present navigation challenges in bad weather, so these routes should not be attempted if you are in the least unsure of your navigation ability. The Dales Way is perhaps the easiest of these routes, as it makes its way easily through the Yorkshire Dales from Ilkley, passing through Burnsall, Grassington, Kettlewell, Buckden and Dent, then on to Sedbergh at the foot of the Howgill fells and on to Bowness-on-Windermere in the Lake District. The Cumbria Way meanwhile gives you a good flavour of the Lake District, as is takes a linear route beginning in Ulverston on the southern Cumbrian coast, and visits Coniston, Tarn Hows, the Great Langdale Valley, Borrowdale and Keswick, then on over the northern fells before a riverside walk to Carlisle.
Finally there are mountain routes in Wales and Scotland that can be easily accomplished within a week. Two Scottish long-distance, or Great Trails are The Great Glen Way, which has already been mentioned, but for a little more challenge then the West Highland Way is justifiably a popular route. Mainly following tracks, the gradients are nearly always easy, and the scenery grows in grandeur on its way from Milngavie just north of Glasgow along the shores of Loch Lomond, then over the hills passing Crianlarich, Bridge of Orchy, crossing Rannoch Moor to Kingshouse at the foot of the imposing Buachaille Etive Mòr, then over the 'Devil's Staircase' to Kinlochleven, (it's a climb, but really not difficult!) then on to Fort William, at the foot of Ben Nevis. The Snowdonia Way is a coast to coast route as it passes through the heart of Snowdonia's stunning mountain scenery on its way between Machynlleth and Conwy. The Skye Trail is a challenging week-long hike across the magical Isle of Skye suitable for experienced backpackers and mountain walkers
The Cumbria Way passes some incredibly beautiful spots in the Lake District such as Tarn Hows
The West Highland Way showcases some of the best scenery in Scotland
The Snowdonia Way is a quiet and remote route through lesser-know parts of Snowdonia
The Dales Way in the Yorkshire Dales, Northern England, can be done in 6 days
National Trails are great long-distance walking routes for beginners
So, these are just a few suggestions. For 'beginners' it might be best to start with one of the national trails, as these routes are well maintained and well signed. Of the routes described, the only routes not designated as national trails are the Great Stones Way, Test Way, Sandlings Walk, Dales Way, Cumbria Way, Wye Valley Walk and Snowdonia Way, although the Dales Way and Wye Valley Walk are well waymarked.
Remember to prepare for your trip carefully. Book your accommodation, plan the stages carefully, trying to keep at least the first two days at a comfortable length, and prepare your body! Walking for several hours a day, day after day is not something that most people are used to, so practice walking longer distances over several weekends before your trek, so that you know that your feet and your body will be happy on your holiday.
To read more articles like this get our newsletter
Sign up today for a 20% discount on your next purchase. Join over 30,000 enthusiasts from around the world. If you don't love our mix of new books, articles, offers and competitions, you can unsubscribe at any time. We will never spam you, sell your data or send emails from third parties.