An intro to... The Westweg in Germany's Black Forest
The Westweg is one of Germany's oldest and greatest long distance treks, set up by the ambitious Schwarzwaldverein, or Black Forest Association. Their plans to entice walkers to Germany came to fruition at the turn of the last century and in 1900 the Westweg was completed. Here is everything you need to know about this ideal first time trek.
Where is it and how far is it?
The Westweg, or Westway, runs for 285km from Pforzheim to Basel through the Black Forest of southwest Germany. This scenic trek passes through the Schwarzwald National Park, the source of the Danube and Feldburg, the highest peak in the Black Forest. There is also a choice of a western route or an eastern route once you get to Lake Titisee.
The route, which can be divided comfortably into 13 or 14 day-sections, comprises a total of about 8000m cumulative altitude metres – and sometimes a thousand of those have to be overcome in a single day. For seasoned alpine trekkers or hill walkers that might not sound like much, but the average walker should not underestimate the challenge.
However, this being the Black Forest rather than a remote mountain wilderness, it is almost always possible to shorten any part of the route by taking public transport, or by breaking one section into two, according to one's personal stamina and ability. Also, for those who do not relish being weighed down by a heavy pack – fret not! Walking-without-luggage packages or luggage forwarding services are available for almost all sections of this route.
While the Westweg does not compete for thrill and adventure with more alpine routes, its quieter, bucolic charms are seductive to those who are romantics at heart.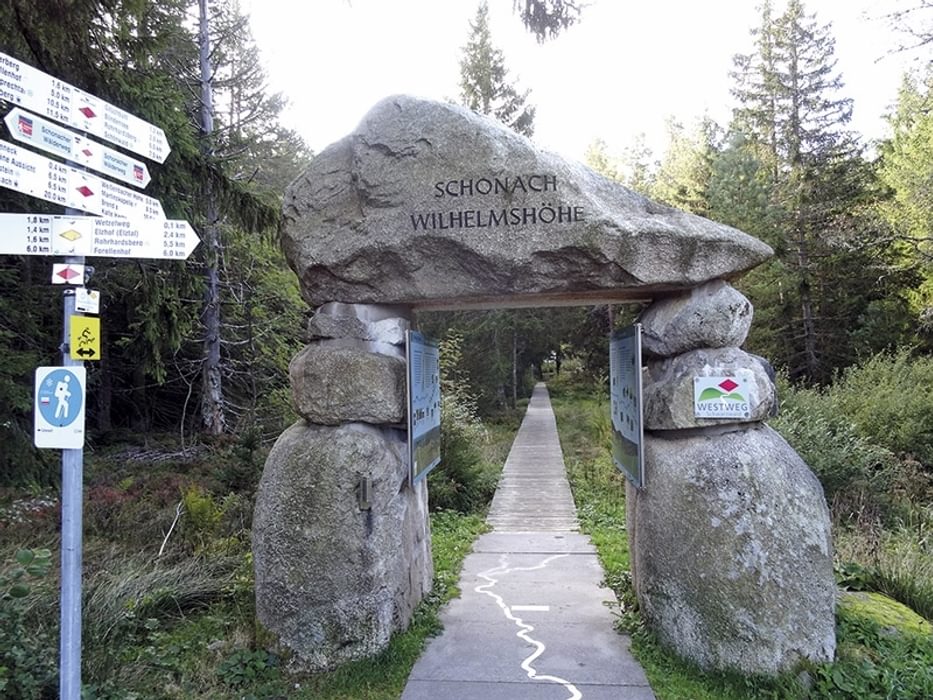 Apart from the ever-changing blend of forest, farmland and pretty villages, the Black Forest is an incredibly welcoming destination for trekkers. The Black Forest Association aimed to provide tourists with a trek through as many of the regions highlights as possible - great news for us. There are around 23,000km of well maintained paths, a very efficient public transport system and ideally placed benches huts and inns. All in all it makes an excellent infrastructure for Westweg trekkers.

The Westweg
Through Germany's Black Forest
£16.95
Guidebook to the Westweg (Westway), a 285km walk across Germany's Black Forest from Pforzheim to Basel. This classic route, which includes Feldberg, Black Forest's highest peak, takes 13 to 14 days, each day stage ranging from 15 to 28km. Two variants are described, both well way-marked and suitable for those new to long distance walking.
More information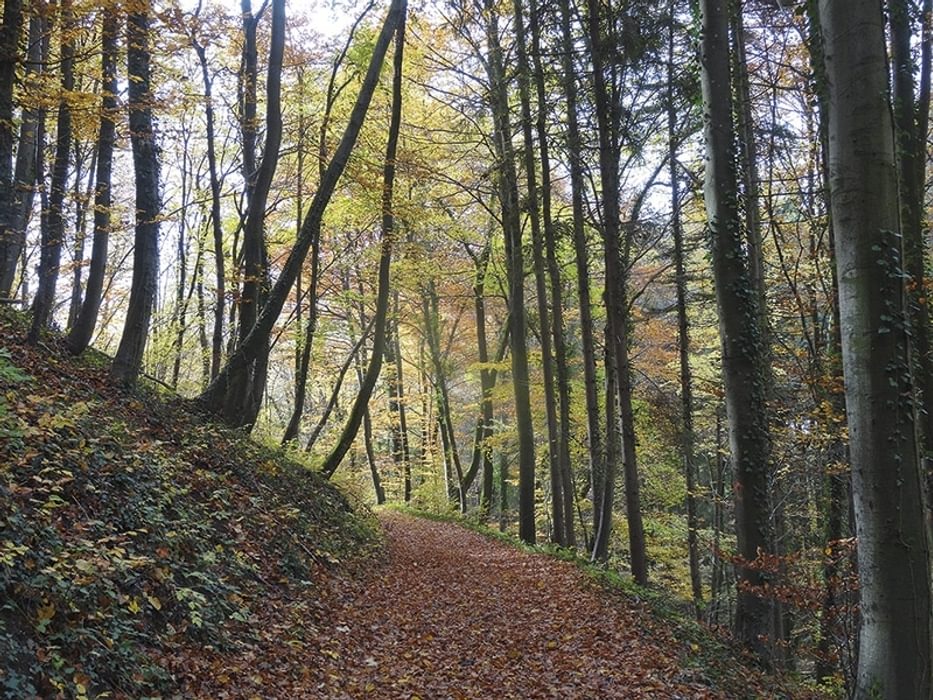 North to South or South to North?
Although the route is marked in both directions, almost everybody walks it from north to south – and with good reason. While the mountains are the same, the views are not. Walking from north to south, the anticipation grows as one approaches the higher hills ahead, and majestic Alpine peaks tower on the distant horizon. Basel, with its allure of cultural attractions and old-world charms, holds its own appeal as the final destination, whereas Pforzheim – well, lets just say it can't compete. But if all one wants to do is walk a small section, or some individual stages, the direction really does not matter much.

When should you go?
The best time to trek the Westweg is between April and October. It is likely that much of the route would be passable in March or November but the choice of hotels and restaurants along the route would be very limited during the off-season. The weather and daylight are also more forgiving in the spring and summer months.
Where should you stay?
There are a good number of places to stay along the route and hotels that are further away from the Westweg itself may offer shuttle services. However, this is a busy area and pre-booking is strongly advisable. Basic shelter huts can be used if you are 'in need' but these are similar to bothies and should not be relied upon.
Getting there
The Black Forest is very accessible and well served by a number of regional airports. If you are planning to start the Westweg in the north (recommended), the most useful airports to fly into are Stuttgart, Baden-Baden, or even Strasbourg, just over the border in France. If none of these are convenient, the next best international hub is Frankfurt. When you have completed the walk, rather than returning to the arrival airport it would make more sense to fly out of Basel's Euroairport, or even Geneva or Zurich – especially if you're walking the full length of the trail.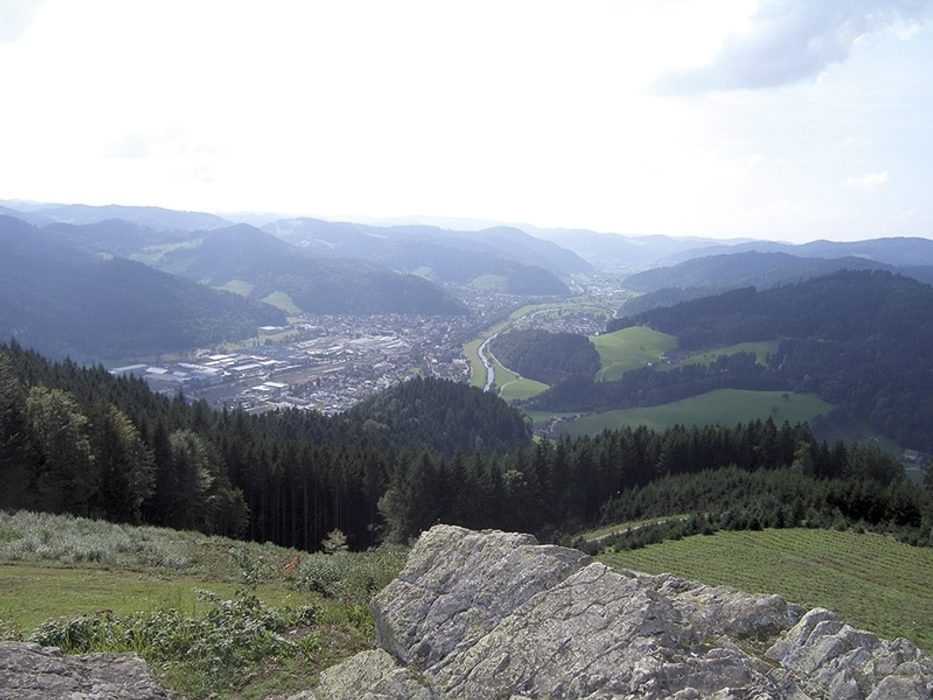 Best bit:
The 360° views around Schliffkopf are fabulous and, because it is a strictly protected area, you may spot wood grouse, grass snakes and European adders if you can draw your eyes away from the horizon.
Oh, and the cake.
More Information about the Westweg:
To read more articles like this get our newsletter
Sign up today for a 20% discount on your next purchase. Join over 30,000 enthusiasts from around the world. If you don't love our mix of new books, articles, offers and competitions, you can unsubscribe at any time. We will never spam you, sell your data or send emails from third parties.