Introduction to the New Forest
The New Forest is a delight to explore, whether wandering through historic villages or feeling at one with nature deep in an ancient wood listening to the sounds of nature.
Thanks to the fairly level terrain, mixed with a of myriad well-defined tracks and paths, the forest is bestowed with a wide range of family-friendly walks, while those seeking the quieter parts can explore the network of narrower paths over the open heath, through forested areas where careful map reading may be required.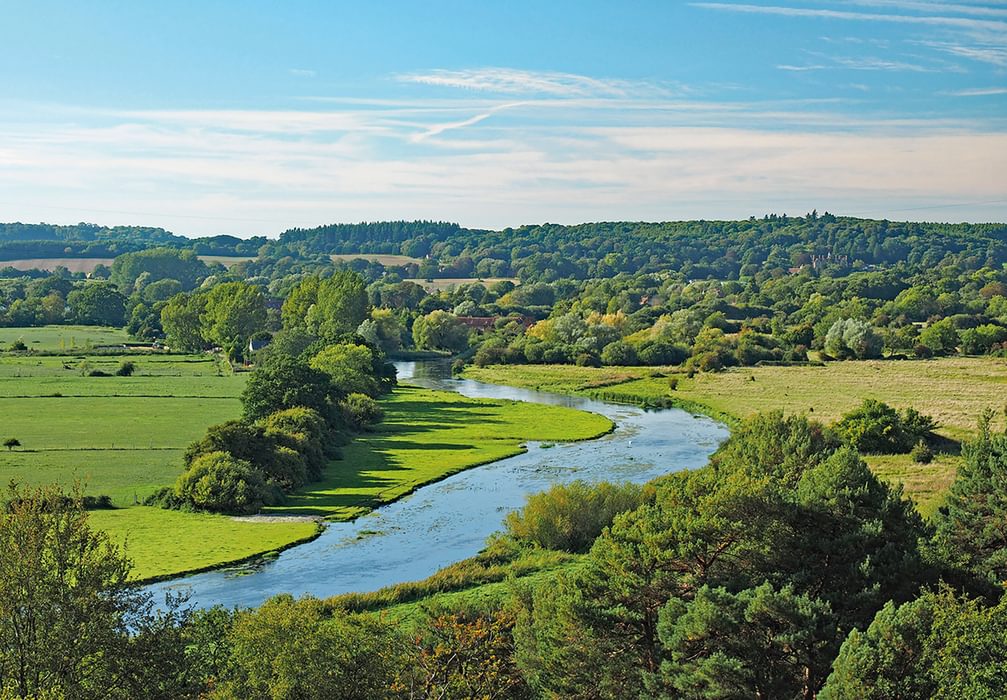 Walking in the New Forest
30 Walks in the New Forest National Park
£12.95
A guidebook to 30 walks of between 3 and 10 miles set throughout the New Forest National Park in Hampshire and Wiltshire. Routes explore ancient woodland, heather-clad heath and dramatic coastline, all within easy reach of Southampton, Bournemouth and Salisbury. Walks for all abilities, easily combined to create longer challenges.
More information
How large is the New Forest?
The New Forest National Park covers 570 square kilometres (220 square miles).
When is the best time to go to the New Forest?
Always make every effort to avoid disturbing the wildlife and keep dogs under close control, particularly between March and July when the forest is home to ground-nesting birds such as the curlew and snipe.
As for the weather, Summers in the forest tend to be dry; though this is also the time of year with the highest number of visitors. Spring heralds new life, with vivid greens on the trees, colourful displays of flowers and abundant birdsong. Late Summer sees the heather on the open heath turn to a carpet of purple, and cool Autumn nights herald a dramatic change, with the trees becoming clothed in spectacular shades of russet, gold and brown.
Winter months bring spells of rain that can make some parts of the forest rather wet underfoot, but a cold clear Winter's day can be a magical experience.
What to do in the New Forest
The Cicerone Guide to the New Forest is full of suggestions with fantastic resources to plan your visit. You can view the list of walks at the bottom of this page, with details on each.
If you're interested in the history, geology and wildlife of the New Forest, Cicerone author Steve Davison has written a fantastic article below.
The New Forest Code
Be safe and plan ahead – follow any signs and aim to be out of the Forest by dusk
Close all gates behind you unless they have been fastened open
Do not pick or remove plants or flowers
Do not feed or disturb the common stock – ponies, cattle and donkeys; give them space and do not touch them
Take your litter home and do not light fires
Keep to the existing tracks in the Forest when the birds nest on the ground (1 March–31 July); at this time keep your dog close by you or you may be asked by a Forest Ranger or Keeper to put it on a lead
Keep below the Forest speed limit (40mph) and slow down when approaching walkers, riders or livestock
Do not park on the verges or in gateways; use one of the many car parks
Keep well away from any forestry work and obey the warning signs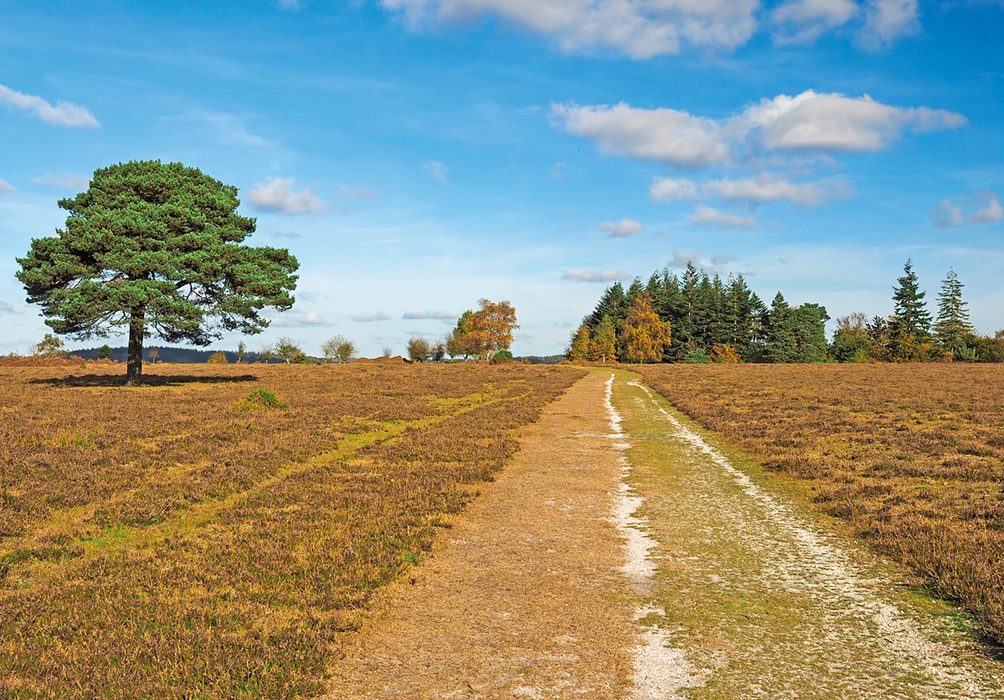 New Forest Walks
Listed below are the walks included in the Cicerone Guide, with basic information on each. Purchase the guide for fantastic, in-depth information on each route, including maps, alternative routes to extend/shorten your journey, visit local landmarks, include a pub visit on your walk & more!
Walk
Locations
Distance
Time
1 
Langley Wood and Hamptworth
8.5km (5¼ miles)
2½hr
2 
Godshill and Castle Hill
7.5km (4¾ miles)
2¼hr
3 
Hatchet Green and Woodgreen
9.5km (5¾ miles)
2¾hr
4 
Bramshaw Telegraph and Eyeworth Pond
10.5km (6½ miles)
3hr
5 
Bramshaw Church and Nomansland
8km (5 miles)
2¼hr
6 
Abbots Well and Alderhill Inclosure
8.5km (5¼ miles)
2¼hr
7 
Fritham and Cadman's Pool
10.5km (6½ miles)
3hr 
8 
Janesmoor Pond and the Rufus Stone
9km (5½ miles)
2½hr
9 
High Corner Inn and Ogden's Purlieu
5km (3¼ miles)
1½hr
10
Appleslade Bottom to Rockford via Ibsley Common
9.5km (6 miles)
2¾hr
11
Castle Piece and Linford Brook
7.5km (4¾ miles)
2¼hr
12
Exploring Bolderwood
5.5km (3½ miles)
1½hr
13
Minstead and Furzey Gardens
8.5km (5¼ miles)
2½hr
14
Portuguese Fireplace and the Knightwood Oak
9.5km (6 miles)
2¾hr
15
Bank and Gritnam
9km (5½ miles)
2½hr
16
Ober Water and Blackwater Arboretum
13km (8 miles)
3½hr
17
Holmsley Walk and Burley
9.5km (6 miles)
2¾hr
18
Wilverley Inclosure and Castleman's Corkscrew
10.5km (6½ miles)
3hr
19
Lyndhurst and Bolton's Bench
11km (7 miles) 
3¼hr
20
Ashurst figure-of-eight
9km (5½ miles)
2½hr
21
Beaulieu Road and Bishop's Dyke
9.5km (6 miles)
2½hr
22
King's Hat, Dibden Bottom and the Beaulieu River
10km (6¼ miles)
2¾hr
23
Stubby Copse Inclosure and Balmer Lawn
8km (5 miles)
2¼hr
24
Brockenhurst and Dilton
13.5km (8½ miles)
3¾hr
25
Hatchet Pond and Hawkhill Inclosure
7.5km (4¾ miles)
2hr
26
Beaulieu River from Beaulieu to Buckler's Hard
7.5km (4¾ miles)
2¼hr
27
Setley Common and Boldre Church
10.5km (6½ miles)
3hr 
28
Exploring the coastline from Lymington to Keyhaven
15.5km (9¾ miles)
4hr
29
Milford on Sea and Hurst Castle
6km (3¾ miles)
1½hr 
30
Lepe and Exbury
9.5km (6 miles)
2½hr 
To read more articles like this get our newsletter
Sign up today for a 20% discount on your next purchase. Join over 30,000 enthusiasts from around the world. If you don't love our mix of new books, articles, offers and competitions, you can unsubscribe at any time. We will never spam you, sell your data or send emails from third parties.