My first Cicerone guides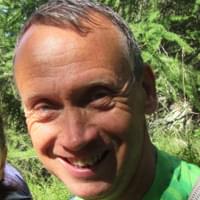 Good advice has always been central to Cicerone's guidebooks and, as they celebrate 50 years as a leading light in the outdoor world, nothing has changed, says Andy Hodges
Can you remember your first hill walk? Mine was Rivington Pike with cubs; 'stout shoes' worn as per the kit list. Can you remember your first night under canvas? Mine was on the scout hut field in Ashton-in-Makerfield; personal groundsheet as per the kit list. Can you remember your first mountain? Mine was Snaefell with scouts; orange survival bags carried by everyone, as per the kit list.
Two things leap out to me from those long-off days of the early 1980s: the 1st Ashton (Lord Gerard's Own) Scouts Group were instrumental in my early adventures and good advice is essential.

First guidebook
My first guidebook was Cicerone's Scrambles in the Lake District. I'd visited the Lake District so many times, walking most of the peaks and valleys with Scout and Venture Scout friends. I'd coveted the long red socks with grey-marl shorter ones rolled over the top of the boots that I'd seen 'real' hikers wearing after a successful summit attempt on the towering Coniston Old Man. Gore-tex was a lottery-winner's reserve, neoprene-coated PU nylon was my world. Then I stumbled upon a range of books in a shop one wet day in Ambleside and discovered scrambling.
My friends and I wasted no time finding gills and crags and the intrinsic, weaving lines to the summits. The Cicerone guidebook was a constant companion, a reassuring friend in my pocket and an inspiring reference in between trips. I read it from cover to cover, again and again. My friends and I pored over it around the table in our stereotypical working men's club corner. We ticked off the routes and aimed higher.
I bought Scrambles in Snowdonia. We worked through them. On one route my friend, Jon, pointed out a different line that he described as 'interesting'. Desperate thrutching, climbing and teeth-gritting (plus some luck) saw us create our own direct finish and a new phrase was born for our 'off-piste' adventures for years to come; if it was 'interesting' it was going to be exciting and have an uncertain outcome.

First hut-to-hut tour
After getting married and introducing my wife, Sue, to the world of mountain walking (our first winter summit was Coniston Old Man) we discovered a copy of Tour of Mont Blanc by Andrew Harper, published by Cicerone. We read the book, made notes, bought lira, French and Swiss francs and a flight to Geneva.
With no internet it was very different; we turned up unannounced at refuges and had the time of our lives. We discovered the folly of carrying heavy packs and were converted to hut-to-hut touring, a whole new world.
Where next? Luckily, there was no shortage of tempting offers, all from Cicerone! Hut to hut in the Stubai Alps vied with Trekking in the Atlas Mountains. Along with a friend who spoke German we decided to go for the Austrian option. Landing in Munich, we were quickly into the mountains and it was as wonderful as the guidebook said it would be. Ten days of hut life, Euro-Yahtzee (how many nations can play around one table in a hut? Five was our count!), Kaiserschmarrn and schnapps, fixed ropes and permanent snow – it was wonderful. We even found a Union Jack flying from a pole at the highest point of the route. I've yet to have a more surreal moment in the mountains!
As the years rolled by, so did the tick list: the GR5, Tour of the Matterhorn, Tour du Mont Blanc, Triglav, Slovenia and a couple of winter ascents of Jebel Toubkal.

First, second and third TMB
One of my most treasured possessions is my old copy of the Tour of Mont Blanc. It has handwritten notes from our first, second and third visits.
If repeating (1999):

1. stay in huts – £20/per person BB, EM
£5 lunch and drinks
2. 2 shorts, 2 T shirts, 1 long sleeved shirt, 1 fleece, 1 duvet, waterproofs, silk liner, 1 trousers
Donkey to take kit to col
Awful descent from church – wait for bus
Good drying room
190km in total 120miles
Each of these comments brings back memories from our turns around Mont Blanc. We went together and then each of us walked it with a friend a few years later. The book has completed three circuits and has notes from those journeys in the margins. The notes make it highly valued in our eyes and we will always hold it dear to our hearts. A ragged, little plastic-covered book. But a book that inspired adventures and will always bring back memories.

Our Stubai Rucksack Route book has similar marks of distinction. Its first outing was a 2000 trip and we lent it to friends last year who completed the route and added their comments (at my behest!)
'1 euro for 30 second shower' and 'Awful, little chef mentality' might not be the best reviews for a refuge. 'Nice hut, good showers' was more promising but... '2000: nice little hut, free schnapps' and then '2017 – still free schnapps' makes the Bremer Hutte a winner!
Some guidebook advice from my TMB guidebook is amusing to read 35 years later. 'Thick shirts, substantial breeches or trousers' may seem out of step with modern zip-off trousers, but it was de rigueur in the mid to late 80s. 'If you feel that you can come to terms with a walking stick then this can really come into its own and be a worthy companion.' It is hard to imagine a modern trekker without trekking poles; in 1982 they were yet to be invented!
Cicerone have an offer whereby it is possible to trade in old guidebooks for a newer one. A great idea but nothing will ever let me part from my first Cicerones!
First-time author
After getting a lowly D-grade O level in French I had rarely thought much more about my poor performance in linguistic skills and it rarely worried me that I could barely ask for a loaf of bread, even after five years of lessons. That was until I was perched at the top of a gully direct belaying my wife up a loose snow and rock nightmare with no knowledge of how to get down from the rarely frequented summit of an unknown 3000m mountain in the Haute Maurienne. My dreadful translation of a French guidebook description had us on the wrong side of a glacier and in the wrong gully. My wife suggested someone ought to write an English language guidebook to the area, it was a stunning area and ought to be more well known. Mountain Adventures in the Maurienne was born and so was a new adventure for me, as a Cicerone author.
And then, I had another first. Owner and publisher Jonathan Williams amazed me when he agreed that a new guidebook format might have a place in the publishing world: a pocket-sized guide covering a mixture of adventures – a few walks, a couple of treks, a number of via ferrata and some cycling options all wrapped up in Cicerone's unbeatable tough cover. So, another Cicerone first for me. As I write, my table is covered in maps, notes and draft pages of my next first – the Alta Via 1 (Aosta) trekking guidebook is almost ready for submission.
While online sales increase and e-readers are popular the pocket-sized Cicerone guidebook will never let you down. It won't run out of power or shatter. It might get a bit soggy but it will dry out. It might get a bit tattered but that gives it a shade of adventure – remember Indiana Jones' notebook? Dog-eared, battered and full of knowledge. Each stain, smudge and tear is testament to a story, an adventure and a memory.
Experience is hard won, long-coming and well-earned. Cicerone are ready to be at your side every step of the way.
To read more articles like this get our newsletter
Sign up today for a 20% discount on your next purchase. Join over 30,000 enthusiasts from around the world. If you don't love our mix of new books, articles, offers and competitions, you can unsubscribe at any time. We will never spam you, sell your data or send emails from third parties.