Nepal Earthquake - news from the ground
Cicerone Press author Sian Pritchard-Jones is currently in Nepal helping with the aftermath from the devastating earthquake. She is sharing daily updates of the struggles faced by the locals and we will post them here too. Some of it makes for difficult reading but mostly it demonstrates the hope and resilience of those affected and provides an insight beyond what we see in the newspapers.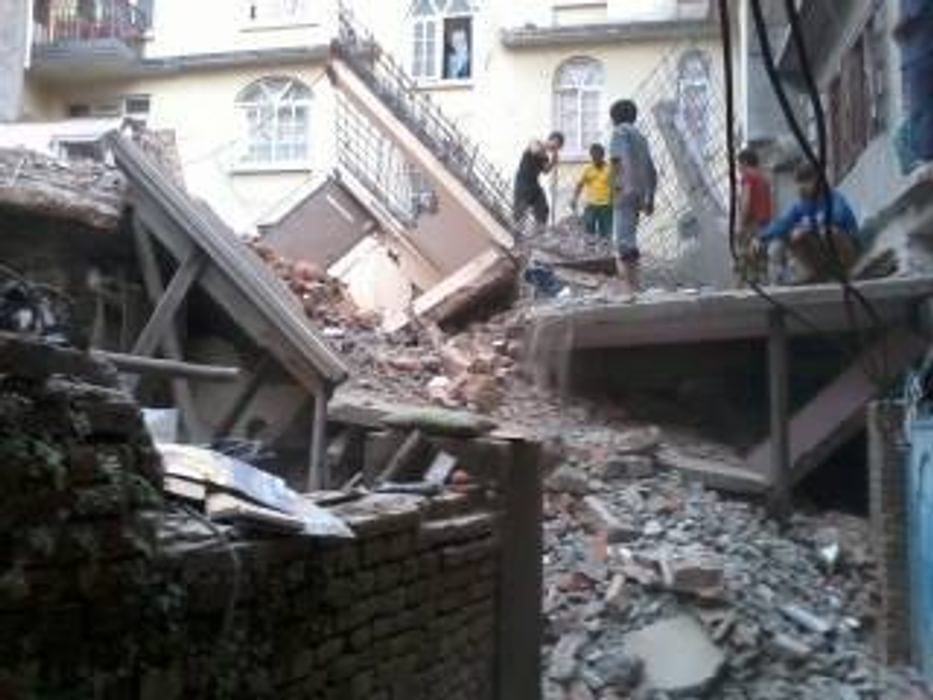 From our own correspondent... sorry, nothing sensational here...
Kathmandu, May 1
Coming in to land, our first impression was that it all looked relatively normal, with hundreds of city lights ablaze (surprising with the record of power cuts in recent years). Flights into Kathmandu last night were delayed due to congestion at the airport. Our Air Asia flight could have touched down at 8pm, but we circled for 45mins before landing and then 30mins more were spent waiting for a parking bay near the terminal area. None of this was a surprise, but waiting 3hrs for the baggage probably was.
The baggage area was a sea of apparently unclaimed foreign aid supplies as well as personal baggage. Mountains of energy biscuits outside and more inside, boxes of water, food boxes and all manner of stuff 'decorated' the area. The delay appeared to be due to lack of handling staff, some evidently and unsurprisingly having gone to their stricken villages. One might question why some extra manpower was absent, such as the army? The airline ground staff were obviously totally at their wits' end as plane turnaround times were 3-4hrs, making the congestion intolerable. At least the government has now stopped taxing the incoming aid.
Fortunately with 95kg of baggage, our old friend Uttam (now at Moonlight Hotel) sent his driver to collect us. Driving all the way to Thamel from the airport, we were surprised we did not see a single building in ruins, but the palace old entrance was damaged and so were a couple of other spots. It was quite a shock after the TV pictures we had seen in Malaysia. In fact it's staggering to see so many buildings virtually intact, and very much a relief. Of course we have yet to venture into the old city, which we know is a big mess.
In fact it was the old historic wing of the Kathmandu Guest House that showed the most damage last night. It will have to be pulled down apparently, so that marks the end of the golden days of this glorious travellers' retreat. Luckily we had electric power to make our cups of tea in the room, but no shower water; but by almost 2am, what the heck.
Kathmandu, May 2
A bright, sunny Kathmandu morning revealed the damage to the hotel and, with so many high-paying rescue teams checking in, we decided to make way at the hotel, especially since our favourite room 415 was closed off, being in the damaged area. The hotel is a hive of activity, with Japanese military sitting about linked to their computers and Indonesian humanitarian aid workers also filling the café area with their less sophisticated communication gadgets. They all appear to be awaiting instruction from the powers that be before they can do their tasks. We didn't need to put on our yellow builders' helmets from the helpful Chinese hardwear shop in Kuala Lumpur, but we have already called ourselves the useless Yellow Hat sect brigades!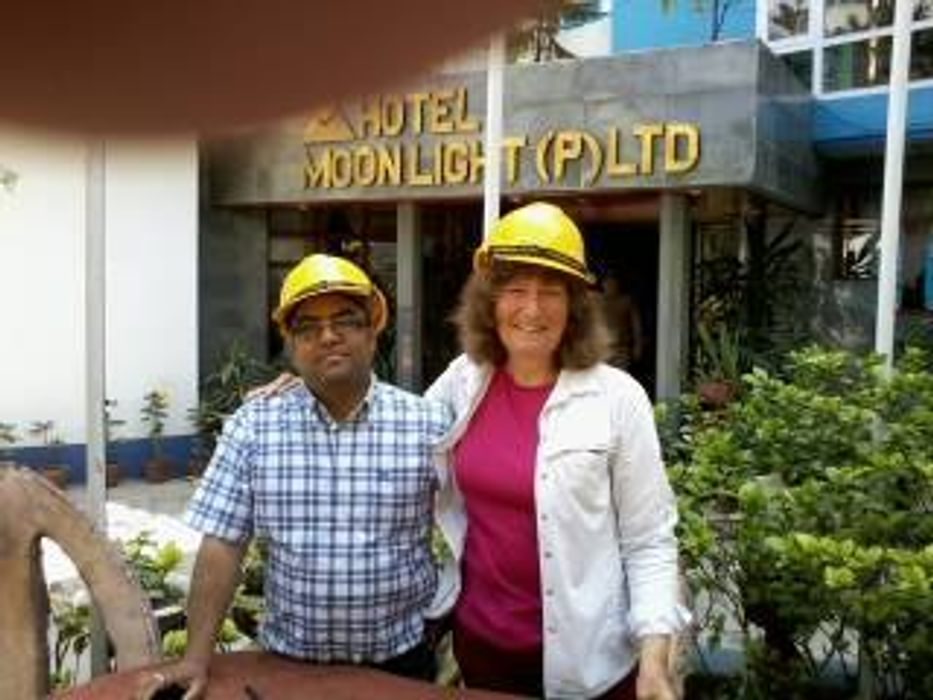 So it was off to the Hotel Moonlight in Paknajol for a new experience. En route we dropped into Hotel Pilgrims to check that Sohan Shrestha was OK, and amazingly met Som Tamang, a recent acquaintance from Cairns. Sadly his brother was killed in the devastation of his village. It seems that the whole area of Helambu has seen its villages destroyed. His 8-year-old niece fell from an upstairs window as the house crashed down, and sustained jaw injuries. Fortunately she is making a slow recovery, but the terrifying trauma of the moment remains.

Luckily now many villages in that area can be accessed by rough dirt roads and hopefully some aid will eventually arrive. It seems most is brought in directly from Kathmandu by the relatives of the villagers. We checked in with Himalayan Map House, our publisher, and met Pawan. As luck would have it, a group of aid-working telecoms engineers were there looking for maps of Ganesh Himal and Langtang/Helambu. They had absolutely no idea of the terrain they expected to help. It seems they fully expected to be able to get into the hills to do some work by just turning up in Dhading, the roadhead, and hiring a couple of porters for a short walk to the villages. Of course this is not a workable plan, so we directed them to the local trekking company, but if truth be known we doubt they will find porters or willing staff to go. The hills are devoid of local porters and youth, most working in the Gulf or Malaysia. It's sad that so much energy from outside NGOs and armies of willing helpers cannot be harnessed in the tasks. Nepal is not a country where just heading into the less well known countryside is a short stroll or remotely easy.
There are also reports of aid supplies heading further upcountry being looted by desperate villagers lower down, which means the higher settlements need to be accessed by helicopter, which are few in number. Similarly, some ugly scenes have been reported from Helambu. Anyone with bags of vital stuff is likely to be extremely popular but in danger of being rapidly relieved of their goods. It's a staggeringly herculean task that faces all who want or need to help. As for a vast swathe of hillside villages from the Marsyangdi valley to Rolwaling, most have been completely destroyed or flattened by landslides.
At every turn in Thamel we met with old trekking guides and acquaintances whose entire villages have been reduced to rubble. Food is short in most; many have still not seen any help and there is an overwhelming need for tarpaulins with the monsoon season fast approaching. Many remain in tents and are sleeping outside even in Kathmandu, despite the armies of international aid workers milling about.
One of the most remote villages is Tipling, in the Ganesh Himal region, which we recently researched for our trekking guidebook. We met Beni Ghale and her brother desperately trying to work out how to get food, clothing and tarpaulins into the area. They spent all morning trying to get a helicopter, but the government now controls the movements of all rescue missions. We rushed off to the British Embassy to see if anything could be done, but it seems that such things are beyond their control.
In any case the Nepal government has declared 4 days of mourning, so nothing is happening. Banks are not releasing any incoming aid funds during this period. Well, there's a bonus then. We have been here less that 24hrs and already the frustrations that others have experienced are hitting us. At least some of our tarpaulins will see active service tonight in the rain and drizzle. But our efforts are such a pathetic drop in the ocean. What will the morning bring?
To read more articles like this get our newsletter
Sign up today for a 20% discount on your next purchase. Join over 30,000 enthusiasts from around the world. If you don't love our mix of new books, articles, offers and competitions, you can unsubscribe at any time. We will never spam you, sell your data or send emails from third parties.