News from Nepal - part 4
Cicerone Press author Sian Pritchard-Jones is in Nepal sharing daily updates of the struggles faced by the locals after the earthquake.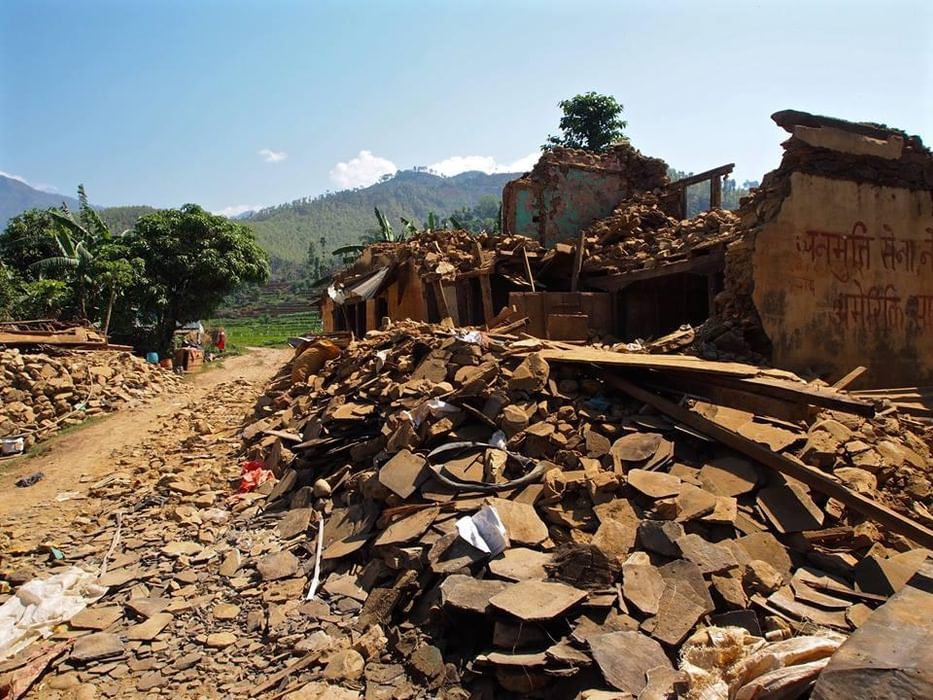 From our own correspondent --- oh no not again !

Kathmandu: May 5
Steve and his mate are back from Nuwakot with a successful mission completed, but his long taxi-motorbike ride back has left its mark on his person. Damien is down from his attempt to climb Everest for the second year running, having been unable to continue last year also. He has been evacuated from Gorakshep by chopper, so we will hear more later on that story.
After the action yesterday we are taking a break this morning, waiting to hear from the tarpaulin man who wants to remain in the shadows. He messaged later to say there are no deliveries today, so we must wait until tomorrow. According to one small charity, some tarpaulins are being held by a large worldwide charity (not Oxfam) for reasons described as 'waiting for an emergency'!! The story of the Everest disaster is well known by now, but like last year the recriminations are starting to fly again. It's a side issue now, anyway. Damien flew down from Gorakshep in a small helicopter with a few others, because his insurance company insisted it was still dangerous in the upper Khumbu. It is staggering to think that these vital helicopters are being used for recreational 'rescues' at this time. Apparently the companies are permitted to do 2 or 3 hours of private work a day, so we can't complain about that since they are working very hard for the rest of the day on government causes. Still no news about the helicopter request for Tipling village today. Those who know KC will be pleased to hear that he phoned us today and is safe and well. We needed a break today, but little has been achieved.
Kathmandu May 6
We changed track today after hearing that one of the waiters we know well has had a terrible time. His 68-year-old mother was injured when her house collapsed on top of her during the quake. She has a broken leg and arm, which have both required surgery, and lots of bruising. We paid a visit this morning to the government Bir Hospital Trauma Unit, where she was being treated on the fourth floor. There were hundreds in the building with quake injuries. Basanta took us up to see his mother, wife and sister. He cannot work during this time and all his immediate family are temporarily staying at the hospital. His house is totally wrecked, as the picture shows, and she is expected to be in hospital for four weeks. After that the monsoon will arrive and they will be without shelter. Thanks to family and friends' donations, we are able to tide the family over for a month, but house rebuilding costs from US$2000 upwards, so it's an impossible task for most people.
Beni's charity Steps Nepal has managed to get 3 tarpaulins and 25 blankets from the big aid agency's stock, so that is to be considered good progress. Her village has 700 families (3200 people), so there's still a mammoth task ahead. There is as yet no news from Oxfam about the relief efforts for the upper Dhading area of Tipling. And we still await news of the tarpaulins from India. A returning trekker tells us that a private helicopter flew in empty to the Everest Khumbu area to take out an uninjured trekker who was feeling bored with his trek. Commercial flights are now running to Lukla. What is going on here?
Kathmandu May 7, 2015 The plastic tarpaulin man has delivered today, so it's all systems go to deliver it to the rural areas. We have decided on two remote areas, Rolwaling and Ganesh Himal, but finding a way to get it out to the hills is quite daunting. Our friend and sponsor for our recent research trek to the Rolwaling area, Purna Thapa Magar, has just come back from his home village. He called into the hotel today and we were extremely sad to see the damage to his region. A vast landslide has cut off the whole area north of Jagat/Gongar Khola, making the Rolwaling valley, the vertiginous Lapche Valley and the new Lamabagar hydro dam inaccessible. The recovery from all this cannot be imagined. He said that people in Simi have lost their homes and higher up Beding is destroyed. Luckily few people were killed in the quake across the region, since it occurred at lunchtime on a Saturday. Some engineers working on the dam sadly lost their lives, though.
Using some of the much appreciated direct donations that we have received, we are helping Purna to send a truckload of tarpaulins, fleece sleeping bag liners and whatever food and supplies that Purna requires to the region. As luck would have it, the plastic man arrived soon afterwards with enough material to give makeshift shelter to 40 families in that region. They plan to leave in a day or so when enough equipment has been collected.
The Pumpernickel Café has reopened and the Manangi family are all safe and well there. The scrambled eggs for a quick lunch are as tasty as ever. Some interesting discussions about the current situation followed, with Ian Wall, Ade Summers, and Gary and Leo of Lincs2Nepal. Sadly we are no closer to getting supplies into the remotest part of Ganesh Himal. We have stockpiled tarpaulins for 25 families for Tipling so far. Being such a poor area with quite a few low caste and untouchable groups, it is being overlooked. Oxfam has still not been able to inform us which organisation has been assigned to take care of this region. Hopefully they will tell us tomorrow so that we can chase around and see what can be done. Apparently a large helicopter can be hired for around US$30,000, so that is totally off the planet for a small agency. The road is apparently open to Dhunche on the way to the Langtang region and the Tamang areas that border Ganesh Himal.
However, a dreadful piece of news came in today. One of the Tamang monasteries sent a privately loaded truck out to Gatlang village. The truck was stopped by the government officials at the Dhunche checkpost and the loads confiscated. This sounds so bad, yet the government has decreed that all aid be registered through its official offices. One can only assume that the officials were hell bent on carrying out the new rules. It means that only officially registered charities can move any significant loads around the countryside. Individuals can only carry their own private goods.
On a much happier note, the same sheeting we received today is being successfully deployed by Binay Lama in his Kavre district. He returned tonight having now delivered supplies to house 123 families (including some from our funds given by generous donors). The area does have dirt road access and is about 3hrs drive east of Kathmandu. The villagers are already building quite sustainable makeshift shelters in preparation for the monsoon. They have always been resourceful people and are totally resigned to the idea that little government help will come after the first initial emergency aid, if any. Binay said that old fashioned natural materials like bamboo are suddenly back in vogue as the safest and best material; already people are apparently thinking about rebuilding single storey dwellings in future.
Binay Lama is an amazing inspiration, working with his charity, So the Child may Live and sister concern So the Child may Learn. Please continue to support their goals. Conservative estimates by liberal-minded country folk suggest that the rebuilding of Nepal will require a lot of hard labour! It all seems like a century away here from the realities of spring in England. There might be election fever in London tonight, but none of that touches the air waves here, where a different sort of democracy is on show. Let's hope it doesn't need another 700 years to evolve!
To read more articles like this get our newsletter
Sign up today for a 20% discount on your next purchase. Join over 30,000 enthusiasts from around the world. If you don't love our mix of new books, articles, offers and competitions, you can unsubscribe at any time. We will never spam you, sell your data or send emails from third parties.