News from Nepal - part 5
More news from Nepal. Thanks to Cicerone Press author Sian Pritchard-Jones for this news.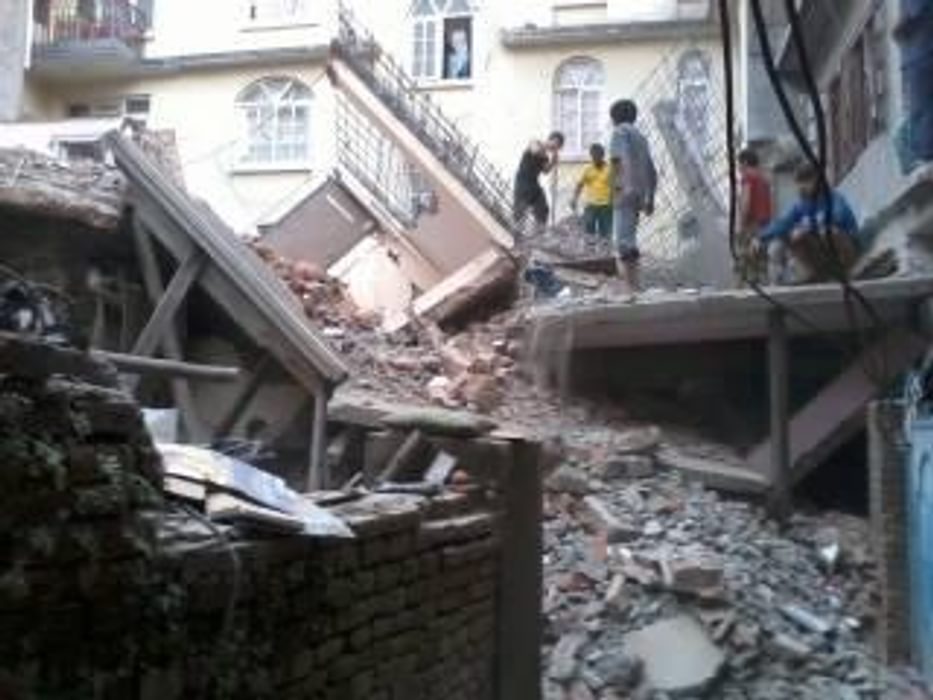 From our own correspondent
Kathmandu: May 8
The morning started off well, with a tasty home-cooked breakfast at Rama's house. He told us that at the time of the earthquake he was being interviewed by a young journalist about the loss of Pilgrims Books in a fire in May 2013. He was philosophising about impermanence and uncertainty in this life, when suddenly the building began to shake and they concluded the interview under the desks. We then went out to buy fleece sleeping bag liners to be sent to Rolwaling. These have full length zips, so can be used as liners, blankets or even shawls.
Listening to reports of the general election results in the UK, we were shocked to hear the reporter say that the earth had shaken and broken when the results came out, and there were so many helicopters flying overhead… I know this was just unfortunate timing, but when Nepal is suffering so much the comment seemed in very bad taste. A friend then informed me about the 3 British helicopters in Delhi waiting to be granted permission to fly into Nepal, but by the end of the day we heard from a reliable source that they had now returned to the UK. At around 6pm we were called to a house near our hotel, in fact the broken building we have seen through a gap in the buildings surrounding our hotel. Today young men have been demolishing it with two sledge hammers, perched precariously on top of the walls they are hitting.
The family there consists of nine people, sleeping in a nearby yard on a carpets/tarpaulin on the ground in a 2.5m x 3m (max – I'm guessing) Chinese Red Cross tent. The man's grandmother and 13-year-old daughter were killed in the earthquake. It has taken them two weeks to come and ask for help, and all this is happening almost in front of our noses! We were able to arrange mattresses for tonight and will try tomorrow to sort out a wooden platform for them all to sleep on so that when the monsoon hits, they will be off the ground and avoid the inevitable floods. First Direct, the bank, informed me that they would refund all charges deducted so far from my withdrawals in Kathmandu, and will allow me an increased amount of money each day. So if anybody would like to send any funds out for immediate distribution to those in desperate need, please let me know via
Facebook
. Thank you.
Kathmandu: May 9
It's Saturday today; few shops are open, including the plywood shops, so it's an enforced rest day. Another small charity has sent in two small helicopters with food, tents, sleeping bags and supplies to Samdo at 3875m in the Manaslu region. It's the last village of Tibetan people before the infamous Larkya La pass. It's the first aid to arrive in that village and was privately funded.
With so much time today, we thought we'd summarise the activities that have been, or are in the process of being, arranged. Basically to explain where your donations have been spent. Apart from helping the trekking guides we know well and their villages, some help has been provided to people we have met through chance encounters and who needed immediate support. Obviously all this is just a drop in the ocean.
Mountain People Our first Malaysian tarps went to a village outside the city, adjacent to the Mountain People house and soon-to-be medical centre. The structure is not complete, but has already been used for various clinics and other charitable work.
Nuwakot Our meagre medical supplies from Kuala Lumpur were added to a truckload for a village close to Nuwakot, organised by Medical Aid Mountaineering with Steve and Erling (from Norway) at the hotel.
Himalayan Map House Thanks to Pawan, Udyog and the team at Himalayan Map House for donating the maps and guidebooks to Oxfam in Patan. Himalayan Map House have also been out in the field helping with their own distribution of private aid.
Balephi Valley Our second bunch of tarps went to Ian Wall of Off the Wall Trekking, for distribution to the remoter villages of the Balelphi valley in Sindhupalchok. Unfortunately for logistical reasons they could not be sent immediately to the chosen village, but have hopefully already gone into service where needed.
Binay Lama The donation has supplied 10 families with tarps measuring 6m X 5m. These are being used in and adjacent to Binay Lama's village Bhimkori, east of Namo Buddha in Kavre, about 3hrs drive from town. (Binay has already assisted with housing 123 families. Binay's dedicated work is ongoing through So the Child may Live.)
Basanta Shrestra and family Basanta is a popular waiter at the Kathmandu Guest House. His mother suffered a fractured arm and leg when his family home collapsed in ruins on top of her. She will be in hospital for at least a month. We plan on some more help for his situation.
Mingma Sherpa (The Everest Equipment Shop) His house needs to be rebuilt, so we ourselves will help with this, partially with cash and through buying up his stocks of fleece inner liners for distribution to the lower country below Rolwaling. He is also discounting his goods as much as he can.
Purna Thapa Magar and Rolwaling We are providing two 100m X 6m tarps, apparently enough for 40 families, and 43 sleeping liners (the whole of Mingma's stock!) to be transported together with food supplies on Monday. This has been delayed in order to get a truck that is large enough to take all the stuff from a collective group and be escorted by the police into the middle region of the Tama Koshi valley below Rolwaling valley itself. Another private group is sending supplies directly into the Rolwaling Valley by chopper. This we understand is a cooperative effort with Rajendra Lama of Friends Adventure Treks, who sponsored our Langtang Trek research last spring. Langtang is of course its own tragedy now. Hopefully they will figure out a plan to reopen the valley to trekkers in the coming autumn season when the rains have ceased and the land settled down (November perhaps). Trekkers will eventually be needed to sustain those who remain in the valley in future.
A family near the Hotel Moonlight The family of 9, three generations and one with a broken collarbone, are living on the ground in a Chinese Red Cross tent close to the hotel. For a few rupees we can raise their floor on to bricks and use plywood as a base to keep the rainwater off their bedding. It's a very small amount for a little more comfort until they can rebuild their house.
Tipling Village: Beni Ghale and her Steps Nepal charity With tarps for her village's 25 families already in our bedroom, we are a little despondent about this project for Beni Ghale's village in Ganesh Himal. We have failed to get anyone to supply a helicopter, despite desperate pleas. It's the most difficult village to reach in this district, with road access only just beyond Dhading from the south, followed by at least four days' walk, or over the Pangsang La pass (around 3800m), where landslides are still a serious threat. The pass is also currently snowbound.
Hotel Moonlight Not in need of aid, but doing a fantastic job hosting us and other old Nepal addicts, all doing as much as possible through generous donations to make things better for as many people as possible. Lastly we would like to thank all of those have helped us to do the little we have managed. Sorry if anyone mentioned here wanted to remain anonymous. It's your generosity that keeps us here for now (and the supply of Mars Bars, curry and water). Nick Bennett-Britton Margot Sargent Christine Miqueu-Baz Andy Inglis Barry & Jenni Pizer Tony Gibbons Christine, Phil, Caroline and Robert Mitchell Ann Brooks of Classic Journeys (formerly Classic Nepal) And finally to First Direct Bank for waiving charges! Thanks also to anyone else able to donate to keep us going for a while longer. PS Thanks also to the tarp man, who has just delivered two more rolls.
Kathmandu: May 10 morning
Last night, after our post, more tarpaulins arrived, so we had to return to Mingma's shop to ask to borrow some of our money back. We had only just paid him for his total stock of fleece sleeping bag liners, so we knew he had the cash!There had been torrential rain and a fierce thunderstorm last night, so there was no time to lose this morning in buying some plywood to make a floor for the family in the tent near the hotel. Then there was a quiet patch, when we met an old student, Phil Bartlett, who I hadn't seen for forty years, along with Ed Douglas and Crag Jones among others, who had been climbing in West Nepal and hadn't felt a thing. They didn't even know there had been a massive earthquake until they phoned their wives to report heavy snowfall in the region. More later, as rumours are flying faster than helicopters round here…
Kathmandu: May 10 afternoon
Following the relative inactivity of mid morning, the afternoon took off.Having recently swept in from Norway, David Durkan of Mountain People arrived at the hotel in haste from a meeting. Apparently an Army helicopter was available at first light tomorrow to take around 500kg of supplies into Tipling. The gear had to be at the domestic airport within 2hrs! Bags of rice, salt etc and one of our big tarpaulin rolls were all pulled from the store (and our room) for loading. The deal was that one man from the village could go with the chopper to oversee the delivery. This was, after all, supplies donated by the supporters of the Mountain People charity and ourselves, and not any government or foreign organisation drop. That still has not happened more than two weeks after the earthquake, bar a few kilos of stuff early on, which was barely enough for a few families.
It's likely that any more immediate help for Tipling will only be forthcoming through very expensive, privately funded chopper runs. It hardly seems right that this is required when millions of dollars have been donated by the international community. It's not like we constantly hear stories of vital supplies being flown about. The evidence all around is that it is the people and the villagers who are motivated to get in supplies. That perhaps is the brightest star in the whole saga. The ordinary people are the real stars here. Also in the hotel are around 15 doctors from Indonesia who have been here since April 28. Until May 4 they were unable to do any doctoring in their field hospital. Some of their supplies were stuck in the customs as of yesterday, but we have not heard any more of that story. Beni and her village colleagues went off to the airport in great haste and great anticipation that finally Tipling will get some help. Meanwhile we had a call from Purna Thapa Magar concerning our Rolwaling Valley/Dolakha district supply run. He is on his way to the hotel to collect our stuff for delivery by truck tomorrow.
Kathmandu: May 10 evening
Well, Purna arrived minutes after Beni's load went to the airport. With help from the hotel staff, the two tarpaulin rolls and forty fleece inner liners were loaded. The taxi could hardly move off under the strain of the heavy tarps on the roof. It didn't help when the drive took a stony road shortcut as the car bottomed out occasionally! It was miles to the collecting point, on the north side of Chahabil stupa, towards Kopan. Anyway a huge TATA truck was there, half blocking the road, being loaded with rice and food, and eventually our stuff. It will be departing before dawn with a police escort. Later it will be checked through various checkposts set up along the roads now to help stop any 'naughty business' en route. Things do seem to be getting more co-ordinated in general, but we are totally shut out from the 'big boys' activities.
We bumped back to the hotel after dusk and rushed off for a quick meal at Bamboo Club near the Hotel Moonlight. The hotel and its pleasant garden are rapidly becoming the nerve centre for a few small charities and volunteers. Across the road, Hotel Pilgrims is the nerve centre for Som Tamang from Cairns in Australia and all his efforts. The slightly concerning issue tonight is that the man from Tipling will not after all be allowed to fly with the helicopter to his village to oversee the efforts, so we will have to rely on a phone call to the village to verify that all is well, if the single satellite phone is working. There was some concern about handing over the stuff to the army, but people are pretty desperate in the village and it's a risk that must be taken. So far the army is receiving quite a lot of praise over their role. Meanwhile Steve and Dr. Erling are off into the hills again on another privately funded supply and medical drop. It's raining again and fierce thunder rumbles around; lightning flashes illuminate the heavy sky. The weather is quite unpredictable. We eagerly await the news tomorrow.
To read more articles like this get our newsletter
Sign up today for a 20% discount on your next purchase. Join over 30,000 enthusiasts from around the world. If you don't love our mix of new books, articles, offers and competitions, you can unsubscribe at any time. We will never spam you, sell your data or send emails from third parties.