News from Nepal - final news from Siân and Bob
Cicerone Press authors Sian Pritchard-Jones and Bob Gibbons are in Nepal and sharing daily updates of the struggles faced by the locals after the earthquake.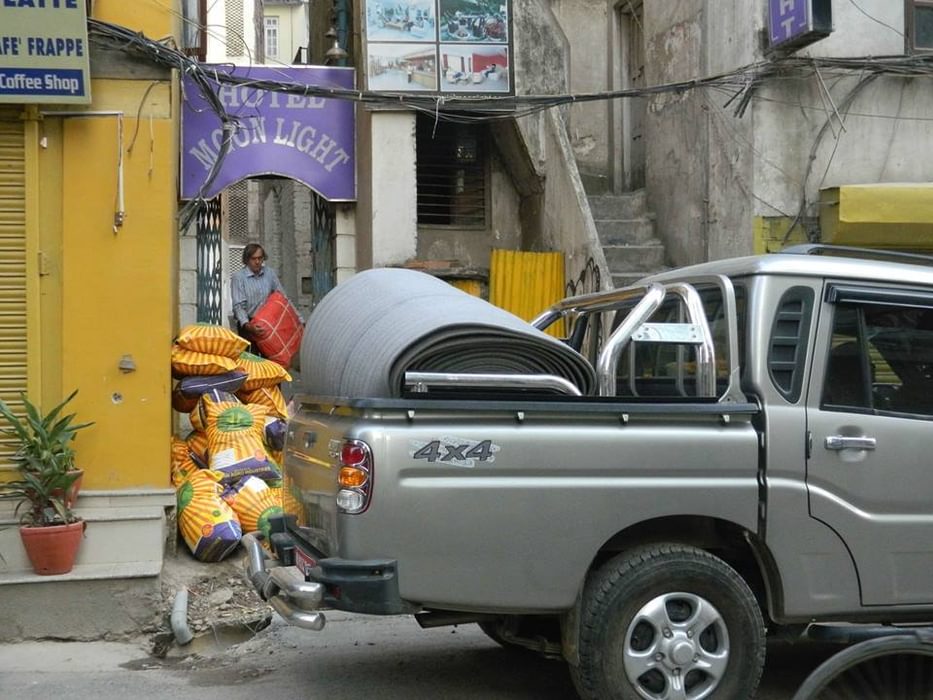 From our own correspondent… Tintin comes to Kathmandu
Kathmandu: May 22 We were awoken to the sound of the dawn chorus – Dave and Frank loading the jeep for Syabrubesi and Gatlang, noisy blighters! At least they managed to squeeze in loads of sleeping bags, warm Mingma fleeces and more tarps, as well as a large roll of camping mattress. Sitaram Bhandari, who has a camera shop in Thamel and a jeep hire service, arranged the transport.
Having woken early, we decided to do the Durbar Square and Asan Bazaar excursion at last. Shocking but also a relief to see that not everything has been destroyed. Text messages from the countryside inform us that Dave and Frank have rendezvoused with the 200 bags of rice on 2 trucks in Trisuli, have negotiated the checkpost at Dhunche and have made it to Syabrubesi for the night. They are having to camp in the rain, so the lodges must be closed. Hopefully there's not a shortage of beer in town!
Tomorrow they will climb the hill to Gatlang to distribute 200 bags to 400 families. Back in dusty old Kathmandu, we bought a few 'luxuries' (storage box, fluffy blankets, soft pillows, tea strainer, thermos etc) for the two ladies from Methinkot we met last week, whose house was destroyed. We hope to take the monsoon shelter 'house' out to them on Monday or Tuesday, when it's been constructed and dismantled. Also found a shovel, pick axe, hammer and various odds and ends for the building.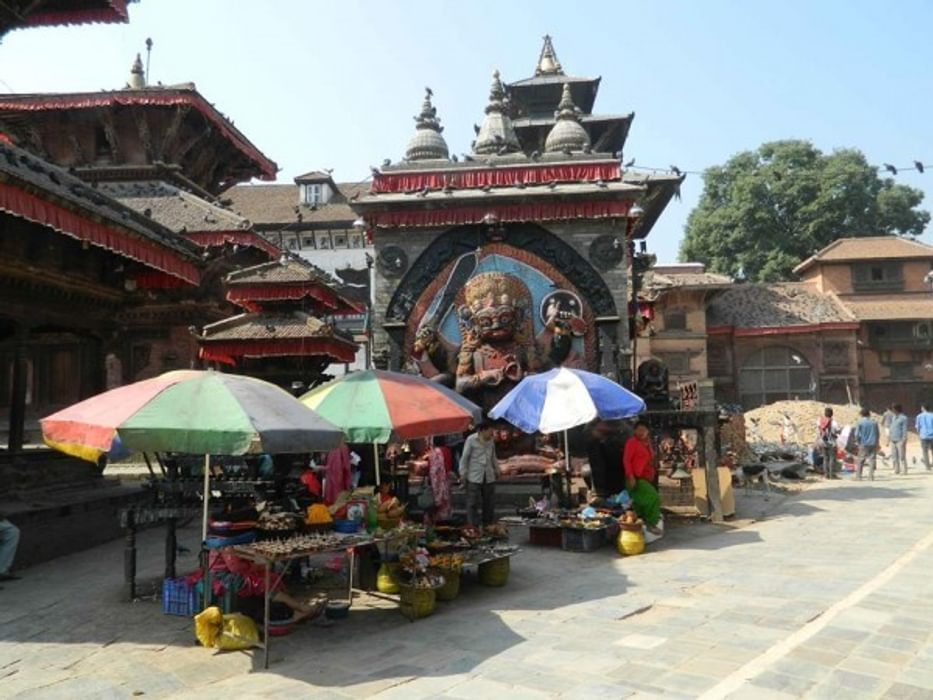 Since the shelter is too big to fit on a jeep, we need to take a small truck as well, so rather than go rather empty-handed we have invested in sheets of tin and more tin (120 sheets) for the rest of the villagers. These can supplement the existing sheets that can be salvaged from the wreckage of their homes. In this way we hope to give good shelter to the 17 families who are homeless. The tin yard is near Balaju and the loading of this lot took a while, as great beams of iron fell around the place! In addition we have 4kg of roofing nails and a length of rod to secure a big tarp over the ladies' main shelter. Getting this lot back to the hotel was an epic, as the usual lane that gives access to the hotel was blocked by debris where a house is being pulled down. The Hotel Moonlight yard looks more like a builder's depot these days. Steve is just back from the Dhading foothills after working for 3 days on building shelters using recovered wood along with old tin and new tin. Relief is now moving from tarps to tin for those close to road access. It's the poor old, high, isolated villages that still suffer. There seems to be a total lack of information about who's dealing with which village and what each place has received. There might be some vast information spreadsheet for the big boys, but we've not met anyone who knows what any of them are actually doing on a daily basis. There are no 'from our own correspondent' reports each day as far as we know. We never did hear Oxfam about who was dealing with Tipling. There again, unofficial aid work is 'outside' the system. The rules seem to be aimed at edging all aid into the official pool. As for normal life, it is still on hold, with only about 30% shops open. Hotels are devoid of tourists and it's getting hotter by the day. Already rain and thunderstorms are hitting the higher villages. Thank god it's Friday!

From our own correspondent… the good, the bad and the ugly
Kathmandu: May 23
The weekend is here again and it's time for the list of new donors. First a few pictures from yesterday morning's brief sightseeing trek. We start with the good – what's still standing and in fair shape, see above, the bad – what's terrible, and finally the ugly – well, say no more.
On the bright side, donations accelerated last week, making the overall total close to £8000 (US$12,000 plus). As usual we are pleased to list the generous donors without whom we could have gone home this week to bacon and eggs, Greek yoghurt, the solemn underground and the cool spring of leafy Sussex… No, it's OK really – the noisy dog patrols, the dusty streets, the hot and humid air, the curries, the lousy internet and the incredibly resilient locals! Donors: Richard & Sara Gregson Ray Dimmock & Ali Weetman Keith & Shanan Miller Mickey Boy again Greg & Pam Fox Ann Sainsbury Chambelles (in French, le Shambles, says Bob!), the best singing group in Chamonix Anna Myers Wayne & Diana Briscoe Helen O'Hara Bethan Morris-Jones & Ysgol Glancegin Ysgol Glanadda Ysgol Coedmawr Ysgol Llandygai Dilys Ellis Sara Parker
From our own correspondent: when will it roll to Rolwaling?
Kathmandu: May 23 evening
In some respects it has been quite a frustrating few days, as our second load of supplies for Dolakha has been delayed due to bureaucracy, transport and road clearance. Because we are leaving soon, Purna Thapa Magar came to collect the heavy tarps today from our hotel. Since he has received no help from the authorities with distribution of the supplies to this region, one of the hardest-hit in Nepal by the second earthquake, nothing is happening (and he is on the relevant village district committee for the area above Singati). We think the World Food Program is in charge of the area, but they are currently in the news for distributing rotten rice. Mick Chapman has also returned from another part of the same area, where he saw lots of independent aid initiatives but no sign at all of the 'heavy brigades'. This is a constant refrain from everyone we know, Nepalese or foreign.
David and Frank with the two Mountain People/Umbrella trucks have delivered their supplies to the 400 or so people who descended to collect their supplies from Syabrubesi. They all arrived safely in Gatlang just before the fiercest storm we have experienced this season. Pawan and the Himalayan Map House team have also had another busy day out in the field. It's raining again as we climb back to the fourth floor...
From our own correspondent… 'helping mountain people to help themselves.'
Kathmandu: May 24
Our new house is finished, so we will go and take it to pieces tomorrow morning ready for the planned trip to the village of Methinkot on Tuesday. Purna Thapa Magar of Rolwaling is coming at 6am to collect the 600kg rice, dal and salt, plus some more fleece jackets and liners with a truck. Pawan and Himalayan Map House are sending more tarps. Purna is heading out to Charikot and hopes to reach Singati, which has been totally destroyed. From there the villagers are coming down to get their supplies. They have failed to get any support from any agency, so the royal we (the donors) are probably funding the truck as well, but we will see tomorrow.
We spent the morning at the Himalayan Map House office doing some editing on Paulo Grobel's Mustang trekking guidebook and collecting some of our own recently published guidebooks. Our sales reflect the appetite for trekking in Nepal at the moment. Normal Amazon sales are 90% down since the second earthquake!! We will soon be on dal baht for dinner as well. Of course our own planned trek to West Nepal has fallen by the wayside after the quake, so it's back to the drawing board for the next guidebook, perhaps Kanchenjunga in the autumn. Maybe the next title will be 'Trekking around the Himalayan bureaucracy of an earthquake'. Dave and Frank returned this afternoon, jubilant after a great trip to Gatlang. They managed to get all their 200 x 30kg rice bags into the village from Syabrubesi. David reckoned around 1000 villagers, young and old, came down to collect the food, tarps and clothing. Many also helped to carry other loads for the Chilime hydro company to villages near the electricity project. It was apparently a true community effort, with a good feel all round. Watch out for firsthand reports from David and Frank, the heroes 'helping mountain people to help themselves.'
From our own correspondent… when is Bob going to get a haircut?
Kathmandu: May 25
'Twas an early start this morning as Purna arrived before 6am in a privately hired truck to take supplies to Singati. From there the plan is that his villagers will descend to the destroyed town to collect their tarps, rice, jackets and other privately donated goods. Despite many attempts, no other aid has been forthcoming, so he is on his way.
Following Purna's early morning departure, the day just got busier. We collected 'our house', already in pieces, and after a long hot wait for the truck to arrive, headed out to Balaju for more tin sheets following a generous donation from Sara Parker and friends. Amazingly, the price per sheet has been reduced by around 5%! Another 110 sheets were loaded and all brought back to the Hotel Moonlight builders' yard.
Tomorrow Frank and ourselves depart with a total of 230 sheets of tin for the 17 houses of the Methinkot school area, along with the prefab house for the two homeless ladies. We can now confirm a giant delivery of 30kg rice bags and tarpaulins to the villages of Gatlang (535 houses) and Goljung (400 houses), sponsored by Sanjen Hydroelectricity Corporation, Sera Jee Monastery and the Umbrella Foundation (Australia). The delivery was organized by Mountain People (David and Frank); 800 people came down the mountainside and carried the bags up! Every household received one bag of rice and one tarpaulin. Our giant 100x6m tarpaulin is probably going to cover the village gompa (monastery). This was a massive three-day undertaking; congratulations to all! Now, on a more sober note, a few unfortunate incidents need to be mentioned. First, an empty Fishtail helicopter was witnessed coming into Gatlang to pick up two local health care assistants from Save the Children and fly them to Kathmandu for a meeting. And the World Food Program is telling small agencies they can have free rice but not free helicopter transport costs, which are of course astronomical for remote areas. The evening ended on a very busy note, as the truck arrived just after dark, in time for all hands in the restaurant to load the 230 tin sheets in a flash! (photo to follow tomorrow)
From our own correspondent… the building inspectors passed our house
Kathmandu: May 26
It's dawn after another horrendous storm during the night and the house is loaded on top of the 230 tin sheets (value over US$1600). The jeep arrives to pick up the furniture, and we are away by 7am. We still don't have the flooring and plywood shops are closed until we find one in Banepa. By 9am the convoy is in Bakunde Besi and climbing the big hill to Methinkot. It's already stiflingly hot, over 35C. After the rain we can just make out the Himalayan peaks from much of the drive east of Dhulikhel near Namo Buddha – this area will surely be a great spot in the coming autumn for those who prefer a more gentle introduction to trekking in Nepal.
Alas, the discounted truck seems to have no first gear, so everyone on the hill gets roped in to push. Kamal from the school appears to help us. Higher up, the two ladies whom we thought might need the house have seen a wonderful improvement in their living conditions. Their son/grandson has travelled back to help and done a fantastic job with friends to make a small tin house in less than two weeks. It's hardly luxury, but a lot bigger than our monsoon house. We drop off some furniture, blankets, jackets and fleece liners along with two of Beni's colourful bowls to brighter things up. It is extremely heartening, if not surprising, to see hundreds of villagers building makeshift houses without any obvious support from outside. It really means we foreigners with our generous donors can go home now feeling OK, since the people are really getting into gear themselves after the traumas of losing their homes.
Pushing on, literally, up the hill we arrive at the school to unload the 230 tin sheets. Luckily half the village turns out to help, so Frank and Bob get on with the erection of our monsoon house. It's expected to be given to one of the poor Dalit families. With a little help from our friends the place is finished in 45mins. With some locally made bamboo ends to follow, this shelter is quite a good idea, especially for the harder to reach villages who can't get heavy tin sheets high as easily as those with roads nearby.
After our own quick tuna and mayonnaise sandwich with English Breakfast and Earl Grey tea, we receive the customary colourful kata scarf of thanks and depart for the big smog once more. Our poor driver from above Betrawati has also lost his house, according to Mr Sita Ram Bhandari, the jeep owner. He is the same driver who took us to Lamabagar last season when researching our Rolwaling guidebook, so we are happy for him to have some of our fleece jackets and a bag of rice to take to his village tomorrow. We are grateful to Sita Ram Bhandari for giving us his jeep at cost price, as well as the truck driver who allowed us to load the tin last night.
It was a little sad knowing this was our last major effort for the quake relief, but we are all rather knackered at the Hotel Moonlight after a busy and fraught month. It's the sleepless nights with minor tremors that have done for most of us… Two nights ago Frank woke suddenly and noted the time was 3.24am. He could not sleep again. In the morning he read that another tremor had been recorded at 3.23am.
The hotel is holding a puja and short concert this evening to bring a little joy to the neighbourhood.
From our own correspondent… still flat out - - - the only position to be in this heat
Kathmandu: May 27
The concert and puja last night was a strange but uplifting mix of the venerable from Kopan Monastery and heavy metal by Ashish Dangol. It was a short celebration for all those who have become part of the Hotel Moonlight relief family. The concert was initiated by Jan Gangdal from Oslo, a supporter of the Upper Rolwaling area for some years. Erika and Oydis from Dubai, supporters of Mountain People dropped by, as did Karoline, now concentrating her efforts on Lower Rolwaling. Frank is still here but leaving late on 29th for Oslo. Half of Norway seems to be here; it must be the sunshine they crave! Other visitors at the concert included Rajendra Lama of Friends Adventure Trekking (FAT), who sponsored our Langtang book research, back from house-building projects in Gorkha district. Rajendra is teaming up with Himalayan Map House for another house-building project high up in the hills above Malekhu, where no aid has yet reached. They are buying tin to haul up a tractor lane and then carry in to the village called Ghunchurtar. We have donated some cash for that purchase,, as they cannot access much funding. Also visiting Moonlight was naturalist, Rajendra Suwal, author of our guidebooks' bird sections.
Frequent visitor to Nepal and regular volunteer to Siklis village, Sara Parker has collected from friends and made a very generous donation in the last week for house reconstruction. It has been a big boost to our efforts directed towards the purchase of tin sheets. After a quiet morning, David, Uttam, Karoline from Norway, Beni and we headed out to Goldhunga on the old Trisuli road. High above the valley on a ridge are some Dalit (untouchable) families who have lost most of their houses. A small German private volunteer group has built some impressive tarpaulin houses but once the monsoon gets into gear they will probably begin to leak. Mountain People are going to contribute tin sheets for improvements and repairs as they are needed here, so some of Sara's donation can begin this project. We also visited the new Mountain People house, which is going to have a small dental clinic where Dr Neil Pandey will donate his time. In addition there will be a small handicraft work area for Beni's ladies, some shelter and a garden for vegetables. We also visited a good-looking government school assisted by Mountain People four years ago. Finally we were taken to a small house where 12 blind children are living in a very homely atmosphere with their lady carers. There is a danger that they might be moved out, so Mountain People is going to fund the rent in future. Although not earthquake related, we felt a one month rent donation was a good idea. By this time it was already late so it was straight to the Third Eye for a final curry. Ooh la la!
From our own correspondent… the last day
Kathmandu: May 28 So we are about to leave Nepal. There have been some last-minute donations, so it's been back to the hole in the wall yet again. Already 1,500,000 rupees withdrawn! It's a bit tricky trying to work out how best to allocate the last rupees.
Purna Thapa Magar is just back from Singati and planning another run to another village near Jagat in Dolakha district, so we met today. Karoline from Norway is keen to go on his next relief run to another village near Jagat next week, so we have given them some more tarps and cash for the truck to get it moving. She did an anthropological study in the region some years ago and is keen to help the area until she leaves in mid-June. Going forward, Mountain People will be here on the ground in the Hotel Moonlight continuing the relief. Anyone wishing to make donations can contact them directly, as our small effort is concluded tonight – thank god it's Thursday!! Well, it certainly has been a different sort of journey this last month; let's hope we will all soon be back to doing what we all came for: Trekking Around the Nepal Himalaya. It's a good time to stop; we may well have ended up banging our heads against what's left of the brick wall, as the relief effort needs the big boys' money for house reconstruction. Let's see how that story pans out!
From our own correspondent... In the airport
So sad to leave, especially this time... but will be back soon. Part of us never leaves Nepal. Hope someone will do something for the hundreds of people still camping on the golf course!
To read more articles like this get our newsletter
Sign up today for a 20% discount on your next purchase. Join over 30,000 enthusiasts from around the world. If you don't love our mix of new books, articles, offers and competitions, you can unsubscribe at any time. We will never spam you, sell your data or send emails from third parties.