One Of The Best Mountain Huts Of All Time
The late Kev Reynolds, inspiring and incredibly experienced guidebook author, lecturer and overall outdoor extraordinaire recounted one of his favourite mountain huts of all time, the Refuge de Bellachat in the Mont Blanc range in France.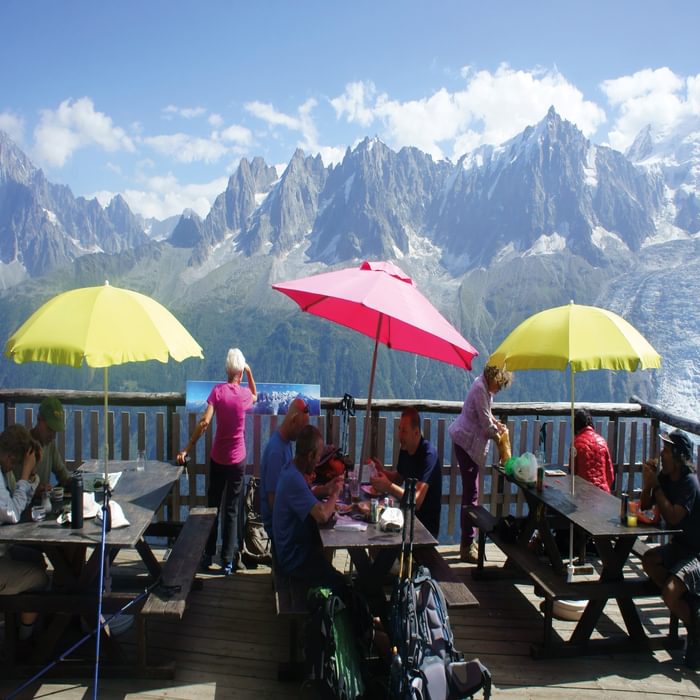 Hut essentials
Location: Mont Blanc range, France
Valley base: Chamonix
Hut capacity: 28 places
Staffed from: late June to late September
Tel: +33(0)450534699
Website:www.refugebellachat.com
Guidebooks: Tour of Mont Blanc and 100 Hut Walks in the Alps (Cicerone Press)
Refuge de Bellachat (2152m)
Overlooked as an overnight option by the vast majority of trekkers tackling the Tour of Mont Blanc (TMB), who, at best, linger there for refreshment before making their final descent of the trek, Refuge de Bellachat is one of my all-time favourite huts. A small, privately owned, timber-clad refuge tucked on a narrow shelf some 370m below the summit of Le Brévent, its 28 mattresses are crammed into three small dormitories, there's only one outdoor toilet, and cold water for washing comes from two taps over a ceramic sink in an outhouse.
But these limitations are more than compensated for by the warm welcome offered by the gardienne (warden), whose father built the hut and opened it for business in 1983. In addition to the friendly welcome, excellent refreshments are served to passing walkers at the terrace tables, while appetising meals can be expected by those staying overnight. Then there's the sensational view of Mont Blanc and the Aiguilles, with the trunk-like Bossons glacier seen just across the valley, adding to the appeal, while Chamonix itself lies 1100m vertically below the hut terrace, giving the place an airy bird's-eye view.
In the first edition of his Cicerone guide to the TMB, published in 1977, the late Andrew Harper spoke of Bellachat as 'the site of a derelict building, once offering well-earned refreshment to the walkers coming up the steep path from Chamonix.' The 'derelict building' was, in fact, an earlier refuge that had replaced an even older one, used by muleteers and their clients on their way from Chamonix to Le Brévent, which was destroyed by a storm in 1926. In the late 1970s, Georges Balmat began to build on the same site; and by the time a reprint of the fourth edition of Harper's Tour of Mont Blanc was published shortly before he died in 2001, Harper was describing the refuge that rose from the ruins as being 'not only delightfully situated but [having] a warm friendliness [which] exudes from the place.' Nowadays, a night spent at Refuge de Bellachat ensures the TMB ends on a high note, but it will need booking in advance.

Having an excuse to keep re-walking the TMB in order to update and refresh the guidebook, a night at the Bellachat refuge is one I always relish, whether descending to it on the 'standard' anticlockwise tour, or climbing up to it from Les Houches when tackling the route in the opposite direction. The warm smile of welcome, the certainty of a simple but filling meal, the familiar dorm, and an unbeatable terrace that rewards with a view worth a king's ransom – all these things put it high on my top ten list.
I was there recently with my wife and daughter, for both of whom it was their first visit, and as expected they were as captivated by it as I am. A full moon rose above Mont Blanc and hung there to spread its light on rock and ice alike. In our dorm, fellow trekkers remained snug in their blankets while I crept out onto the terrace to experience once more the magic of our lodging perched high upon a moonlit mountain.
'A full moon rose above Mont Blanc and hung there to spread its light on rock and ice alike'
The Refuge de Bellachat (2152m)
Map of the area including the Refuge de Bellachat
Approach routes
The shortest and most direct approach comes from the 2525m summit of Le Brévent, one of the classic vantage points from which to study Mont Blanc. It can be reached by two-stage cable car from Chamonix, followed by a steep descent to Refuge de Bellachat in a little over an hour.
Walkers on the Tour of Mont Blanc usually make their way to Refuge de Bellachat by following the Grand Balcon Sud from either Refuge de la Flégère or Refuge du Lac Blanc. The two routes join above Planpraz, and climb easily at first, then more steeply to the rocky Col du Brévent where the route of la Grande Traversée des Alpes (better known as GR5) is met. A rocky hollow leads to a pair of metal ladders, bringing you up to a piste that rises to a junction just below the summit of Le Brévent. Here, a signed path plunges down to Les Houches, with a short spur cutting left to Refuge de Bellachat – about 4½ hours from La Flégère.
Any approach from the Chamonix valley will inevitably involve a steep ascent. TMB walkers tackling the route 'against the grain' on a clockwise circuit will need something like 3½ hours for the 1100m climb from Les Houches. However, coming from Chamonix and Les Bossons there's another route of 3–3½ hours which breaks off from the Petit Balcon Sud and climbs above Plan Lachat at 1574m in a series of tight zigzags to gain Refuge de Bellachat from the south-east.
Onward routes
Above the refuge, there's a path heading north-west to the Aiguillet des Houches, and another option from the trail that climbs to Le Brévent, providing an opportunity to break away to visit the lovely Lac du Brévent.
But an interesting hut-to-hut route, taking about 4½–5 hours, follows GR5 to Col du Brévent and continues heading north, before descending to the ruined Chalets d'Arlevé on the way to the Moëde valley. Here, the privately owned Refuge de Moëde-Anterne sits among pastures at the foot of the impressive Rochers des Fiz.
To read more articles like this get our newsletter
Sign up today for a 20% discount on your next purchase. Join over 30,000 enthusiasts from around the world. If you don't love our mix of new books, articles, offers and competitions, you can unsubscribe at any time. We will never spam you, sell your data or send emails from third parties.