The GR11 Trail
The Traverse of the Spanish Pyrenees - La Senda Pirenaica
The GR11 traverses the Spanish Pyrenees from Irun on the Atlantic coast to Cap de Creus on the Mediterranean, and often enjoys better weather than its French counterpart, the GR10. Leading over high passes and through sweeping valleys, the 820km route is presented in 47 stages. Trekkers require experience of high mountains.
Seasons
June to October for the Central Pyrenees. Spring and autumn would be possible in the Basque Country and near the Mediterranean.
Centres
The route goes from the Atlantic Ocean at Irun on the French-Spanish border and passes through many small villages in Spain and Andorra.
Difficulty
alpine-style mountains, crossing passes up to 2700m where there is rough, steep terrain to traverse. It is at the upper end of walking difficulty. Early season, with snow on the high passes, would require mountaineering skills.
Must See
The Basque country, Anayet lakes, Ordessa and Monte Perdido National Park, Aiguestortes and Estany de Sant Maurici National Park, the Maladeta range, Andorra, Cap de Creus Natural Park.
Overview

Table of Contents

Updates

Reviews

Downloads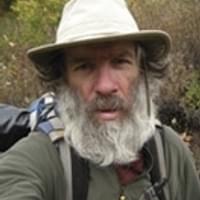 Brian Johnson
After taking early retirement from his career as a physics and sports teacher, Brian Johnson found time for three thru'-hikes of the Pacific Crest Trail, a 2700-mile round-Britain walk and a single summer compleation of the Munros (Scotland's 3000ft mountains), as well as climbing all of the Corbetts (Scotland's 2500–3000ft mountains) and Grahams (Scotland's 2000–2500ft mountains). He also completed a 2200-mile cycle tour of Spain and France and multi-week canoe tours in Sweden, France, Spain and Portugal. A keen climber and hiker, he led school groups in Britain, the Alps, the Pyrenees and California and completed ten traverses from Atlantic to Mediterranean on the Pyrenean Haute Route, GR11 and GR10. As a fanatical sportsman and games player, he competed to a high standard at cricket, hockey, bridge and chess. His crowning achievement was winning the 1995/96 World Amateur Chess Championships. Sadly, Brian passed away in 2021.
View author profile