The GR5 Trail - Benelux and Lorraine
The North Sea to Schirmeck in the Vosges mountains
Guidebook to walking the northern section of the GR5 - 1000km starting in Hoek van Holland and passing through the Netherlands, Belgium, Luxembourg and Lorraine to Schirmeck in France. A long-distance route covering a variety of cultures and landscapes. The full GR5 from the North Sea to the Mediterranean is one of the world's greatest trails.
Seasons
A three-season trail, best between April and October. Abundant public transport links even make it possible to seize an opportunity to walk on the GR5 during fine days in winter.
Centres
End points: Hoek van Holland and Schirmeck; numerous cities between them: Bergen op Zoom, Diest, Maastricht, Spa, Vianden, Echternach, Metz.
Difficulty
The GR5 Trail - Benelux and Lorraine, also known as 'The Northern GR5' is relatively easy: level terrain in the Netherlands and Flanders; hilly, but not difficult in Wallonia and Luxembourg; mostly gentle slopes in Lorraine. The final stages of the walk enter the Vosges Mountains, where trails are steeper. No special equipment is needed, just comfortable walking shoes; some people use trekking poles.
Must See
Voornes Duin (Netherlands); Maten Nature Reserve (Flanders); Fagne de Malchamps (Ardennes); Little Switzerland (Luxembourg); Côte de Moselle hills and forests (Lorraine). Cities: Bergen op Zoom, Diest, Maastricht, Echternach and Metz. Museums: not just art (Pompidou-Metz); there are also museums dedicated to social history (Bokrijk), tugboats, flint, papier mâché and salt. Other highlights: historic churches and abbeys, medieval castles and modern fortifications.
Overview

Table of Contents

Updates

Reviews

Downloads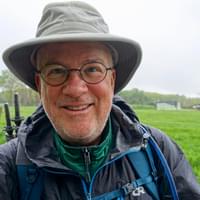 Carroll Dorgan
Carroll Dorgan was born and educated in the United States. Pushed by the absence of jobs for inexperienced history graduates where he happened to be living in 1975 and pulled by his wanderlust, Carroll pursued a teaching career for a decade in international schools in Iran, Belgium, England and France. He then returned to California to qualify as a lawyer, but soon moved back to Europe to practice international law in the Netherlands and France. In all of those places, he explored nearby hiking trails. Now retired, he can devote time to writing about those trails.
View author profile