The heartbeat of the Selvaggio Blu - running through Sardinia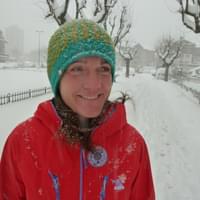 Tania Noakes relives the challenge she set herself in Sardinia - walking the Selvaggio Blu or the Wild Blue; an inspiring name for an unforgettable adventure.
I arrived at the crescent beach; hot, heart racing and legs covered in red dust. My hair is full of twigs and caterpillars but I'm still surprisingly strong given the past 12 hours. Cala Sisine is an idyllic place to arrive at and reflect on a whirlwind of effort, excitement, doubts, obstacles and eventual success.

I had visited Sardinia's east coast for the first time the summer before and was won over by the warmth of friendship that I encountered, together with the beautiful and challenging terrain. Here lies the Supramonte; a wild and rugged limestone area in central-east Sardinia.
A goal should scare you a little, and excite you a lot

— Joe Vitale
Uninhabited and inaccessible, it's a complicated landscape of limestone pavements, cave networks, deep canyons and soaring cliffs. All of which fall magnificently and mysteriously in a labyrinth of ravines, twisted juniper trees, hidden woods of holm oaks and precipitous drops to a perfect turquoise, shimmering sea.
There is a famous trek that follows this remote coastline northwards from Pedra Longa to Cala Sisine called the Selvaggio Blu. It means Wild Blue; an inspiring name for an unforgettable adventure. More a mountaineering route than a walking one, it involves short sections of rock climbing and abseils of up to 40m. Some steeper sections are overcome by juniper trunks wedged against the rock face by local shepherds. It is considered to be one of the finest and most difficult treks in the Mediterranean.
One of the biggest challenges is route finding. There are no official waymarks, although you may see occasional faded paint marks and cairns. It weaves its way through complicated terrain linking old shepherd paths with mule tracks, abandoned since the previous century. At times narrow and exposed and often indistinct, it is easy to lose your way. Combine this with the fact that there are no sources of drinking water along the route and you have a trek that feels like quite a commitment when undertaken independent of support. All your water has to be carried with you or pre-placed for use while on route.
Wild and true
The trail was conceived and first completed by Mario Verin and Peppino Cicalò in 1987. Some of the original waymarking of blue paint splashes remain, although they are faded. They have never been improved, due in part to the conviction that the trail should stay as wild and true to the spirit of the terrain as possible. The original trek was divided into four stages, covering between 7 and 12km each day, about 1000m of ascent and taking six to nine hours.
I walked the first part of the trail with Sardinian friends in January before unusually severe snowfalls prevented further exploration. Life events gave me more time in May. I checked the weather, rang my friends and booked flights; my heart hopeful that this time the Selvaggio Blu would share more secrets with me.
During the winter I had studied the route in detail using a beautiful book given to me for inspiration. The photos, together with the historical and cultural stories, had forged an even stronger desire to explore this wonderful part of Sardinia.
Meanwhile, the seed of another idea had taken root in my imagination. I wanted to complete it fast, in a single day.
My friends and I walked the final stages from Cala Goloritzé to Cala Sisine in two one-day trips, based at a wild camp high on the Supramonte. We checked that the abseils could be done with a single 60m rope. The guidebook says 40m abseils, but carrying 80m of rope would make a fast traverse punishing. I was also able to pre-place water and build an image of the route in my mind. It is very easy to miss things when you're tired and moving fast, and uncertainty in navigation always slows you down… getting lost even more so!
With our reconnaissance of the route complete, my confidence was growing. Excitement began to swell within me, breathing energy into my mind and body. I decided to carry one litre of water, despite knowing that the heat might pose a problem. I thought that if I started from Pedra Longa as hydrated as possible, in the cool of the morning, then this would see me to the half-way point and my first water cache. As I type these words I can feel the shadow of my mistake looming over me…
The start
I set off at 6am, with the warm orange glow of sunrise lighting the trail. The first section stays close to the sea and is easy running. The air is already warm and concerns dance at the edge of my mind. The trail begins to climb steadily along a ledge that breaks though the cliffs above. It gains the plateau at a small shepherd's hut. I check the map, because I don't know this section. I have to join a dirt road for a few hundred meters before breaking south-west towards the cliff top. I find the junction without difficulty and start traversing the limestone pavement. It's a jumble of sharp fins of rock and crevasse-like hollows and demands concentration. Sprawling juniper bushes force the trail to twist and turn, while hidden gullies plunge me into dead-ground and steal my horizon.
Nevertheless, I am confident in my sense of direction and I know I'm on the trail. There are faded paint splashes… a few cairns… a cairn… and then nothing. At times the rock underfoot makes it impossible to discern the path. I try to use my intuition for the terrain and follow where the path is marked on the map… but the lack of certainty slows me down. I think I see another faded blue mark then another cairn so I commit to the terrain ahead. There's a faint footpath… maybe… but where are those faded blue marks…? I haven't seen them for a while now… and then all of a sudden it no longer feels right.
I slow to a walk and recognise my reluctance to retrace my steps. I know I'm losing time and that the day is growing warmer with every minute. But I also know that if I keep going and I'm wrong I could get hopelessly lost in this intricate and unforgiving maze. I stop and get the map out.
I'm already hot and a little thirsty but slowly I start to understand where I've gone wrong.
I have covered quite a distance following phantom paths and cairns and I'm hesitant about what to do. For the first time my conviction that a one-day Selvaggio Blu is easily within my ability begins to waver.
Selvaggio Blue distance and elevation summary
| | | | | |
| --- | --- | --- | --- | --- |
| Day 1 | Pedra Longa to Porta Pedrosu | 12km | 9hr | 1200m+ |
| Day 2 | Porta Pedrosu to Cala Golorité | 9.5km | 6hr | 900m+ |
| Day 3 | Cala Goloritzé to Bacu su Felieu | 7.4km | 8hrs | 1160m+ |
| Day 4 | Bacu su Felieu to Cala Sisine | 7km | 6.5hr | 1150m+ |
| Total | Pedra Longa to Cala Cisine | 35.9km | 29.5hr | 4410m+ |
But life has taught me not to give up. I still have water and energy and the day is not over. If I can locate the small shepherd's gate where we started our reconnaissance in January I'm sure I'll remember the rest.
I look around me and try to get a better sense of the terrain. There is a shallow col to my south-east and the cliff edge lies beyond that. That's where I need to be. I take a sip of water, banish doubts from my mind and start to cut across country towards the sea. The undergrowth is relatively open here and I make good progress. In a short while I gain a shepherd's hut hidden in the woods and a little further I pick up a line of cairns; this is more positive.
Finally, I see the gate through which the trail passes before it drops back down towards the sea and I'm back on route! I've lost an hour, but I haven't lost faith. I take a deep breath, smiling to myself at something lost but recovered, and surge with new energy down the rocky slope below.
I weave though woods, cross scree slopes, round rocky buttresses… playful terrain suspended airily above the hypnotic sea. I remember this trail now and it moves effortlessly beneath my feet. The terrain is more forgiving than on the plateau above. There is more shade and it's more interesting. I'm onto the first steep section, which is fixed with trucks of juniper wood to facilitate passage. Voices echo up from below and I burst past a group of startled trekkers negotiating the trail more cautiously. I smile and greet them as I pass, swinging down into the trees below.
I gain the cool, shaded base of the ravine and drink some water… quietly noting how much remains. Then launch upwards into the bright burning sun and the first section of easy climbing. I'm in my element and relishing the fast-changing scenery and variety of movements it demands. As I climb I remember this is the place where we lost the trail in January, and spent considerable time and energy crawling like spiders through holes in the undergrowth. I'm ready for this point; I know where we went wrong and I'm confident I can correct it.
I crest the ridge, descend immediately and find the trail. It's thin and sinuous but it weaves relentlessly in the right direction. Eventually, the chaotic path spits me out at the rocky base of Porta Pedrosa and I see the rough wooden tables where we had lunch in January. This is the end of stage 1. It's taken me over four hours and I had hoped to take less than three. I'm thirsty, I have half a litre left and my next water is 8km away at the top of the climb out of Cala Goloritzé. I'm alone and I feel… committed, but it's a good feeling. I smile inside… nothing can change the past so I keep going.
Setbacks
I move well and keep to the trail but I have to concentrate. I know that dehydration will not keep my thoughts so sharp. Suddenly, I'm on the ground, dazed but unhurt. The hook-like root of a juniper tree has entered the toe of my trainer and floored me instantly. The front of my shoe has almost been ripped clean off. I have nothing to repair it with, and I can only hope it survives the rest of the trail.
I start the climb to Punta Salinas, a famous viewpoint along this section of coast. I can feel my reactions slowing in the heat and my thoughts seem strangely detached inside my head… this isn't good. The trail demands agility but I fail to duck my head in time and a juniper branch as solid as stone catches me square on the forehead. The pain bursts through me… I'm stunned but it does wake me up and I tell myself to stay focused. I'm not moving fast anymore. I'm concerned that if I do anything other than a brisk walk I'll overheat and be in serious trouble.
Around Punta Salinas the trail becomes more obvious for a while. Many visitors make day trips from dirt roads on the plateau both to the viewpoint and to the beach of Cala Gloroitzé below. It's downhill and in the shade, and faster movement brings a cooling breeze… I begin to feel a little better. The trail follows the base of the gorge before suddenly breaking back west; regaining the plateau through a sharp defile involving several short but exposed climbs aided by juniper trunks and in-situ ropes. This section is indistinct and feels rarely frequented; the climbing sections are awkward with loose rock above.
Most guided groups miss out this ascent, and yet for me it was one of the most enjoyable sections to complete alone; it felt wild and unexplored.
Seven hours into the day, two stages down and I gain my first water cache. I pull back the stones thirstily, relieved to find the water still in place. I refill my bottle, add some salt tablets, and drink a litre before pouring the remainder through my matted hair. Such a wonderful feeling! I crush the bottle, shove it in my bag and set off again along the crest of Serra e Lattone, towards the sea.
From here the terrain becomes more interesting still, and more beautiful. There are lots of little ups and downs; short scrambles and the first of a series of abseils. I hope that my efficiency with rope work will win me back some time. I feel refreshed and rehydrated and in tune with the terrain. The trail weaves through trees, crosses shelves and scree slopes, traverses calcified caves draped with stalactites and scrambles around exposed buttresses, before reaching the well-equipped abseils that allow you access to Arco Su Feilau. This is a natural arch in the cliff face through which you must pass and is where the original team bivouacked on their last night on the trail at the end of stage 3. Most groups now camp further down in Bacu Su Padente or on the plateau above at Oville Ololbizzi.
The climb that follows requires concentration to stay on route. Greater numbers heading to the Ololbizzi refuge have made that trail much more obvious. Last time I missed the point where the trails separate, but this time I find the right path and climb with determination across the sharp limestone towards my second water cache at Ovile Piddi.
A challenge within a challenge
The final stage is more runnable. It has long straight sections through shaded woodland, soft underfoot and without too much ascent or descent. I take 10 minutes at Oville Piddi to eat and drink, enjoying the view and my returning confidence that I might be able to finish in less than 12 hours. My legs feel ok… and although up until this point my goal had only been to complete the trail in a single push, once it became clear that I would finish around the 12 hour point the number started to take on a powerful significance in my mind.
It had become a challenge within a challenge. I set off with renewed energy… down another broken, rocky slope, this time culminating in an intriguing fissure in the rock face. This cool cleft provides a secret passage to the longest abseil, which I had planned to do in two stages because of my shorter rope. I'm quick and efficient but at the base I take the time to stow the rope properly in my sack. I'm about to traverse the Biriola and Orronnoro woods and the chances of branches snagging the rope are high. It's beautiful running despite the many caterpillars dangling on invisible threads across the path. I keep my mouth closed and brush them away… I feel alive and strong inside my body and I'm thoroughly enjoying this last section of the trail.
I arrive at the penultimate abseil. Two climbers are about to thread their ropes through the chain and I call to them as I arrive… would you mind if I passed? I'll be fast… I'm trying to get to Cala Sisine within 12 hours. With warmth and humour they let me pass and give me a boost of encouragement. The minutes pass quickly… I gain the woods just south of Cala Sisine. Staying focused and calm I coil the rope and throw it across the top of my sack, knowing that in no time at all I'll be at the last abseil above the final beach. Down the abseil, coil the rope, throw it onto the sack and GO… I feel the Selvaggio Blu retreat behind me… The trail is clearly defined, pulling me forwards though a gently sloping tunnel of arched branches towards the hidden beach below.
I burst from the treeline into the dazzling sunshine and suddenly I'm on the flat sands of Cala Sisine; hot, heart racing and legs covered in red dust. My hair is full of twigs and caterpillars but I'm still surprisingly strong given the past 11 hours and 58 minutes of effort. I'm happy… I can't stop smiling… I made it… it's totally possible… and as I walk in my destroyed trainers towards the shimmering sea I reflect on a long, but wonderful, intense and unforgettable day.
Inspiration gives you a desire. Decision makes it an intention. Action makes it real.

— Joe Vitale
Recommended local guides for information and support
For anyone who is interested in the wild and amazing trekking possibilities in the Supramonte mountains of Sardinia (The Selvaggio Blu is just one!) then the local man to contact is Salvatore Solinas (guidasupramontes@gmail.com, +39 3200 259432). His positive energy, knowledge, good humour and friendship is something that will make your adventure there incredibly special.
Tania will be running a trip to the Selvaggio Blu in May 2018 if you'd like to join her. You can find details on the Inversion Travel website.
Tania Noakes is an adventurer, writer and IFMGA Mountain Guide. She is a member of the British Mountain Guides Association (BMG). She will be leading an adventurous trek (at a more relaxed pace!) along the Selvaggio Blu in Sardinia 19-25 May 2018. More information is available through her website or by email on tania.noakes@gmail.com.
To read more articles like this get our newsletter
Sign up today for a 20% discount on your next purchase. Join over 30,000 enthusiasts from around the world. If you don't love our mix of new books, articles, offers and competitions, you can unsubscribe at any time. We will never spam you, sell your data or send emails from third parties.