The High Atlas Mountains of Morocco
Just a short hop from Europe, Morocco's High Atlas mountains have stunning and wild trekking at altitudes up to 4000m. Hamish Brown tells us about wo routes in the Atlas Mountains of Morocco: the ascent of Jbel Tazekka (Tazzeka) 1980m, the high point of the glorious cedar forests of north-east Morocco, and the traverse of Jbel bou Naceur 3326m, Moussa ou Salah 3172m and Jbel bou Iblane 3081m, the dominant mountains of north-east Morocco.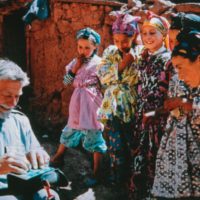 Hamish Brown
Hamish M Brown is a professional writer lecturer and photographer specialising in mountain, outdoor and travel topics, topography, prehistoric sites, historical interests and travel worldwide. He has written or edited over 20 books, ranging from poem (his own and anthologies) and short stories, well- researched and illustrated guidebooks, to narratives on major expeditions (Munros in a single trip, the Groat's End Walk, Atlas end- to- end). He has also appeared on radio and TV.
View Articles and Books by Hamish Brown