Colin Dennis, author of Cicerone's sportive guidebooks to the south-east and south-west England, welcomes the professionalism of today's sportive cycling events – by comparison with the amateur efforts of only 20 years ago – and the arrival of competitive road cycling as 'the new golf'.
The screech of wet brakes brought the group to a stuttering halt. From the front of the group I heard someone shout: 'Which way now?' A sea of helmets turned as one as if the last man held the answer.
I pulled over to the side of the road and reached around for the map in my rear pocket. I stared disbelievingly at the handful of pulp that no longer held a single one and cursed myself for leaving the plastic insert on the kitchen table. A trickle of rain rolled down my neck.
'Um, turn right, I think.'
'I'm pretty sure it's left here, then right at the next roundabout,' came a more assertive voice from the front of the sodden group.
I was in no mood for arguing and I didn't care whether he was right or wrong. He was probably right. My internal memory map had started to let me down around the 60-mile mark. Further attempts at memorising the route ahead proved futile.
After all, a hundred miles is a long way in the cold and wet.
There was no roadside arrow to point the way and no one had a GPS, but there was plenty of grumbling to be heard as everyone begrudgingly set off again to the crunching of gears to follow Mr Assertive off to the left. Helmets glistened like polished Smarties, their heads bowed against the wind and rain.
I look back from the comfort of my titanium-railed saddle and soften my view as the poor old organisers didn't have the quick-fire technology that we can't seem to function without today. But they did send out detailed black-and-white route maps (with plastic inserts) for me to leave at home on the kitchen table so I only have myself to blame for some of my misfortune and discomfort. The fact that they also seemed to have left most of the course markers on their own kitchen tables is a transgression which I'm slow to forgive. Riders also had to pay for the privilege of being supplied with food and drink en route (and guess who didn't take any money with him?).
Such was my introduction to cycle sportives. That wet, miserable cycling baptism of fire was nearly twenty years ago and until recently had been firmly filed deep in my mind's rubbish bin and I'm glad to say that that event is deservedly no longer a part of the sportive calendar.
On reflection, that first event was more akin in its organisation to a large club reliability trial, which again, is no bad thing, just as long as you know what you're letting yourself in for. Novice riders in need of an education take note: learn how to look after yourself with regard to maintenance and roadside repairs; would you really call for assistance having had a puncture on your bike?
It's not clear where today's modern sportive event developed from – somewhere between the European, mass-participation 'Gran Fondo' cycling events and the above-mentioned good ol' British club reliability trial-cum-audax. But wherever it started, what we have now is a series of road cycling events that has got people of all ages and abilities out enjoying themselves and keeping fit in a way that few other sports can muster.
The main lesson that I learned that memorable day back in 1996 was that, as the saying goes, proper prior planning and preparation does avoid pathetically poor performance.
Even with today's technology and slicker event organisation, if you haven't prepared yourself and trained your body and mind correctly, you're still going to suffer the pains of road cycling as if none of the sweet side of existed.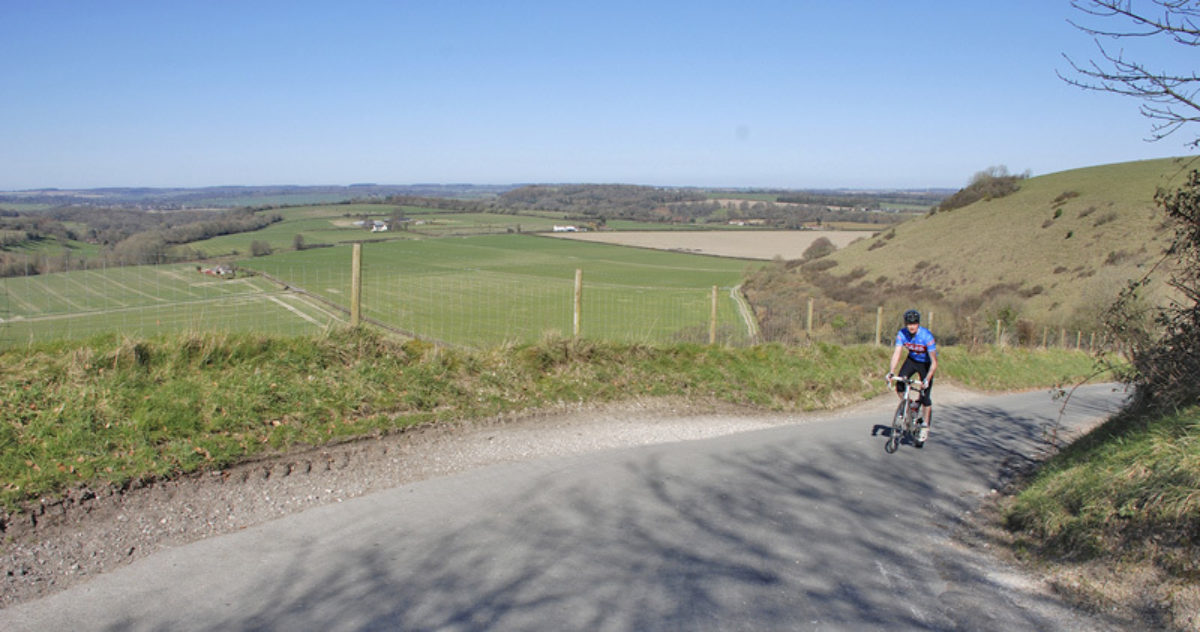 Thankfully, like a good camembert, both cycle sportives and I have matured over the years. Today's cycle sportive organisers go to extreme lengths to make sure that their precious cargo of riders doesn't get lost. Route markers adorn signposts before, during and after every turning; GPX downloads are available from the organiser's website; and friendly, unobtrusive broom-wagons and lantern-rouge riders gently encourage stragglers to complete the ride within generous time limits.

The start areas of many larger sportive events often take on an air of Le Tour's 'Grand Depart'. A mixture of nervous energy, massage oil, energy gels and chain lube provide a heady cocktail amid the marquees or in the local leisure centre or village hall. You can also expect the event's pre-ride brief to be enjoyed by all, rather than just the front row of riders, thanks to the inclusion of a tannoy system (although not everybody chooses to listen).
Many canny organisers of larger sportives employ motorcycle outriders with spare wheels for those unfortunate to be in need of such services. The ante has definitely been upped, way beyond the hit-and-miss affairs of yesterday and the eagle-eyed organisers that quickly caught on to the rising expectation and needs of today's riders are the ones who now enjoy large sponsorship deals and attendances.
I recently read somewhere that sportive cycling is 'the new golf' and that middle-aged men are swapping baggy chequered trousers and lemon-coloured shirts for tight Lycra leggings and Team Sky tops in droves. Well, if that's the case, I've no problem with it.

Lots of people taking up a sport with such clearly proven health benefits can only be a good thing.
If you'd seen the swelling ranks of riders on their pricey carbon steeds at a typical New Forest sportive event the other weekend you would find it hard to disagree that road cycling truly is the sport of the moment; long may it continue.
To get started, and find sportive rides in your area, the British Cycling website has some great information.
Colin Dennis' two Cycling Sportives guidebooks each feature 20 classic Sportive rides in south-east England, and south-west England. The routes focus on different aspects of training – hill climbs, high cadence flat sections, technical, all can be mixed and matched for all-round training on quiet cycle-friendly roads. There are plans in early stages for more sportive guidebooks for other areas of the country.
To get started, and find sportive rides in your area, the British Cycling website has some great information.
Colin Dennis' two Cycling Sportives guidebooks each feature 20 classic Sportive rides in south-east England, and south-west England. The routes focus on different aspects of training – hill climbs, high cadence flat sections, technical, all can be mixed and matched for all-round training on quiet cycle-friendly roads. There are plans in early stages for more sportive guidebooks for other areas of the country