The Two Moors Way
Devon's Coast to Coast
Guidebook to Devon's coast to coast walk, incorporating the Two Moors Way and Erme-Plym Trail and crossing Devon from Wembury Bay in the South Devon AONB on the south coast to Lynmouth in the north coast, passing through Dartmoor and Exmoor: 116 miles through remote and beautiful countryside. Ideal for a week's holiday.
Seasons
May for bluebells and wild garlic in the hedgebanks; August for purple heather and bright yellow gorse on the moors; late October for glorious reds and oranges in valley woodlands and Exmoor's famous beech hedgebanks
Centres
Wembury, Yealmpton, Ivybridge, Holne, Widecombe-in-the-Moor, Chagford, Drewsteignton, Morchard Road, Morchard Bishop, Black Dog, Witheridge, Knowstone, Hawkridge, Withypool, Simonsbath, Lynmouth
Difficulty
A moderate undulating walking route, made tougher by dividing it into fewer sections to give longer days; conditions underfoot may be muddy after wet weather, and a detour required on the Hawkridge-Withypool section in times of flood; waymarking is good other than on the moorland sections; when the cloud is down the use of map and compass is essential on the unavoidable Ivybridge-Holne section
Must See
Wembury Bay and Marine Centre, South Devon AONB, South West Coast Path Dartmoor: granite tors, medieval tinworking, Bronze Age archaeology, Dartmoor ponies, Teign Gorge, Castle Drogo Devon's Heartland: farms, fields, woodland… rural Devon at its best Exmoor: Tarr Steps, Barle Valley, Simonsbath: heart of the ancient Forest of Exmoor, Exmoor ponies, red deer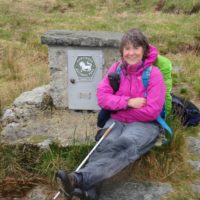 Sue Viccars
After gaining a degree in Geography and Archaeology at Exeter University Sue Viccars worked for a London map publisher before grabbing the chance to return to Devon, where she spent 20 years commissioning walking, equestrian and countryside books for David & Charles Publishers. She received her first walking book commission three weeks after going freelance in 2000 and since then has written or contributed to around 20 books (and edited dozens more), specialising in her home territory of southwest England, with particular reference to Dartmoor and Exmoor. She writes the walks for Exmoor: the country magazine, and has been editor of Dartmoor Magazine since 2008.
View Articles and Books by Sue Viccars