Unforgettable encounters on the South Downs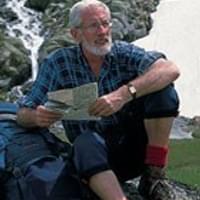 Here Kev Reynolds, prolific chronicler of the outdoors from the Himalaya to what he calls his own 'Kentish Alps', and author of two Cicerone walking guides to the South Downs, shares three precious moments from many years of walking through his local landscape.
The Weald is good, the Downs are best – I'll give you the run of 'em, East to West
Kipling was right. No matter how good the Weald, the Downs are best. The South Downs, that is, running from Beachy Head above Eastbourne to St Catherine's Hill overlooking the River Itchen at Winchester.

Smooth green hills, they are. A generous, ample land characterised by skylarks, poppies, cowslips and sheep, and from whose crest scores of vantage points look out over the Weald in one direction, and off to the Channel in another. And elsewhere? Elsewhere there's what Octavia Hill – the great Victorian champion of the countryside and co-founder of the National Trust – once referred to as 'the healing gift of space'.
This is a walker's landscape, as good as it gets, and I for one could never grow tired of it. A mountain man most of my days, I'm as happy and fulfilled when spending a day exploring a corner of this the newest of our National Parks – or wandering end-to-end along the South Downs Way – as I am trekking the high Himalaya. For if you have an eye for beauty you'll find more than enough to gaze on here. And there's always something to learn, something new to discover.
An Owl After Midnight
We pitched our tent on the edge of a huge sloping meadow at the end of a two-mile track some way northeast of Chichester. Beechwoods rimmed the slope on all sides bar one, but to the south the meadow tapered and curved between converging hills, so distant views were restricted. The only facility provided by the farmer was a tap fitted to the end of a cattle trough, but that was more than adequate, and we were content.
The tent nestled in a suntrap and all was peaceful, save for the bleating and munching of a hundred sheep, and the song of a dozen larks hanging as tiny specks in a cloudless sky. And jays that argued with magpies in the woods, and the blackbird that warbled at dawn and dusk when all else had gone to roost. All was peaceful on our meadow on the south side of the Downs... until the second night, that is, when we were woken at 2am by a barn owl screeching from a nearby oak.
It was a sound that grated, rubbed against a nerve. On and on it went; a rasping hinge-in-need-of-oil screech that made sleep impossible. Tuneful it was not and it gave no sign of faltering. It went on and on. And on.
Then suddenly it stopped – as abruptly as it had begun – and peace settled with the dew.
The owl must have spied our small domed tent. Inquisitive as ever, it swooped down to inspect and landed just above our heads.
Transfixed, we lay there barely breathing, with the handsome bird backlit by a half moon; only inches from our eyes. So close was it, and so light the night, that we could see quite clearly the shape and texture of its feathers, the outline of its hunched wings, the head that swivelled this way and that. Won over by its beauty, we forgave its tuneless voice and harvested the moment.
Night ceased to age. Time was suspended, like our breath… until something more interesting caught its attention, and with a slow but determined stretching of its wings, the owl launched itself from the tent and flew out of our lives.
But not out of our memories.
On Gander Down
The countryside stretched far off, brushed by cloud shadows that sped in a gusting breeze. Peewits wheeled and cried as they swooped over one another – playful, yet mournful too with their sorrowful cry. It was too good to hurry, and I was glad to be alone with no one in sight for hour upon hour, on a trail edging towards an unreachable horizon.
A barn stocked with straw bales drew me in, and there I settled out of the wind to eat my sandwiches and allow memory to shuffle the miles since breakfast and to lay out their bounty for inspection. With each one my love for the Downs grew stronger. I belonged to them – they owned me in a way that I could never own them.
A puff of raincloud swept my way. 'Precipitation in sight', as they say on the shipping forecast. It came, dampened the track, rattled on the barn roof and was gone again. Weak sunshine took over.
A hare loped along the track and confronted a cock pheasant a few paces from where I sat.
They stared at each other, then carried on with their own business, unaware that I was watching. The hare snuffled, shook his head so that his long ears flapped, then hopped behind the barn while the bird caught sight of something of interest and strutted away, tail dragging, but head thrust forward like an old Victorian spinster scurrying off to evensong. Five minutes later a hen pheasant emerged from a neighbouring field and stood looking for her mate, squinting up and down.
It was tempting to point out where he'd gone, but she'd only have been spooked by my presence, so I stayed silent. It's often better to remain an observer than to interfere.
It was another hour before I set off again, the track drawing me on with its promise of something new to discover with every twist and turn.
Golden Hills
June-high grass towered around us as we settled for a moment on a grassy bank on the edge of the one-time marshland of Amberley Wild Brooks, its grid of drainage ditches slicing through the landscape in direct contrast to the abrupt north slope of Rackham Hill twenty minutes' walk away. That slope was awash with yellow. Not the yellow of cowslips, for they'd now gone to seed, but the blending yellows of kidney vetch, birds foot trefoil, yellow rattle and the gold of buttercups.
Buttercups! We were almost submerged in a sea of buttercups. They were everywhere in the meadows at the foot of the Downs. In some places you could be forgiven for thinking there was no grass. Just buttercups. Buttercups spreading a tide of gold against and over the hills, dazzling in the sunlight.
It's easy to take them for granted. They're so numerous and ubiquitous at this time of the year that we barely register their presence.
But imagine if we were visitors from another country; a land where there are no buttercups. At first sight, we'd surely be mesmerised by them, by their simple but startling beauty, by their sheer quantity, by the way a distant meadow can appear to be carpeted with gold!
We'd return home with stories about those magical meadows of flowers with the strangely descriptive name. And we'd never forget them.
Here at the foot of the Downs we decided to treat ourselves to the luxury of fresh vision. We looked at the flowers around us as if for the very first time. Not just the buttercups, but all wild flowers – the cow parsley with literally hundreds of minute white stars clustered into a crown of flowers on a tall, tough stem; the big flat plates of elderflower; the blessings of trees. And the birdsong we'd heard so many times that we were growing deaf to their choral symphonies.
Life is full of gifts – not earned or justified, but freely given. Happiness too. Happiness is like a meadow full of buttercups – it's there if you know how to recognise it. And once found it should be treasured as though it were gold.
We walked on onto the Downs with our eyes re-opened and spirits re-awakened.
To read more articles like this get our newsletter
Sign up today for a 20% discount on your next purchase. Join over 30,000 enthusiasts from around the world. If you don't love our mix of new books, articles, offers and competitions, you can unsubscribe at any time. We will never spam you, sell your data or send emails from third parties.