Walking around Lake Como and Maggiore in northern Italy
The glorious northern Italian lakes were once justifiably popular stops on the Grand Tour. In her guidebook, Walking Lake Como and Maggiore, Gillian Price reminisces about her own early visits, then takes us strolling along the beautiful lakesides to explore a fantastic array of walking routes.
Back in the 1700s it was all the rage in Great Britain for the young and well-heeled to travel over to 'The Continent' on an educational journey to broaden their minds. After visiting France and Switzerland these Grand Tourists would have embarked on long, uncomfortable journeys by horse and carriage, heading painstakingly slowly south across the Alps to reach Italy. Their first stop may have been either beautiful Lake Como or its neighbour Lake Maggiore. Both were famous destinations thanks to their romantic villas, Italianate gardens and islands, not to mention bright sunny shores, a great attraction for sun-starved northerners.
Quite frankly, not that much has really changed on the lakes – although, naturally, you can now get there easily by train or road from the well-served travel hub of Milan. The only real issue these days is – how on earth do you decide where to start? Modern-day tourists tend to flock to Como on the trail of the rich and famous, while garden lovers prefer Maggiore. Walkers will have an even harder time coming to a decision as both lakes offer so many delightful routes with plenty of signposts and clear waymarking. In both cases the pleasure is heightened by travelling to the start by leisurely ferry or even a local cable-car. So, either throw a dice or… read on.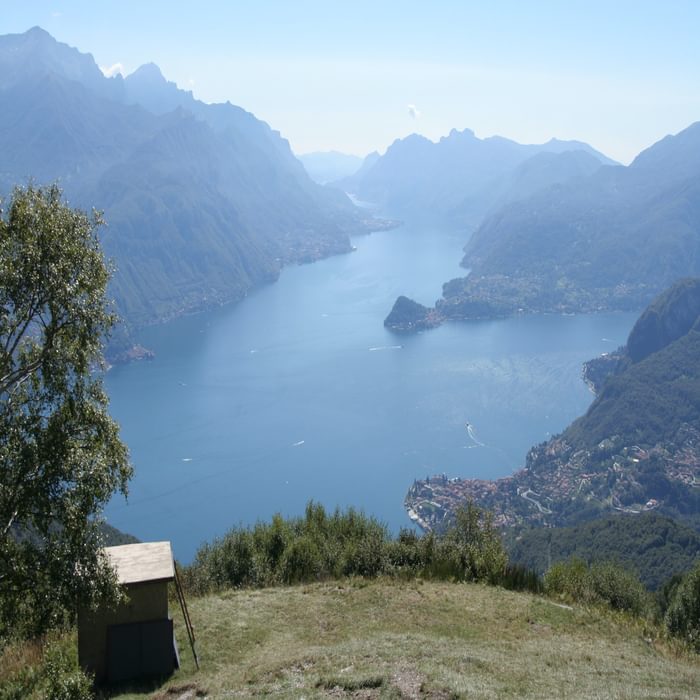 Lake Como for starters
As for me, I started at Como. During my backpacking days on a yawning gap year that stretched into three, I dropped in on a new Italian friend who lived somewhere near Milan, at a place called Como as it turned out. Place names at that stage of my life simply translated into railway stations – as I could afford to travel only where my trusty Eurail Pass would take me. I was in luck this time as Como had a railway station where I duly got off. But how was I supposed to know it meant a lovely town on the edge of an absolutely lovely lake?
I confess to harbouring very vague though positive impressions of that initial visit as I was whisked around the marvellous shoreline on the back of a vintage motorcycle. My friend was determined to show me as much as possible in a couple of hours before I got my return train.
Third time lucky
So, it wasn't until my third visit to Lake Como that I finally managed to locate some paths and go walking! We made our base at Menaggio, a quiet waterfront village superbly located halfway up the western shore. Quite frankly, as a base for a walking holiday Menaggio is pretty hard to beat. A bonus is the very helpful Tourist Office run by expert walkers brimming with enthusiasm for their beautiful area. The first day, on their suggestion, we set off on foot heading inland up tranquil Val Sanagra where high arched stone bridges cross the river and an old water-powered mill for forging iron nails has been converted into a rustic eatery for wayfarers.
The town of Como is located at the lower end of the lake
A helpful signboard in Val Sanagra
There's plenty of signposting to point walkers the right way in Val Sanagra
Further along we wandered through delightful hamlets such as Naggio. A very promising beginning. That was followed the next day by a local bus trip to the tiny belvedere village of Breglia and the superb climb to welcoming Rifugio Menaggio set on open grassland on the slopes of Monte Grona.
But after a rest you have to keep going – uphill to the breathtaking broad ridge where views space north to the Alps, with glaciated Monte Rosa and Monte Disgrazia, without forgetting a vast glittering expanse of Lake Como.
South of Menaggio the rewarding and easy Greenway walking route skirts the lake shores and drops in on villas, tiny old churches and waterfront cafés, giving an excellent panorama of the western lake.

The rewarding Greenway skirts the lakeside
Tranquil lakeside promenades on the Greenway route
However, a short ferry trip awaits across the water as Bellagio on its superb promontory was beckoning. Bellagio? Rather too heavy on shops and people you'd be forgiven for thinking. Surprise, surprise, as a delightful walking route loops via lakeside coves and harbours, not to mention a villa with the monumental 'Vialone' avenue running virtually from lakeside to lakeside. That should warm you up for the unmissable mountain routes to the rear of Bellagio – Monte Nuvolone and Monte San Primo, where you feel on top of the world. Believe it or not but you can see all the way to Milan and the Po plain, although the view in the opposite direction is somewhat more attractive – to the Matterhorn, no less.
Looking north from the Nuvolone Belvedere
Walkers happily reach the summit of Monte San Primo
There are amazing views over The Bellagio promontory from Monte San Primo
Looking south towards Como from Monte San Primo
The Strada Regia is well signed
But before you abandon the Triangolo Lariano, as the pointed central section of Lake Como is known, find time for at least one stretch of the ancient 'Strada Regia' way that was in use from the 1600s to the early 1900s to link Bellagio with Como itself.
You'll find yourself on surprisingly long paved sections, punctuated with enormous boulders (glacial erratics) transported eons ago by the glaciers that shaped the lake and abandoned when the ice melted. I nearly forgot to mention that these walks are prefaced by a delightful trip on the ferry, which deposits passengers at tiny harbours decorated with bright pots of flowers and inviting benches by the locals.
So, with so much on offer at Lake Como why on earth bother with Maggiore?
I'll see if I can convince you with a couple of paragraphs. Maybe this lyrical comment from Gustave Flaubert (1845) will also help: 'It is the most voluptuous place I have even seen in the world. Nature enchants you with a thousand unknown fascinations…'
Stresa, Cannobio and Monteviasco will do for starters.
You can't go wrong making your first stop Stresa, an especially attractive and laidback village about halfway up the western edge of Lake Maggiore. But do try to arrive by train as the railway never strays far from the inviting waterfront.
Stresa has a delightful waterfront with promenades
Stresa looks over to the famous Borromean Islands
As well as leisurely promenades lined by flowered beds, Stresa is the gateway to the famed Borromean islands and the towering Mottarone mountain with its cable-car and unbeatable belvedere.
From Stresa a cable car zooms up to the top of Monte Mottarone
The descent from Mottarone is extremely enjoyable
A ride up – then the walk down – is de rigueur. A hint: go equipped with Peak Finder. It's by far my favourite app as it tells you exactly which mountains you're looking at and shows their shape – I used to spend ages trying to identify far-off mountains with my trusty compass and map, but this system is so much more enjoyable – and accurate.
When you've tired of Stresa head north towards the Swiss border but stop at Cannobio on the Italian side. My favourite walks here are the traverse from Cannero then the superb old mule track down Val Cannobina, a real trip through time. The Via Borromea was named for the 16th century bishop of Milano Carlo Borromeo, who would travel along it visiting his subjects. It stars delightful traditional mountain hamlets and ancient alps, peace and quiet and historic stone bridges, and concludes on the lakeside where a rewarding drink is in order.

The pretty village of Cannobio on upper Lake Maggiore
Spoccia stands high in Val Cannobina
Old stone bridge on the Via Borromea in Val Cannobina
Monteviasco in a world of its own
Last, but defnitely not least for Lake Maggiore, is Monteviasco, to be found directly opposite Cannobio on the northeastern shore. Ever heard of it? Neither had we. The peaceful alpine hamlet where slate-roofed houses cover a mountain slope at 926m can be reached only by foot or cable-car. And on foot translates into slogging up more than 1000 stone steps that entail a height gain of over 400 metres.
Personally, I immediately felt at home in Monteviasco. It's a very special place. There's no road, just narrow alleys through the maze of buildings. It's amazing really to think that the village still exists. Fifteen people still call it home. And, luckily, this being Italy, a couple of them run an excellent local eatery, too. Need any more persuading?

To read more articles like this get our newsletter
Sign up today for a 20% discount on your next purchase. Join over 30,000 enthusiasts from around the world. If you don't love our mix of new books, articles, offers and competitions, you can unsubscribe at any time. We will never spam you, sell your data or send emails from third parties.