Walking Lake Garda and Iseo
Day walks in the Italian Lakes
Guidebook to 20 day walks around the majestic Italian lakes of Garda and Iseo. The routes, which range from leisurely strolls to more strenuous routes up panoramic peaks, offer something to suit all walkers. Invaluable practical information about public transport, accommodation and walking kit is included, together with a handy Italian glossary.
Seasons
spring through to autumn are best, although the lakes' mild climate makes them suitable for year-round walking. In midsummer head for the mountain altitude routes while in winter, when snow may cover the high peaks, stick to the lower walks
Centres
Malcesine, Riva del Garda, Limone, Gargnano on Lago di Garda. Iseo and Lovere on Lago d'Iseo
Difficulty
walks range from easy lakeside strolls to rambles across mountainsides and exciting paths to superbly panoramic peaks. Graded 1 to 3, catering for everyone
Must See
Malcesine and the cable-car to Monte Baldo for breathtaking views and wildflowers. Monte Telegrafo. Campione and the canyons. Limone and lakefront lemon orchards. Spectacular Strada del Ponale from Riva di Garda. Monte Brione and historic military forts. Tremosine ancient stone stairway. Lago d'Iseo's Monteisola and Lovere
Overview

Table of Contents

Updates

Reviews

Downloads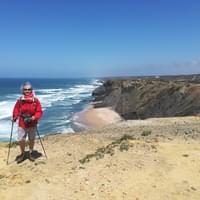 Gillian Price
Gillian Price has trekked throughout Asia and the Himalayas, but now lives in Venice and is exploring the mountains and flatter bits of Italy. Starting in the Italian Dolomites, Gillian has written outstanding Cicerone guides to walking all over Italy as well as Corsica and Corfu. An adamant promoter of public transport to minimise environmental impact, Gillian belongs to Mountain Wilderness and is an active member of the Venice branch of CAI, the Italian Alpine Club.
View author profile