Walking in Italy's Cinque Terre
Monterosso al Mare, Vernazza, Corniglia, Manarola and Riomaggiore
Guidebook to walking Italy's stunning Cinque Terre. Describes 16 routes in and around the five famous fishing villages of Monterosso, Vernazza, Corniglia, Manarola and Riomaggiore. Breathtakingly beautiful, this UNESCO World Heritage coastline is a walker's (and foodie's) dream destination.
Seasons
Spring (April to June) and autumn (September and October), avoiding the heat of summer, are the best times for walking but also the busiest. Winter can be magical and quiet - though many accommodation providers and restaurants close and the weather can occasionally be wild and stormy.
Centres
The Cinque Terre villages of Monterosso, Vernazza, Manarola, Corniglia, Riomaggiore, as well as neighbouring Levanto, Campiglia and Porto Venere.
Difficulty
The walks in this guide are graded 1-3 and are suitable for beginners through to experienced walkers. Some walks are steep, and long flights of stone steps are often encountered. Quality walking boots or shoes are essential.
Must See
The world-famous paths between charming Cinque Terre villages on spectacular cliff and vineyard routes. The popular Sentiero Verde Azzurro links Monterosso to Vernazza to Corniglia to Manarola to Riomaggiore. A superb higher traverse leads on via Campiglia and on to delightful Portovenere.
Overview

Table of Contents

Updates

Reviews

Downloads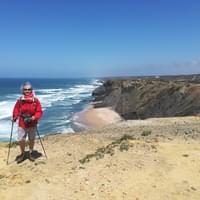 Gillian Price
Gillian Price has trekked throughout Asia and the Himalayas, but now lives in Venice and is exploring the mountains and flatter bits of Italy. Starting in the Italian Dolomites, Gillian has written outstanding Cicerone guides to walking all over Italy as well as Corsica and Corfu. An adamant promoter of public transport to minimise environmental impact, Gillian belongs to Mountain Wilderness and is an active member of the Venice branch of CAI, the Italian Alpine Club.
View author profile