Walking in the Haute Savoie: North
30 day walks - Salève, Vallée Verte, Abondance, Bellevaux, Morzine
First volume of a 2-part guide to walking in the Haute Savoie in the French Alps. This guidebook covers the area south of Lake Geneva to the Swiss border including Salève, Chablais and the Vallée Verte, with Evian and Morzine among places to stay. 30 walks include local summits and ridges, but generally straightforward terrain.
Seasons
Spring and summer, when the snow has melted and the slopes are bright with alpine flowers; autumn, when the leaves are changing, or even winter for some of the lower walks
Centres
Evian-les-Bains, Morzine, Abondance, Châtel, St-Julien-en-Genevois, Bellevaux, Boège, Habère-Poche
Difficulty
Variety of routes of differing length and height gain, suitable for most abilities, graded from easy to difficult; none require special equipment or expertise, but the few graded difficult have some exposed sections, often protected by cables, and need a head for heights
Must See
Major peaks: Cornettes de Bise, Mont de Grange, Dent d'Oche, Pic Boré Lakes: Geneva, Arvouin, Tavaneuse Cols: Cheséry, Cou, Brétolet Historical attractions: medieval abbeys; numerous small chapels, shrines, stations of the cross and statues on mountain tops; smugglers routes over the French-Swiss border cols Nature reserves; bird migratory routes Geological features: limestone cliffs, gorges and caves (Salève); fault-line and microclimate (Vuache)
Overview

Table of Contents

Updates

Reviews

Downloads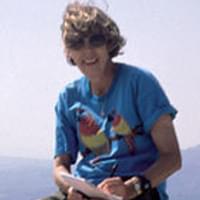 Janette Norton
Janette Norton lived in France, near Geneva, for over 30 years with her physicist husband, Alan, raising four children and working in the marketing field. Her love of mountain walking dated from the time she was a guide in her twenties, and the proximity of the Alps and Jura to her home inspired her to continue her passion. After her children grew up, she branched out to explore other areas of France.
View author profile
Alan Norton
Alan Norton studied Physics at Edinburgh and Oxford Universities before moving to Geneva to work at CERN on Particle Physics research. Since retirement, he has continued to participate in CERN experiments as a professor at the Italian University of Ferrara. As leisure activities, he has completed many mountain running events at the rear of the field, and helped Janette with walking and map preparation for her guides.
View author profile
Pamela Harris
Pamela Harris graduated from Reading University and then moved to Switzerland, where she taught English and Classical studies at international schools in the Geneva area. A long-time member of both the Alpine Club and the Swiss Alpine Club, she has walked and climbed extensively in the mountains of Europe and the Himalayas, and organises walking holidays in both areas for these clubs.
View author profile