What Cicerone staff have been doing this year... 2019
Everyone who works at Cicerone is a bit of a fleece-wearing outdoor adventure junkie and we try to practice what we preach. Here's what we've all been up to in 2019.
Joe, Business Development Manager
Despite some battles with persistent injuries, I've had a couple of great trips this year, the biggest highlight being a trip to Skye in April for some scrambling.

I had been keen to get back to the Isle of Skye in Scotland ever since I got rained off an attempt on the ridge traverse many years ago. We came back in April this year and had a wonderful trip. If you've never been to Skye for walking, scrambling or climbing I can't recommend it enough! Do remember there are big issues surrounding overcrowding and erosion on the island, so it's important to try to visit in quieter seasons and stick to paths in areas with erosion concerns.

My great memory from the trip was on our second mountain outing of the day (the first being an aborted Cuillin ridge traverse attempt), where we were up high on the central section of the ridge. We didn't have a guidebook, but we were just enjoying the scrambling in the evening light, unencumbered by heavy bags (I just had a bum bag). We agreed that the descent from Sgurr na Banachdich was one of the best fell/hill running descents we'd ever done, right back down to sea level in no time at all!

Skye's definitely a place I'll be coming back to time and time again. The mountains rise directly from the sea and they truly pack a punch for their heights.
An evening run on the ridge unencumbered by packs
The cloud lifts on the southern part of the Cuillin
Looking down to Loch Coruisk hidden behind the main ridge
Looking up towards the TD Gap on a thwarted attempt at the Cuillin ridge traverse
Ant, Head of Technology
This year has been less about the big mountains and more about embracing family life with a toddler and a whippet puppy. Still lots of time outdoors for short walks, bike rides and plenty of miniature railways, not to mention the many cafes and ice cream stops. I'm in heaven!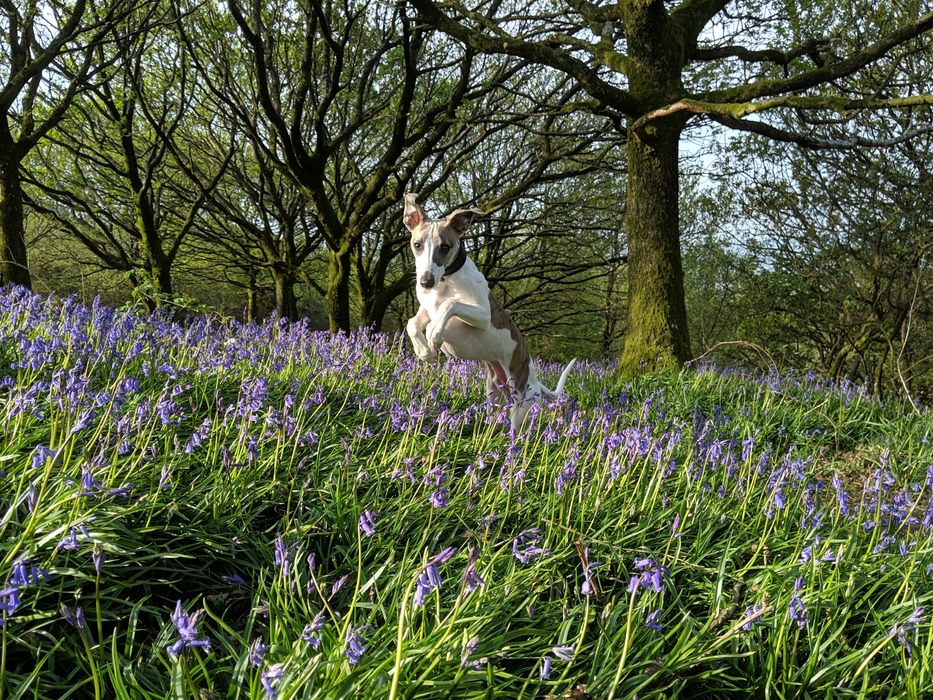 Lorraine, Finance Manager

A little (40 mile) day walk – also known as the Keswick to Barrow (K2B) Walk, is a sponsored 40 mile walking and running event in the Lake District that raises money for charities and good causes within Cumbria.

Inspired by the fact that Cicerone are supporting local charity The Bendrigg Trust and that they were putting a team together to enter the K2B walk I signed up and started planning my training. As a regular walker I felt fairly comfortable doing 10-15 miles but this was a big step up so I wanted to have the knowledge that I'd managed to do at least a 30 miler near to walk day. It was a very good way to discover my local area, trying to find routes from the house that are a bit different and included some hills (not difficult as I live on top of one). I also thought it might help if I walked some of the actual route, especially the latter part as it might not seem so daunting on the big day – it still was!

So walk day soon arrived and I managed a few hours' sleep before getting up at silly-o'clock to get on one of the delightfully named 'Happy Buses' leaving Barrow at 4am for the long drive to Keswick. The start was just outside the town on the forest track that takes you up to Helvellyn. Thankfully, the route does not take you all the way up but heads down past Thirlmere then into Grasmere, Elterwater, Coniston, Lowick, Dalton-in-Furness and finally Barrow-in-Furness. The weather could not have been better, sunny with a cool breeze and clear skies, so we had some fantastic views on the way. The official support teams and locals who lined the route were always such a welcome sight with offerings of cake, squash, blister plasters and a hug to send you on your way to the next checkpoint! Everyone supported each other all the way, be they first timers like me or a few incredible hardy souls who had walked every year - this was the 53rd K2B.

I finally arrived at the finish after a tiring 13 hours and 14 minutes vowing never to do it again. The following day on my little recovery walk it was easy to spot other K2B walkers, there is definitely a John Wayne style post K2B gait – a smile, a nod and just a simple question 'K2B?' were all that were needed to know you weren't suffering alone. That was in May… of course I'm now considering signing up again for next year.

Morecambe Bay from Lowick
K2B Bendrigg
Grasmere
Bluebells near Coniston
Lorraine finishes at last!
Natalie, Production Editor

Regrettably, I did less walking than usual this year. Various factors – ranging from a suspected broken toe at the beginning of the year to poor weather and my own laziness – conspired to keep me off the high fells. However, I did manage some lower fells and nice valley walks, plus the occasional dip in the Esk and Duddon (bloomin' cold!). I visited a few places that were new to me, including Arthur's Seat in Edinburgh, Glenariff in County Antrim, Caw (Dunnerdale) and Kirkby Moor (which is right on my doorstep and yet I'd never walked there).

Natalie on Stickle Pike, Dunnerdale
Bilbao from Artxanda
The highlight of my year, though, was my trip to Euskal Herria and northern Spain – my first 'foreign' holiday in at least 10 years! (I'm terrified of flying so I'm restricted to places I can get to by ferry and usually holiday in the UK, the Isle of Man or Ireland). Although our walking was limited to leisurely strolls along the coast near Santander and through the streets of Bilbao and Pamplona, I loved every minute of my time there, discovering new places, sights and cultures. It definitely whetted my appetite for travel and I'm hoping to return next year to explore the hills of the Basque Country.

Laura, Office Manager
2019 has not been the easiest of years, losing my father at the beginning and a friend at the end, but it does remind us that life is precious and your time is limited on this earth so it is up to each of us to make the most of it. My love is the outdoors and this year has not been disappointing. I finally completed my Wainwrights on the 27 July on Castle Crag. The weather was mixed but it was a lovely day, shared with a most wonderful man, Andy Airey, who is doing incredible work for Papyrus UK (take a look at what they do).
I had a guided long weekend in Glencoe in August, completing Buachaille Etive Mor, Buachaille Etive Beag and The Three Sisters. Hills that I have admired since I was a child but had never ventured up until now. Scotland at its best.
My final trip took me to Portugal, where I undertook a different kind of walk, for which I have to completely blame Cicerone. While I was researching for this guide it sounded so wonderful I booked a trip even before the book came out. Portugal's Rota Vicentina The Fishermans Trail did not disappoint. Words like 'stunning' and 'amazing' seemed to pass my lips quite often along this journey and every turn offered a new vista. The contrast between land and the ever changing sea was a pure delight.
Finally, another challenge will have to replace the Wainwrights. The Birketts have been suggested so will keep that in mind but one day has been placed in the diary that will focus my mind – the 'Lakes in a Day', a 50-mile Ultra Marathon through the Lake District in October. Training has started…
On route following the coast of Portugal
Lost Valley
Lost Valley
Just below Castle Crag on the final Wainwright
Popping prosseco at the top of Castle Crag
Caroline, Production Designer
Our biggest adventure in June 2019 was a cycling trip to Inverness up the eastern side of Scotland to revisit the place of my husband's birth and to celebrate his 70th. Our route took us across Cumbria and the peaceful rollercoaster hills of the Borders to Edinburgh and the big bridge to Fife, St Andrews and serious golf country. After Dundee we had a minor crash near Carnoustie in Angus and a mad dash to find a bike shop in Arbroath then Montrose before closing time on Saturday. Bruce's Cycle Bothy in Montrose really saved the day, fixed us up and set us back on our journey none the worse for wear (thanks again Bruce).
We continued with some relief into the quieter, wilder foothills of the Cairngorms, tackling the steep Cairn o'Mount mountain road from Fettercairn to Aboyne in Royal Deeside and passing from Aberdeenshire into Morayshire and the whisky meccas of Dufftown, Glenlivet and Grantown-on-Spey. After a full trip of headwinds, it was a joy to have a tailwind to Forres on the stunning Duthil to Ferness military road and our final destination, the Moray coast and Inverness!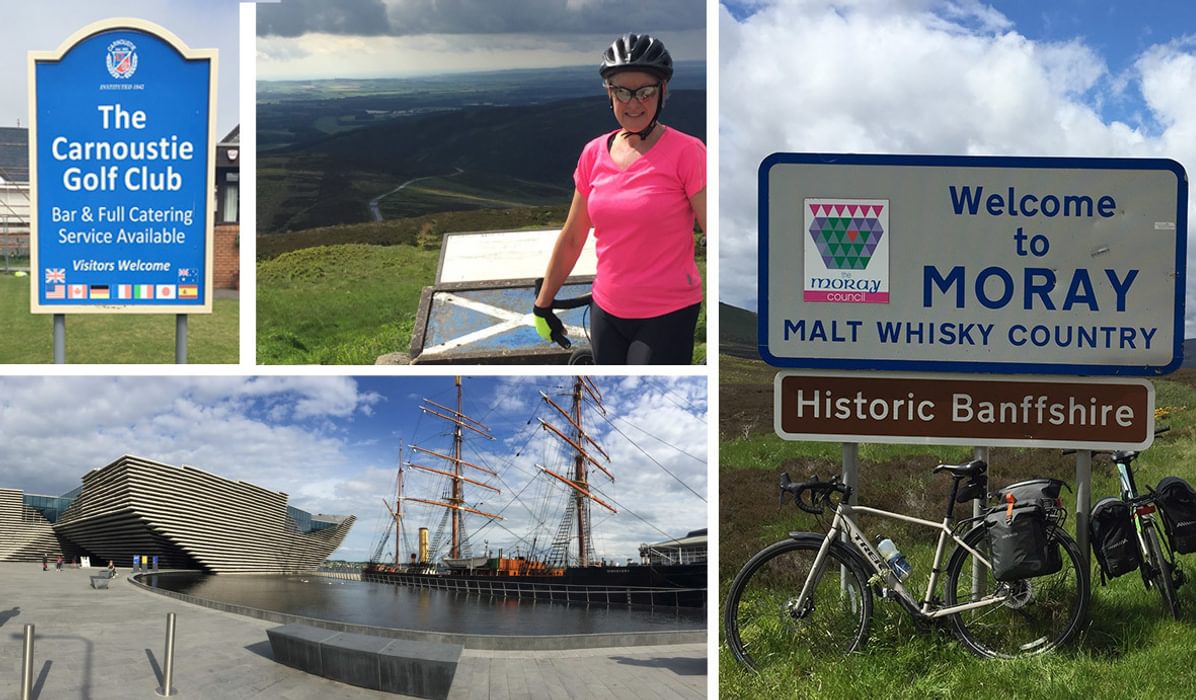 John, Production Designer
2019 has been a bustling year in the Cicerone design department. I have worked on a plethora of tantalising titles set in dazzling destinations including the Camino Ingles, Camino del Norte, Galloway Hills, County Durham, Camino Dos Faros, Jura, Islay and Colonsay, Arran, Azores, Algarve, Tasmania, Canary Islands and latterly an epic book on the Mountains of Romania. I was also privileged to work on an exciting project breathing some new life into Cicerone's oldest title Walks and Climbs in the Pyrenees by Kev Reynolds, which first hit the shelves in 1978! In between books I have been enjoying taking part (with mixed success!) in weekly yoga classes at Cicerone and chalking up the miles on the local fells with my faithful four-legged companion.

Lucy, Production Editor
This year has been about walking through more urban landscapes – I think I explored every corner of Copenhagen and most of Manhattan on foot! We continue to encourage the kids to come out walking in the Lakes or just exploring our village (a little less rain would be helpful). I'm now gearing up for my first ever walking challenge in January – the Lyth Valley Walk.

Sarah, Sales Director
One of the highlights of the year was tackling the Trans Cambrian Way, a remote 108-mile mountain bike route through the heart of mid Wales.

We joined our group in the border town of Knighton, which consisted of our guides Phill and Polly from MTB Wales and six great guys from the Isle of Man. The met office had put out a weather warning for wind and rain for the weekend, with strong chances of a bit of thunder and lightning thrown in more good measure. I'd packed every piece of waterproof clothing I could find, and there was rumour of some under the counter SealSkin socks on offer, too.

Wales threw everything at us over the weekend, from thigh-deep puddles, 40+ mile per hour headwinds to tons of rain. Nothing could dampen the enthusiasm for the awesome riding and there was plenty of fun to be had alone the way (even when Ned got lost and Phill had a bit of a meltdown!)

Highlights of the trip: There are simply way too many to mention. A few include the brilliant company from the Isle of Man crew (thanks guys), the complete strangers that plied us with tea and biscuits at their home on Day 2, and the anticipation of reading the next daily instalment of the blog from Dave.

If you want rolling landscapes, hidden valleys and an epic weekend of biking then I would highly recommend giving the Trans Cambrian Way a go.
John and his best friend
Walking over Brooklyn Bridge
Mini-Lucy 1 surveying the neighbourhood
Mini-Lucy 2 trying to make friends with the sheep in Great Langdale
Trans Cambrian Way
Trans Cambrian Way
Trans Cambrian Way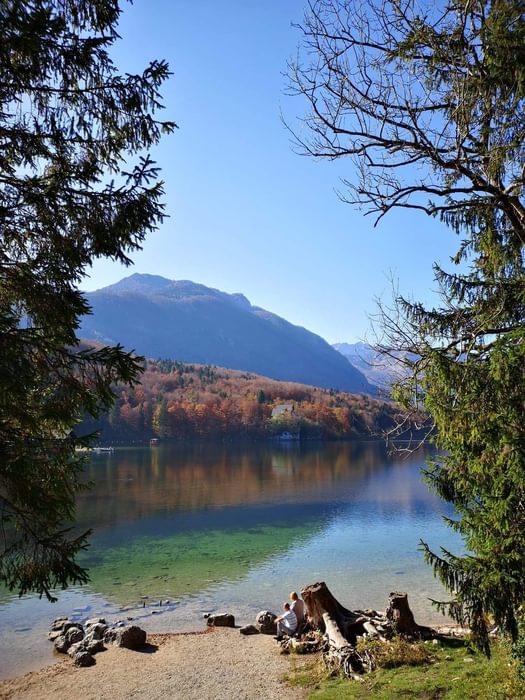 Finishing a degree and starting a new job unfortunately doesn't leave much time in a year to go on big expeditions. My one trip abroad was in October, when I was lucky enough to visit friends living in Slovenia. We spent a fantastic weekend up in the Julian Alps, splitting our time between Bohinj and Bled (the more touristy of the two, and reminiscent of Windermere). After a brilliant Kendal Mint Cake-fuelled walk through autumnal woodland, we stayed the night in a hostel on the shore of Lake Bohinj. The night sky was so clear of pollution that we could see the plane of the Milky Way as we walked along the lakeshore.
On home ground, I have been getting back into running. I have moved between a few different places this year and have enjoyed discovering new areas in my running shoes, which is the best way to explore. You can cover more ground, deviate down tantalising footpaths and, most importantly, get home quickly when the weather changes! It's a relief to never feel too far away from green spaces, whether the nature reserves of Warwickshire, the open moorland of Helton Fell above Ullswater, or Kendal's increasingly familiar Cunswick Scar and Scout Scar. Even getting out of the office for a quick walk up the Helm or to Kendal Castle with colleagues is a lovely break at lunchtimes, and we have had some brilliant clear views on autumnal days across to the Lakeland fells.
When I started working at Cicerone, I half-jokingly said that I would have to become a proper fell runner. I don't think I'm quite there yet but I am looking forward to the spring when I can get out and re-explore more of the Lake District, this time in my running shoes.
Clare, Production Designer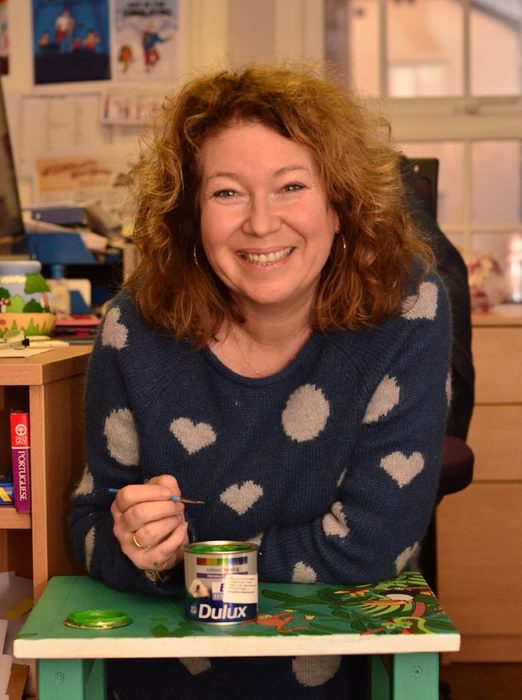 Gosh! Where has the year gone? It doesn't feel two minutes since recapping on events from the previous year. It's been a busy year both inside and outside Cicerone for me. I have visited Pompeii and Herculaneum and took one of our author's guides and squeezed in a couple of little walks from the Amalfi Coast. I have completed an assault course and survived, which was great fun even though it was pouring with rain.
My year hasn't been as full of activities as some but I have focussed on my creative side. I have been concentrating on my illustrations and cartoons and various other projects that appear on the Cicerone Extra website, which I thoroughly enjoy. It has been nice to write and illustrate my own book, which has given me some great skills that I can use on future projects.
One of the projects that I have been working on at Cicerone is the Camino map booklet. It was great to see it coming together and I for one was very proud to see the end result knowing that everyone involved gave it 110% of effort to make this project a success.
Sian, Production Manager

Although 2019 has been a bit quiet on the adventure front, the highlight of my summer was supporting a friend on her Frog Graham Round, an epic 40-mile swim-run challenge in the North Lakes. She did the hard work – I joined in for a couple of swims and a leisurely stroll around Buttermere. Nothing changes!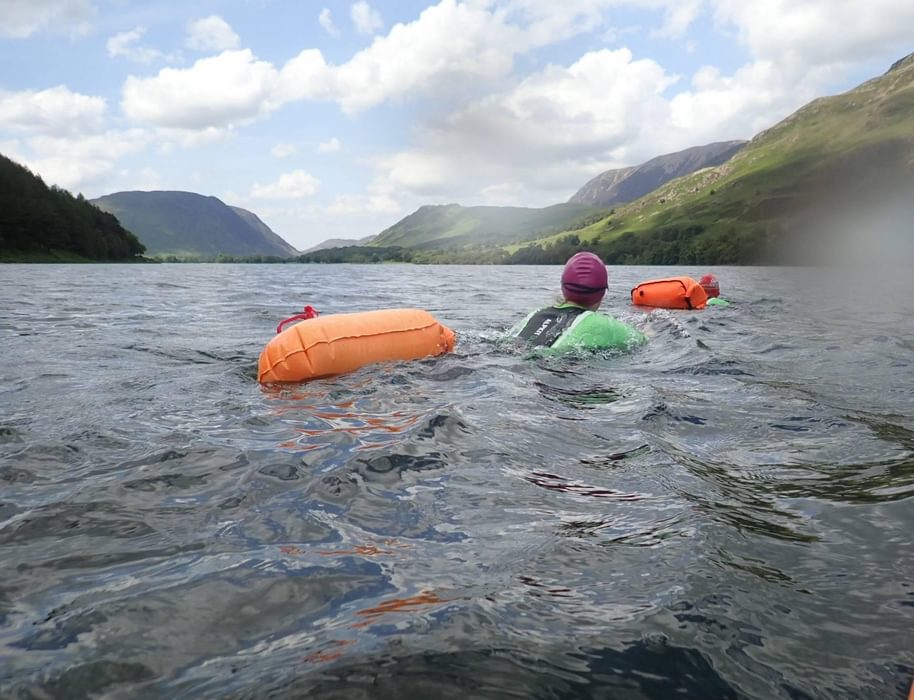 Andrea, Editorial Manager
There was no walking holiday for me this year. Instead, we headed to Kefalonia to learn to sail dinghies. This was great fun but surprisingly tiring, both physically and mentally: back foot forward, tiller away, move across, tiller centre, swap hands…and repeat to fade. The end of year saw us in Borrowdale on the coldest day of the winter so far. Bright, bright sunshine, hills and valleys shrouded in hard frost, and the glassy lakes reflecting it all – magical!
Hannah, Marketing Manager
This year has been all about Cicerone's 50th and we've enjoyed lots of fundraising activities such as Lorraine's epic walk for the Bendrigg Trust. Personally, my year has been dominated by going trekking for the first time in Nepal and visiting 'the Cicerone School'. I had a spring and summer of trail-running but, as my trip to Nepal got closer, I eased off to minimise my risk of injury. Andrea was the stand-in in case anything happened to me but I was determined not to damage myself and jeopardise the trip of a lifetime!
Lesley, Marketing Director

2019 was quite a year! My action-packed year included my share of researching and writing our guidebook to Zermatt and Saas-Fee. For various reasons I tended to walk the lower-level paths, which were easier in terms of altitude, but baking hot during record-breaking June temperatures. Highlights included mountain peaks and frightening myself on a couple of poorly maintained paths with massive drops – neither of these went into the guidebook! Our real holiday was to Japan, and my lasting memories will be of tree-covered mountains, climbing an active volcano, and Kumano Nachi Taisha at the end of the Kumano Kodo Nakahechi trail. Other than that, some cycling in the Dales, art classes, singing and walks in the Lake District. New year may well be busy too…
Hannah in Nepal
Lesley in the Alps
Andrea in Borrowdale
Jonathan in the Alps
Jonathan and Lesley are very proud of becoming dual pilgrims
Jonathan, Publisher:
Its been a year of writing and exploring, but we even managed a non-walking trip as well.
June saw us in the Saastal, near Saas-Fee, exploring routes for a new guide to Saas and Zermatt, revisiting old favourites and battling with a lot of late snow. On some of the routes we were among the first walkers through this year, and there were some 'interesting' river crossings where the bridges hadn't been reassembled for the summer. We stayed in Saas-Grund and explored all the valleys, leaving only a couple of routes for later in the year. Loved it, the slower pace, the Citizens Pass all make it a great holiday. I can't wait for the second edition!
Our working summer continued in August with a month in Zermatt and the Grächen lower down the valley. Lesley explored lower routes, I got the hard stuff – Mettelhorn, Rothorn, Monte Rosa Hütte, Hornlihütte (actually, that isn't too hard). Zermatt's reputation is fully justified, and we enjoyed it greatly. Days were long, 8 hours or more on the hill, then writing. As Walt Unsworth used to say: 'It's a hard life but someone has to do it.' My summer efforts finished up with a solo walk around the Tour of Mont Blanc backwards, well the wrong way, the 'other' way. What a great walk it is. I was a bit short on days; it's a long way from the Refuge des Mottets to Bionnassay village, and the beer was well-earned. The next day's wet 1700m climb from Les Houches was a bit of a struggle! As ever, I met some wonderful people.
In October we actually had a holiday… sort of. I have always wanted to go to Japan, and the rugby seemed a great opportunity. What a country, what a tournament, despite the final. Loved the food, the people, the trains, Tokyo, Osaka, the everything really, even the onsen, especially the onsen!* We met up with Tom and Wes, authors of the Japan Alps and Mount Fuji guide. Being us, you probably wouldn't expect it to be restful and we spent nearly a week in the mountains near Kamikochi, climbing a few mountains including the smoking volcano of Yake-dake. Then onwards to the Kumano Kodo pilgrimage route, dodging typhoons and testing new waterproofs. So we became dual pilgrims as the KK is linked to the Camino to Santiago. Apparently we are around number 1800, or so.
Looking back through the diary, I see Lesley tortured me (again) back in May with a cycle trip through Yorkshire. (Me on a bike, her on an eBike). She had scheduled in all the big Yorkshire climbs. Seeing if I could still hack it. Well yes, I could.

Clearly I must have a thing about places where the trains work well.
*Onsen is a communal hot bath, done naked

To read more articles like this get our newsletter
Sign up today for a 20% discount on your next purchase. Join over 30,000 enthusiasts from around the world. If you don't love our mix of new books, articles, offers and competitions, you can unsubscribe at any time. We will never spam you, sell your data or send emails from third parties.