A Walk in the Clouds
75 short stories of adventures among the mountains of the world
This book is a moving collection of 75 autobiographical short stories from prolific outdoors writer Kev Reynolds, an insight into a lifetime of mountain travel and adventure. These tales are spread across the Moroccan Atlas, Pyrenees, European Alps, Himalaya amongst other destinations, and will leave you by turns amused, reflective and inspired.
Centres
In the Pyrenees: Gavarnie, Benasque, Espot. In the Alps: Zinal, Zermatt, Lötschental, Ellmau, La Berarde. Trekking to Everest, Annapurna, Kangchenjunga, Manaslu, Langtang, Dolpo. Trekking in Sikkim and Bhutan; in Peru and Morocco
Must See
mountain adventures and experiences around the world in ranges as diverse as the High Atlas of Morocco, the Pyrenees, Alps, Himalaya, Peruvian Andes, Norway, Turkey and Corsica
Overview

Table of Contents

Updates

Reviews

Downloads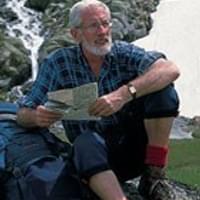 Kev Reynolds
Kev Reynolds was a freelance writer, photojournalist and lecturer. A prolific compiler of guidebooks, his first title for Cicerone Press (Walks & Climbs in the Pyrenees) appeared in 1978; he later produced many more titles for the same publisher. A member of the Outdoor Writers' Guild, the Alpine Club and Austrian Alpine Club, his passion for mountains and the countryside inspired a lifetime's activity, and he regularly travelled throughout Britain to share that enthusiasm through his lectures. Sadly, Kev passed away in 2021. He will be remembered fondly by all who knew him and by many more he inspired through his writing and talks.
View author profile