Fancy taking on one of the toughest treks in the world? Here is a quick intro to the GR20, the high level route across Corsica.
This Corsican trek is widely known as one of the best and toughest trails in the world and should not be undertaken lightly. In this blog post we give you a quick intro to the GR20 so you can get a taster of the trail but if you have any specific questions please do ask - or see the further information below. This information is extracted from Paddy Dillon's guidebook to trekking the GR20.


Where is it and how far is it?
This epic trail starts in Calenzana and finishes in Conca, a total of 190km or 118 miles. There is no doubt that the GR20, traversing the rugged mountains of Corsica, is one of the top trails of the world. Its reputation precedes it, and most who trek the route describe it afterwards as one of the toughest they have ever completed. Others find they are unable to complete it, having seriously underestimated its nature. The GR20 climbs high into the mountains and stays there for days on end, leading ordinary trekkers deep into the sort of terrain usually visited only by mountaineers.
How long does it take?
The complete walk takes around two weeks but Francois D'Haene has run it in 31 hours. This is not the pace recommended by Paddy Dillon - the GR20 is challenging enough without running it! Paddy suggests that the GR20 is an experience, more than simply a trek, and those who try and rush the route may find they finish with certain regrets. While the 'classic' route can be covered in a fortnight, discerning trekkers will be happy to include variations – maybe climbing some of the nearby mountains, or visiting nearby villages. The main route allows little opportunity to meet ordinary Corsicans, but a detour into a village, or better still, a night or two spent with a Corsican family, will enhance the quality of the trek. Take the time to sample local foodstuffs, including the meat and cheese produced in the mountains, maybe washed down with a homemade wine, but always be aware of where your next fill up of water is available. Corsican food is generally simple and wholesome – ideal for a trek through the mountains, and all part of the joy of travel!
Why should you walk it?
The scenery is awe inspiring, with bare rock and sheer cliffs in some parts, contrasting with forests, lakes and alpine pastures in other places. Those who walk the route are only too eager to share their experiences with those who haven't, so that everyone who completes the GR20 is probably responsible for two or three more people trekking it. It has been estimated that as many as 30,000 people trek the route each year!
When should you go?
This is a big question and we asked Paddy to answer it in our blog post "When should I walk the GR20". Basically it is not advisable to attempt the GR20 before June or after October. Please heed Paddy's advice and ensure you are adequately prepared for the conditions you may encounter.
Where should you stay?
Depending on the time of year you will be able to choose to camp or stay in a gîte (similar to a hostel) or even a hotel along the way. However, the accommodation tends to be very basic so if you want luxury you may want to try the Tour du Mont Blanc or somewhere with more options.
Best bit:
It depends what your preference is - there is plenty of challenge, scrambles, exposure and incredible views along the way. The GR20 is not a trek to be undertaken lightly but the rewards are ample.
More Information:
So, now you've had an intro to the GR20 you want to walk it, right? Trekking the GR20 Corsica by Paddy Dillon is a good place to start!
There are also important route changes to consider. Please read our other blog posts on the GR20 before you go.
There's a really good forum, http://corsica.forhikers.com which is often very useful for prospective trekkers.
Have you walked the GR20?
Let us know your favourite part of the walk, or send us your best GR20 photo, and receive a discount on your next purchase.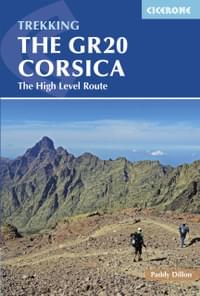 The GR20 Corsica
The High Level Route
£14.95
Guidebook to walking the GR20 through Corsica's high mountains. A challenging trail between Calenzana and Conca that includes hands-on scrambling, the 190km trek can be completed by fit walkers in about two weeks. The guidebook includes high and low-level alternatives, plus extra mountain climbs, and all you need to know for this tough route.
More information
To read more articles like this get our newsletter
Sign up today for a 20% discount on your next purchase. Join over 30,000 enthusiasts from around the world. If you don't love our mix of new books, articles, offers and competitions, you can unsubscribe at any time. We will never spam you, sell your data or send emails from third parties.