Trekking on Corsica: connecting breathtaking coastlines and stunning mountains
South of Marseilles and worlds away from the French Riviera, the breathtaking Mediterranean island of Corsica is a paradise for walkers. In her Cicerone guidebook, Short Treks on Corsica, Gillian Price enthuses about five superb long-distance routes.
The mountain village of Ota is beautifully located (Mare e Monti)
Trekkers on the Mare e Monti route enjoy marvellous Cupabia beach
'Trekking in Corsica? Wow! Of course, you mean the GR20!' 'Well, actually, no… Ever heard of the Mare e Monti or Mare a Mare Nord?'

I do realise Corsica is best known for the challenging GR20, a route that is on the bucket list of walkers all over the world. But not everyone is up to carrying a heavily laden rucksack for two weeks – luckily there are lots of other fantastic long-distance routes exploring this wonderful island.
The island is criss-crossed with routes that lend themselves to creative mixing and matching. Via rugged mountains linking the sparkling Tyrrhenian and Ligurian coasts, the treks are all well signposted and waymarked and are all within the grasp of average walkers who prefer to go independently. More good news is that each stage concludes in a small village – this translates as good food and a comfortable bed, not to mention access to shops. I like to think that we walkers make a direct contribution to the local economy in this way, and I for one also relish the opportunity for contact with local residents. People are Corsica as much as the landscape is.
Monsieur Pierrot fits the bill. The 90-plus-year-old runs the Jallicu horse-riding farm-cum-hostel on the vast Coscionu plateau (on the Mare a Mare Sud). The door is always open to walkers – but you rarely get away without a glass of red wine.
Trek accommodation usually means a gîte d'étape, that brilliant French invention that translates as a hostel for walkers with a choice of a comfortable dormitory with bunk beds or private rooms. You need to carry only a lightweight sleeping sheet and towel in your rucksack. The gîtes d'étape are mostly owned by the local councils and managed by village residents who welcome walkers and prepare a hearty dîner (evening meal) as well as petit déjeuner (breakfast).
Walkers stay at gîte d'étape hostels each night
The gîte d'étape in Saint Lucie de Tallano (Mare a Mare Sud) occupies a lovely old stone building
So, is there a downside to these treks? Well, the walking days can become inexplicably long if you're easily distracted by magical coves where the turquoise sea beckons, or rocky river valleys where a waterside rest and picnic are must-dos, and then there are the marvellous Mediterranean flowers that cloak hillsides and seafronts with explosions of colour…
Final words of warning: despite the term 'short' in the title of my guide Short Treks on Corsica, two of these pedestrian journeys last 10 and 11 days. And last, be warned – these treks can be highly addictive: just one taste and you may find yourself coming back for more!
The trekking routes on Corsica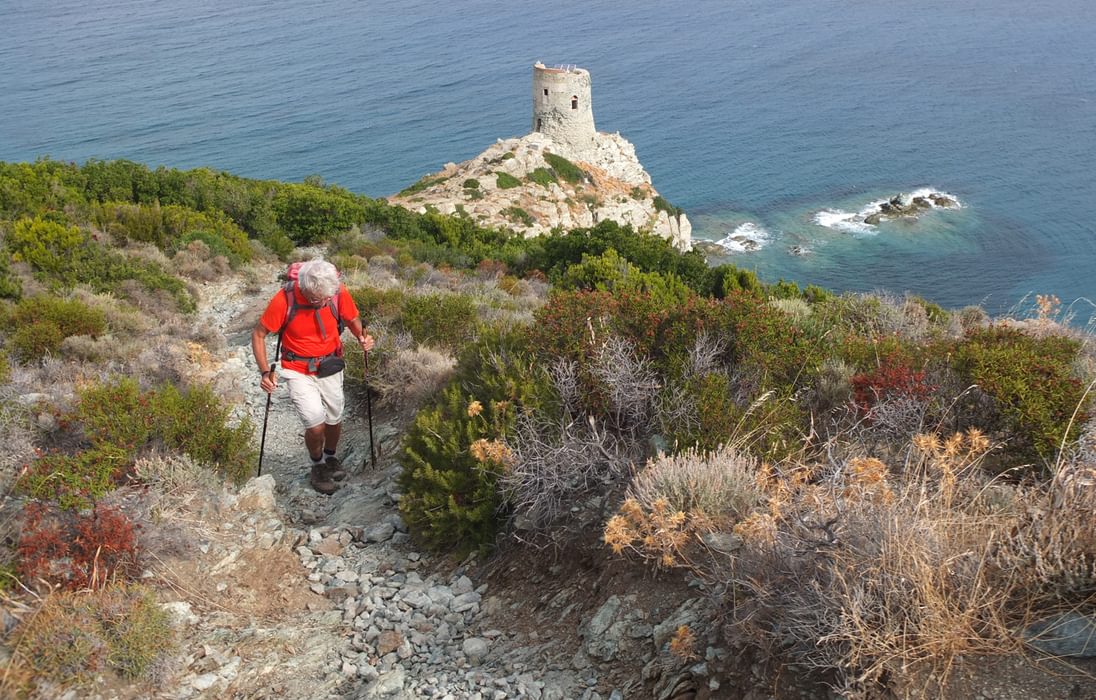 Sentier du Douanier
The Sentier du Douanier explores the island's far north. Short and very sweet, it starts at the pretty fishing haven of Port de Centuri and traverses solitary headlands and coves on the two days it takes to round the elongated cape en route to Macinaggio. It's on Cap Corse, the far northern tip of Corsica. There's no denying it, on the map it looks like a thumb sticking out into the deep blue of the Mediterranean.

You spend two immensely rewarding days on a jaunt along the rugged coastline, from Port de Centuri in the west around to the eastern seaboard and Macinaggio. Make sure you have extra time up your sleeve to allow for distractions. The walk start is Port de Centuri and just happens to be France's leading lobster fishery so maybe an overnight stay with dinner is in order?
Along the way you drop in on isolated fishing villages and photogenic 16th century watchtowers built to protect the communities from raiding pirates. One of the many reasons I love this sentier is the string of sheltered sandy coves that just beg you to stop and take a breather. Drop your gear on the beach, take off your boots and go for a paddle or a swim. Then, of course, it will be time for a picnic lunch. Where did that day go?

The Sentier du Douanier begins at the quiet haven of Port de Centuri
The showy Yellow Sea Aster is a delightful Mediterranean wildflower
Drop your gear on the beach at Cala Genovese (Sentier du Douanier)
Mare e Monti
Rather different in flavour is Mare e Monti which, as the name suggests, drops in and out of sea and mountain landscapes. It's also longer – 10 days. It's probably my favourite Corsican trek and each time I walk the superbly designed route it gets more and more beautiful. Mare e Monti starts out at Calenzana near Calvi on the west coast, before climbing through the wonderful Bonifatu forest to the photogenic Fango river valley, a canyon crossed by an elegant Genoese stone bridge.
The next stop is one of the most memorable – at the iconic fishing hamlet of Girolata, nestling in a glorious bay with the backdrop of the Scandola promontory, which turns blood red at sunset. An old watchtower stands on high and looks as though it's enveloping the cluster of houses in a protective embrace. Girolata is the exclusive realm of walkers and boat-borne visitors as it lies hundreds of metres below the winding coast road.
A godsend for walkers are the two cosy gîtesd'étape. The first time we stayed at the Cormorant Voyageur, the owner, a local fisherman, served up his sparkling fresh catch while his creative partner gave us homemade confiture d'arbousier, delicious jam made from the wild strawberry tree, which she excelled in concocting. The second time, we stayed in rustic cabins in the shade of eucalypts at La Cabane du Berger, and dined on delicious creamy soupe de poisson (fish soup) on the beachfront.
You bid the coast farewell now as the route heads through a string of hospitable mountain villages – Ota, Evisa, Marignana. The paths become noticeably steeper and the forests more dramatic with plenty of dizzy Corsican pines. Rugged landscapes are typical of the final stages before the conclusion at the seaside resort Cargèse.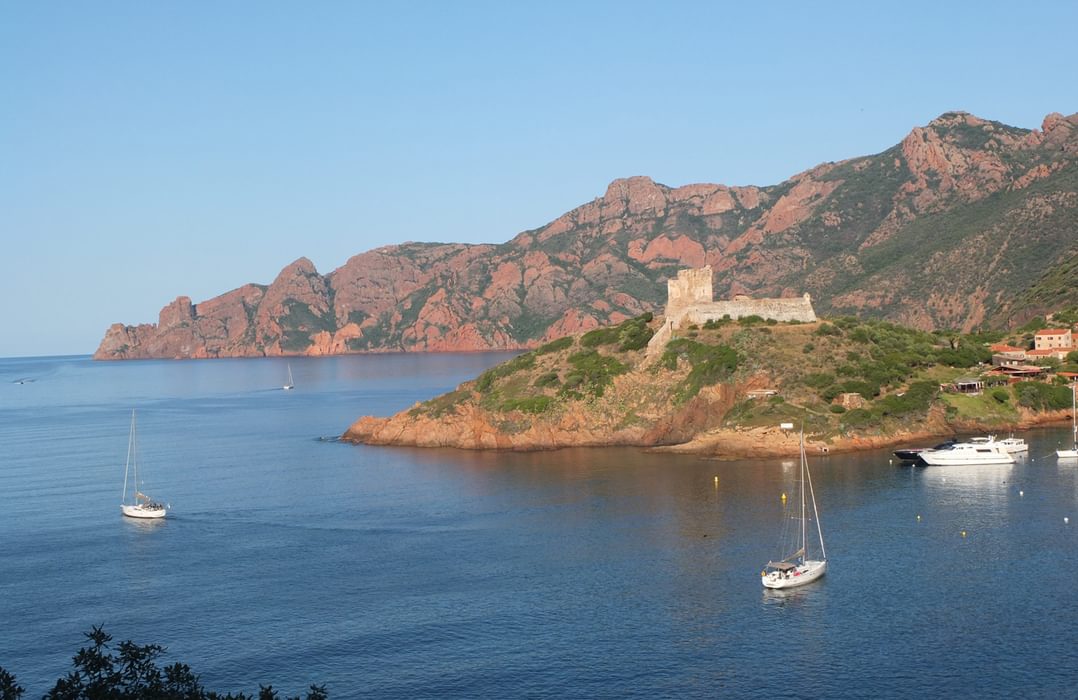 Mare a Mare Nord
Mare a Mare Nord is the longest of the treks described – an 11-day coast-to-coast ramble from Cargèse to Moriani Plage, slicing across the island from west to east. It's a fascinating journey through landscapes that gradually mute from seaside to dense forest to high mountain to traditional villages and a rural atmosphere. The opening days are spent in solitude through dramatic gullies and river canyons punctuated with ancient chestnut trees and majestic Corsican pines in the Aïtone forest.
Once you reach the Col de Vergio pass the horizon opens up vastly and you enjoy views of landmark mountains including Monte Cintu, Corsica's highest, before a memorable descent on a paved mule track down the marvellous Tavignano and its cascading river to the atmospheric historical capital of Corte. The remaining days wander through farming plateaux and villages where time seems to stand still. It gives a fantastic and generous taste of the delights Corsica has to offer.
The Mare a Mare Nord climbs through the island's mountainous centre
A lookout can be enjoyed in the Aïtone forest en route to Col de Vergio (Mare a Mare Nord)
Soaring Corsican pines shade walkers after Col de Vergio (Mare a Mare Nord)
For a full two-week holiday trekking on Corsica, concoct a mammoth 12-stage trek by combining the treks Mare e Monti and Mare a Mare Nord. Follow Mare e Monti as far as Evisa then slot into Mare a Mare Nord and head inland across the mountains and through Corte, ending up on the eastern coast.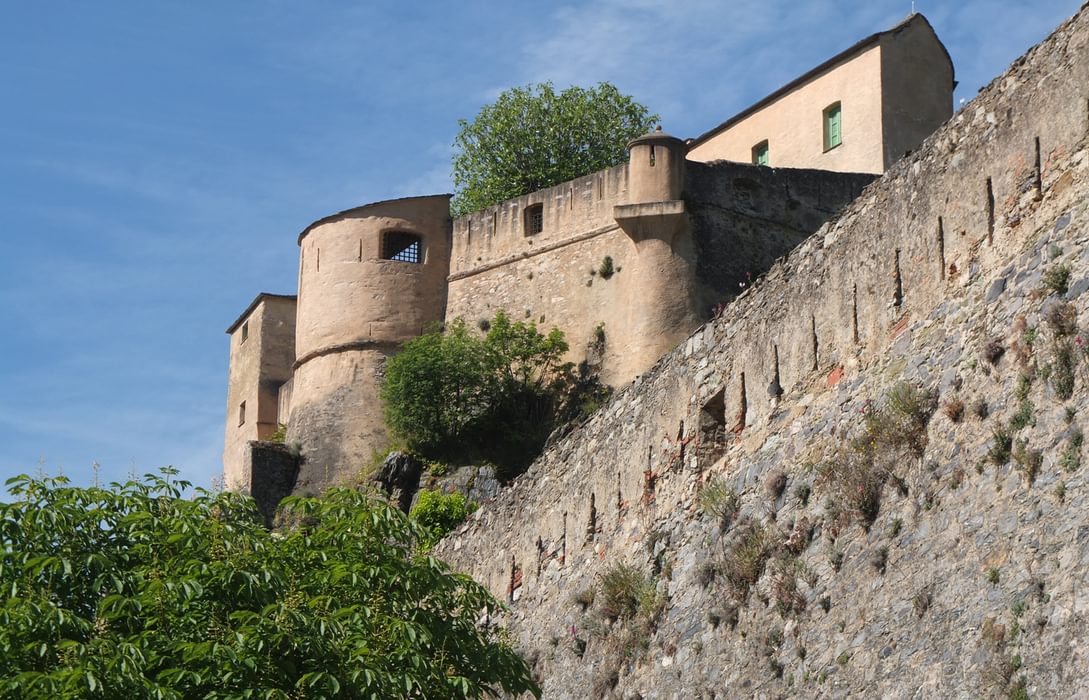 Mare a Mare Sud
Mare a Mare Sudis a classic trekking route – and a special favourite with the French (although I confess to being rather fond of it, too). It departs from the lovely seaside town of Porto-Vecchio in the east and embarks on a marvellous rollercoaster crossing of Corsica's hilly southern Alta Rocca region before concluding at Burgu, not far from Propriano on the west coast. It's an especially satisfying ramble composed of five stages via farms and quiet villages steeped in legend and history.
As we walked along, I found myself looking forward to the bridges. These are key landmarks for a trekking route that involves daily crossings of gushing rivers – the Fiumicoli, St Antoine, Rizzanese and Baracci rivières to name a few. Over the years the Corsican park authority has rebuilt a good number of old wooden bridges that are subject to wear and tear as well as occasional flood damage, and when we last visited, we were delighted with the brand-new structures in modern steel. A bridge also denotes a low spot that is inevitably shady and cool; excellent for a picnic and possibly a dip in the river.
Another factor that surprised us on our last visit was the weather. May is usually one of the best months to go, but on Day 2 we awoke to snow falling! Walking was pure magic that day and, needless to say, our rucksacks were very light as we wore everything we had.
On the Mare a Mare Sud you spend a lot of time walking through shady woods such as oak and chestnut, which alternate with waist-high spreads of rock rose shrubs that are smothered with papery-petal blooms of delicate pink, purple and white. Another flowering delight is Coriscan hellebore. The dark green plant grows in clumps and features drooping creamy flowers and showy serrated leaves, once used by the shepherds for wrapping up their cheeses in the days before the invention of plastic cling film.
A highly tempting extension to the trek is to make a stopover at pretty Quenza and visit the impressive mountains of the iconic Aiguilles de Bavella rock needles.
The bridge over Rivière St Antoine has been beautifully rebuilt (Mare a Mare Sud)
Snow on the second day of the Mare a Mare Sud was the last thing we expected!
The village café at Serra di Scopamena on the Mare a Mare Sud
Mare e Monti Sud
Mare e Monti Sud was a new route for us last year. One of its selling points is that the majority of accommodation is hotel-style, albeit low key. In five days, it connects two sweeping gulfs on the west coast: Golfe de Valincu and Golfe d'Ajaccio. However, it can take much longer as several superb beaches and bays are found along the way.
First and foremost is Porto-Pollo, a laidback seaside spot at the foot of a headland dotted with the marvellous historic watchtowers found all over Corsica.
But only a matter of hours away – and perfect for lunch – is the divine beach of Cupabia. There, I was enchanted by the spreads of yellow-horned poppies along the sand and spellbound by the magical atmosphere of the sheltered bay. It was with great reluctance that I dragged myself away.

A stiff climb awaited through the maquis shrubs bright with coloured rock roses, past a turn-off to marvellously named Marmuntagnja and on to the day's destination of Coti-Chiavari. Here we stayed in the perfectly named Hôtel Le Belvédère. Overlooking the glorious gulf of Ajaccio, drinks on the terrace before dinner were memorable, a babble of languages as walkers from all over Europe compared their day's experiences while enjoying a glass of rosé or bière.
Two days later we tripped down from the hills to Porticcio on the Gulf of Ajaccio. The Mare e Monti Sud concludes on a glorious white sand beach. And all you need to do is lay down your pack, then indulge in a well-deserved swim before embarking on the shuttle ferry across the glittering gulf to Ajaccio. Extremely enjoyable.
Porto-Pollo is a lovely spot for a restful stay on the Mare e Monti Sud
You cross a panoramic headland on the way to Cupabia and its divine bay (Mare e Monti Sud)
Mare e Monti Sud comes to its wonderful conclusion on the beach at Porticcio, looking across the gulf to Ajaccio
To read more articles like this get our newsletter
Sign up today for a 20% discount on your next purchase. Join over 30,000 enthusiasts from around the world. If you don't love our mix of new books, articles, offers and competitions, you can unsubscribe at any time. We will never spam you, sell your data or send emails from third parties.