Because it's there – Everest trekking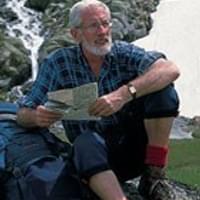 In these two extracts from a chapter of his inspirational book 'Abode of the Gods', which captures the wonders of trekking in the Nepal Himalaya in eight vivid stories, Kev Reynolds recalls his first arrival at Namche Bazaar and first glimpse of Ama Dablan, and then the ascent of Gokyo Ri to discover an 'astonishing panorama... thrilling beyond words' on the way to Everest base camp in 1993.
Three days later, and having bypassed Lukla, we arrive in the Sherpa capital of Namche Bazaar. It's Saturday, and the weekly market is in full swing, with traders from the low country jostling and haggling among wild-faced Bhotiya with matted hair and sheepskin coats who've crossed the Nangpa La from Tibet. The way into the village is virtually blocked by a chaotic but good-natured crowd, and the crisp mountain air is filled with sound – a cacophonous babble of voices, the tapping of dirty fingernails on pocket calculators, the rustling of cloth and wool, the clicking of beads, and the snorting of yaks. Weights clatter on scales. There's the sound of grain and rice being poured from sack to sack, and the smell of smoke-grimed skin, old leather and kerosene. There are piles of yak-wool sweaters and blankets, lengths of rope, Tibetan boots and sheepskins and strings of dried meat, oranges, bananas and bundles of green vegetables spread on drystone walls. Eyes of traders beseech the clamouring crowd and gossip is exchanged free of charge.
For several days we'd passed and been passed by farmers carrying loaded dokos up the trail towards Namche, and we recognise some of them now. One or two seem rather shy, unsure of themselves in the high pitch of this great social event, while the Tibetans exude world-weary confidence. Sherpas and Sherpanis are the middle-men and women who never miss a trick. Making their calculations, they shuffle notes like card sharps in a game of poker and deftly secrete their earnings in an inner coat pocket or the fold of a chuba. Transactions are made with flashing eyes and bursts of laughter, and we delay our search for a lodge to soak in the experience.
The village is built in a steep-backed horseshoe of hills high above the confluence of the Dudh Kosi and Bhote Kosi rivers, at the foot of the sacred mountain of Khumbila, guardian not only of Namche Bazaar but of two higher villages, Khumjung and Khunde. This guardian deity is sometimes depicted in Buddhist paintings as a white-faced saint riding a white horse. White for purity. White for the snow that plasters the mountains. Even Namche's long stone houses are painted white. With pastel-coloured roofs they face away from the bowl towards Kwangde, a mountain daubed with snow and draped at mid-height by a white chiffon cloud. It's a backdrop to a living theatre, and arrival here has brought Alan and me a profound sense of satisfaction, for no student of mountaineering history could fail to recognise the importance of this Sherpa township as a major milestone on the route to Everest.
With some of the highest mountains of all just around the corner, Namche is on the very boundaries of the Promised Land.
This morning we rise early, eager to stretch our legs and capture views we know are waiting just up and over the ridge beyond the lodge. A double helping of porridge stokes the fires as we peer at Kwangde on the far side of the Bhote Kosi's valley, its topmost snows flushed with reflected sunrise. Outside the lodge, however, we turn our backs on Kwangde and take a rising trail over Namche's rim, passing both an army post and the headquarters of the Sagarmatha National Park, with Thamserku and Kangtega displaying their ice-fluted ramparts on the opposite bank of the Dudh Kosi. Overnight frost is melting fast as we turn a bend to be confronted by a familiar view we've never seen before – other than in books, magazines, lectures and films, that is. The valley, black with morning shadow, focuses our attention on its far wall – an exquisite mountain wall washed with light that sweeps across its face from a tributary valley flanked by the instantly recognisable Ama Dablam, whose chiselled features are almost as well known as those of the Matterhorn. Seeing it in reality takes my breath away, but Ama Dablam and its forerunners, Kangtega and Thamserku, serve only to direct our vision to the Lhotse–Nuptse wall, that huge barrier over which a cone of black rock announces the presence of Mount Everest.
There are moments in life so profound that they remain indelibly printed on the open page of memory. This was one of them
The mountains, the incredibly deep blue sky, the black-shadowed valley with its rumble of unseen river, Ama Dablam in profile, the racing of blood through my veins... Unforgettable
At nearly 4800 metres, Gokyo is not the warmest place in Nepal, and our lodge has no heating in the room where we huddle with glowing noses and ears protected from the morgue-like temperature. Once the sun has gone from the valley, our only hope of warmth lies in the consumption of hot food and drink and the comfort of thermal clothing beneath good-quality down. But our days are well spent, for we wander the moraines and ablation valley, and the mountains too, with an appetite for beauty that approaches greed. Gokyo feeds us well.
We rise early to ascend Gokyo Ri, a notable viewpoint at 5340 metres, which claims one of the finest of all mountain panoramas. A light skim of ice edges the lake when we set out, but we want to be early on that summit to enjoy the clarity of light that sharpens not only every vista, but all of our senses too. Early though we are, we're not the first to be on the move, for halfway up the slope we overtake a young Swiss trekker from Solothurn in his mid-20s and his companion, an ex-Gurkha soldier acting as his guide, who staggers up the slope breathing heavily. Concerned by his movements I stop to check he's okay, and am assured that he is. For once roles have been reversed, with the Swiss client keeping an eye on his guide. But it's a salutary lesson that being born in the Himalayan foothills is no guarantee that a man is fit for the mountains.

It takes a little under an hour and a half to gain the summit, where coloured prayer flags merely ripple in a light breeze – red for rocks, yellow for the earth, green for water, blue for sky, white for clouds.
For two or three minutes I sit with a heaving chest, the cold dry air rasping in my throat, but as this subsides it's possible to take stock of my surroundings.
Gokyo Ri may not be much of a mountain, as mountains go, but as a vantage point it's incomparable.
Being a little over 20 kilometres to the west of Everest, my eyes naturally turn to the highest of all mountains. From here a section of the Tibetan flank is clearly visible, as is the Southwest Face on the Nepalese side – first climbed in 1975 by a team led by Chris Bonington. To the right of Everest the ridge linking Nuptse and Lhotse is a stairway of ice, and far off Makalu continues the crest, although intruders try to shut it out. Standing proud of those 8000 metre giants, Cholatse and Taboche appear to be tilted as though giving way to a fearsome wind – but they lean the wrong way for that. Jet-stream winds come from the west, and those 6000 metre peaks are straining from the south. Below them the turgid flow of the Ngozumpa Glacier is contained between walls of khaki moraine, while the string of turquoise lakes, alongside which we wandered, lead the eye towards those sublime mountains overlooking Thyangboche. At this hour the sun climbs behind them, painting shadows and inspiring overnight mists of the far Imja Khola to dance and disappear like a Nepalese will-o'-the-wisp.
This crowd of peaks, lakes and glaciers is thrilling beyond words, but it is Gyachung Kang that seems to me the ultimate mountain. Cho Oyu, with which it is linked by an extensive ridge carrying the Tibetan border westward, adds to the tally of 8000 metre peaks within Gokyo Ri's panorama, but for architectural elegance Gyachung Kang outshines them all, and in my judgement claims the medal for sheer beauty.
Alan joins me among a nest of rocks, his face stretched in a grin that says more than words. In 30 years we've shared countless summits and high passes, most of which have demanded more of us than the ascent of this steep black hill. But none has ever rewarded with such an astonishing panorama. Suddenly Tendi arrives too. Members of his group having called a rest day, but the Sherpa could not sit still and he's romped up the slope on his own. His voice chitters non-stop as he puts names to the mountains bristling wherever we turn, so I hand him my binoculars and, drawing peaks, glaciers and snowfields into close focus, he becomes ecstatic. 'Ohh – look see, look see!'
To read more articles like this get our newsletter
Sign up today for a 20% discount on your next purchase. Join over 30,000 enthusiasts from around the world. If you don't love our mix of new books, articles, offers and competitions, you can unsubscribe at any time. We will never spam you, sell your data or send emails from third parties.