Summer on the Camino Del Norte
Emma Sawyer quit her job and set off to walk the 500 mile Camino Del Norte – one of the Camino de Santiago pilgrimage routes running through Northern Spain
Up until several days before my flight in August I didn't dare to hope I would actually be able to travel to Bilbao after the chaos of the previous year.
It felt wonderful to be out in the world again and walking slowly along the Camino del Norte through the peaceful and beautiful towns of Northern Spain was the perfect way to reacquaint myself with travel. I'd quit my job to have some free time after the stresses of the pandemic, so I was lucky enough to be able to attempt the route in one go – I met many people coming back each year to do week long sections.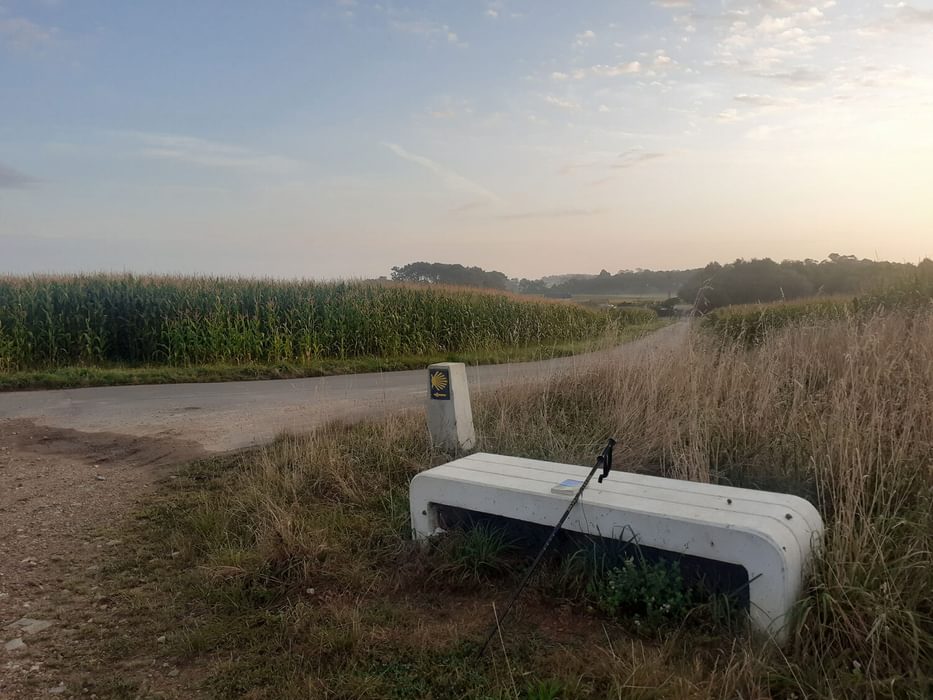 Armed with a hiking pole, blister plasters and my Cicerone guidebook I arrived into Bilbao elated as I realised how much I had missed being in Spain. The city itself is full of incredible architecture, wonderful food and general relaxed riverside summer vibes.
I was staying in a hostel in the old town where I met a hilarious American man who I went for dinner, tapas and copious amounts of local wine with. I began to wonder if I would have a fit hiking body after my camino or whether the local food and drink would tempt me too much.
As I was starting my camino from Irun, east of San Sebastian, I travelled there by bus and train to begin this fantastic, challenging hike.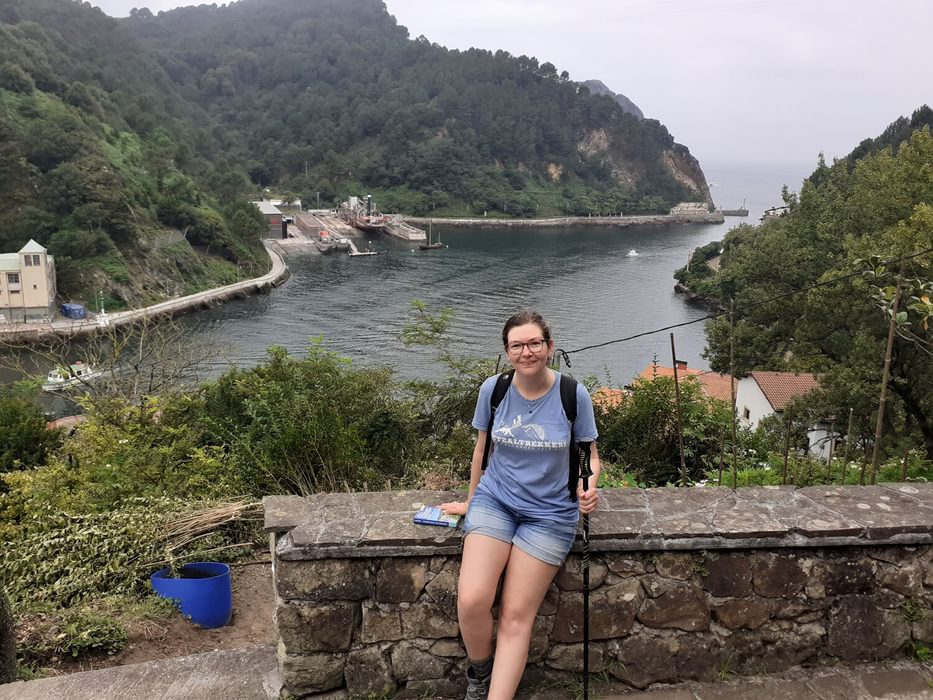 On the first day of walking I left my big rucksack in a hostel in San Sebastian, and had with me just a small day pack filled with water, snacks, rain gear and a first aid kit. I enjoyed the comfort of walking without all my belongings so much that I decided to use bag transport services the rest of the way.
This took a bit of logistical know how but with a bit of organisation and remembering to organise pick ups and drop offs at hostels with local services in advance it is possible. Having my bag transported went really smoothly and most of the time my bag was already awaiting me when I arrived at my hostel or albergue (pilgrim hostel), plus I wasn't as exhausted as a lot of people I met.

The Basque Country
Throughout the next week I travelled through the stunning hills of the Basque Country, averaging about 20 km a day. There are some steep climbs in this section and some slippery mossy paths underfoot at times- but it was gorgeous.
The route is quieter then some of the other pilgrim routes and I tended to meet only a few pilgrims each day at this early stage. More people start closer to Santiago so it gets busier towards the later stages.
One memorable night I stayed in a sweet family run albergue in Pozueta where I had my first group meal and enjoyed learning more about the other pilgrims sat around the table. Passing through few villages and eucalyptus groves it felt very quiet until I re-entered Bilbao on a sunny morning. I took a days rest to explore the city properly and visit the Guggenheim – a treat since I hadn't been in an art gallery since the pandemic began.
From Bilbao I continued along the coast stopping at sandy beaches and toiling above them as I climbed over cliffs. A small sign indicated my arrival into the region of Cantabria and I quickly fell in love with this area.
I enjoyed the picturesque towns of Castro Urdiales and Laredo before staying at the legendary albergue in Guemes, run by the fabulous Ernesto and steeped in community values. I made a few friends here who I would see again over the coming days and weeks after we bonded over another delicious group meal.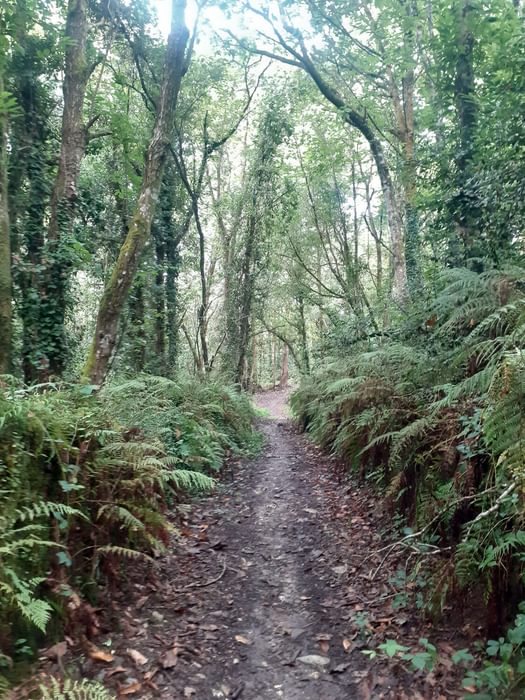 Arriving in Santander
After the peace of village life in Guemes, arriving on the ferry from Somo to noisy, huge Santander was a shock. I grew to adore Santander though, and enjoyed a rest day drinking coffee in its squares and visiting the cathedral.
I was still loving the food and drink on offer during this trip and had become accustomed to getting a coffee while walking at the first available opportunity, then stopping for a more leisurely coffee break and a piece of tortilla later in the morning. I was not losing any weight despite some long walk days, which is a testament to the scrumptious Spanish cuisine!

Leaving Santander I carried on back into the countryside. I stopped in historic towns such as Santillana del Mar, which was surprisingly full of Spanish tourists when I reached town on a Sunday, and Comillas, which has unique architecture designed by Gaudi.
The weather was generally pleasant and sunny but not boiling, with some cloudier days when I was around Llanes. I remember one particularly cosy night in a hamlet called Cuerres where I shared a sweet albergue with one other French woman.
Rain fell as we had dinner with our kind hosts and the Picos de Europa mountains loomed in the background, shrouded in mist. I drank ginger tea as I wrote my journal that night and felt more content with the mountains nearby, probably because I am from an area with lots of hills.

I had a long and tiring slog from Villavisciosa to the city of Gijon a few days later on a freakishly hot day, then walked from one part of the city to the other and back for dinner with new friends. This made it a 38km day and by far my longest. By now I was in Asturias and enjoying the local cider.
My feet were holding up well due to the bag transfers and I mostly just had to massage them and replace a few plasters/blister pads every few days to keep them functional. This made a really big difference to my enjoyment of the trip, and I had seen others with severe physical issues who'd ended up leaving the trail.
I loved the forests in the area of Cadavedo and Cadavedo itself had some wonderful cliffs jutting into the sea. I stood and watched huge storms rolling in from offshore before enjoying a cosy dinner with two 70-year-old Dutch sisters who were walking together. I also had a bath in my very reasonably priced hotel room which was bliss.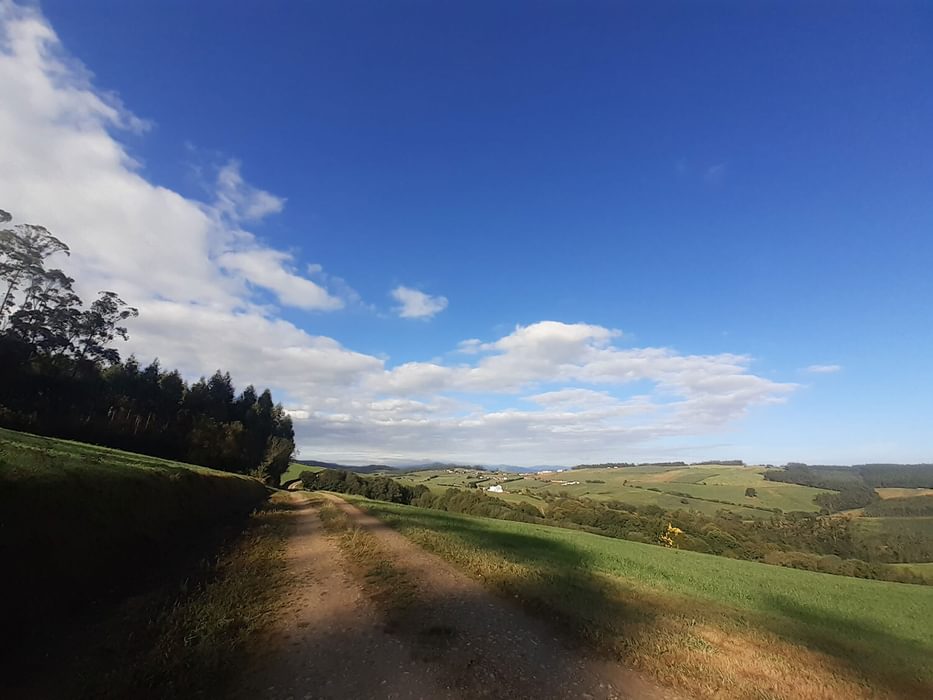 The pandemic had made finding accommodation more challenging as many albergues were still closed. Planning in advance took some spontaneity away but I always liked knowing I had a bed for the night. After several weeks I made it to Galicia, the final region on this epic route.
Some new friends and I had a day off in Ribadeo to visit the beach caves at Praia as Cathedrais in the rain. I began to feel emotional about being on the last leg of the hike. This trip had gifted me time to think and to process the events of the previous year.
From Ribadeo I turned inland and enjoyed some wonderful days in Galicia, some tougher than others. I smashed my phone screen near the magical hamlet of Miraz but was lucky it still worked in conjunction with my Cicerone guidebook for navigation.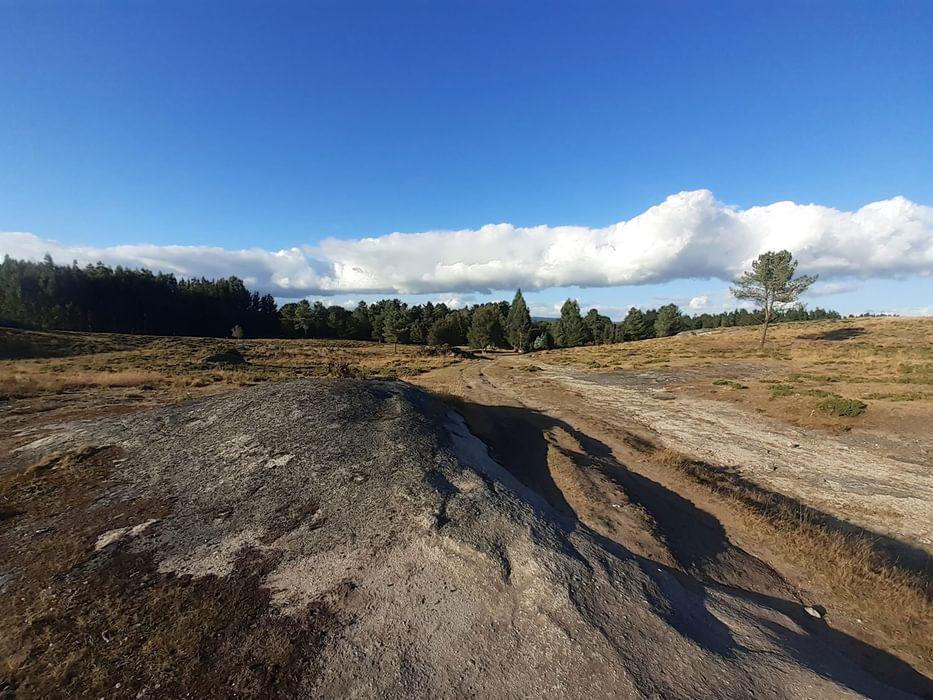 I toured the imposing monastery at Sobrado dos Monxes and before I knew it I was in Arzua and joining with the pilgrims walking the French route (Camino Frances) for my last two days hiking.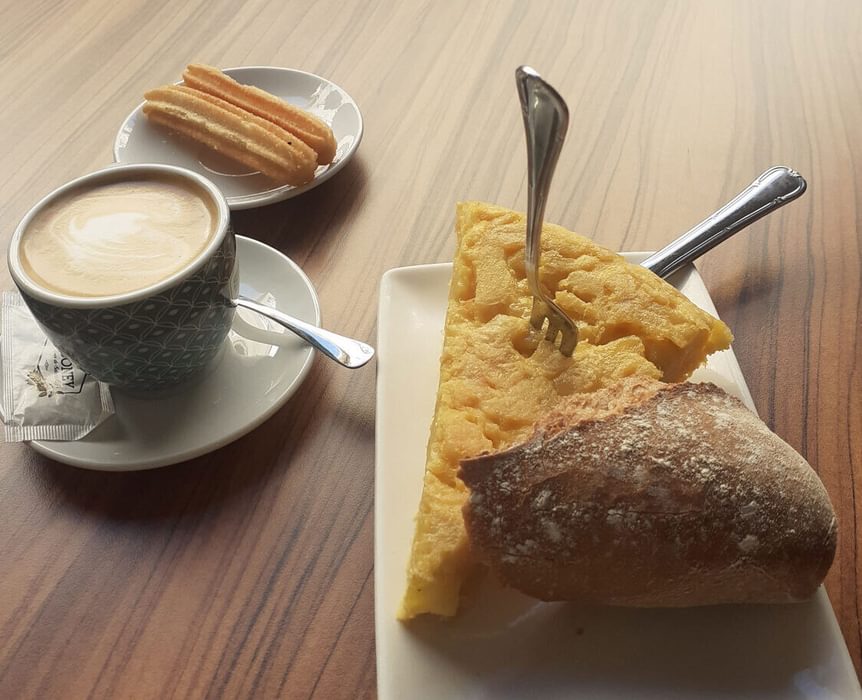 The route was insanely busy from now on and I thought I'd hate it but actually enjoyed the bustling community spirit of walking with so many others. There were also far more cafés to service the hikers, which was excellent and meant no more planning where I was going to find sustenance in advance. Between Arzua and O Pedrouzo I stopped at most eateries on the way for a treat of some sort.
I was overjoyed to arrive into the main square in Santiago de Compostela on 22 September. I'd been walking (and having ample rest days!) since 14 August. The atmosphere in the square is amazing, as pilgrims from all routes congregate here at the end of the pilgrimage outside the cathedral.
Bizarrely, I met up with my teacher from primary school who lived in the area. I'd emailed her ahead of my arrival to plan a reunion. I hadn't seen her for 20 years and we went with her husband for a celebratory dinner and catch up that night.
Over the next couple of days I enjoyed the city and attended pilgrim mass, went to the pilgrim office to obtain my compostela certificate for walking the camino and even went to the brilliant pilgrim museum near the cathedral.
Sitting on a restaurant patio in Santiago with a glass of wine I felt a huge sense of achievement at having walked so far alone. It had been lonely and challenging at times, but I'd also made some fantastic new friends and enjoyed the peace and beauty of the coastal scenery.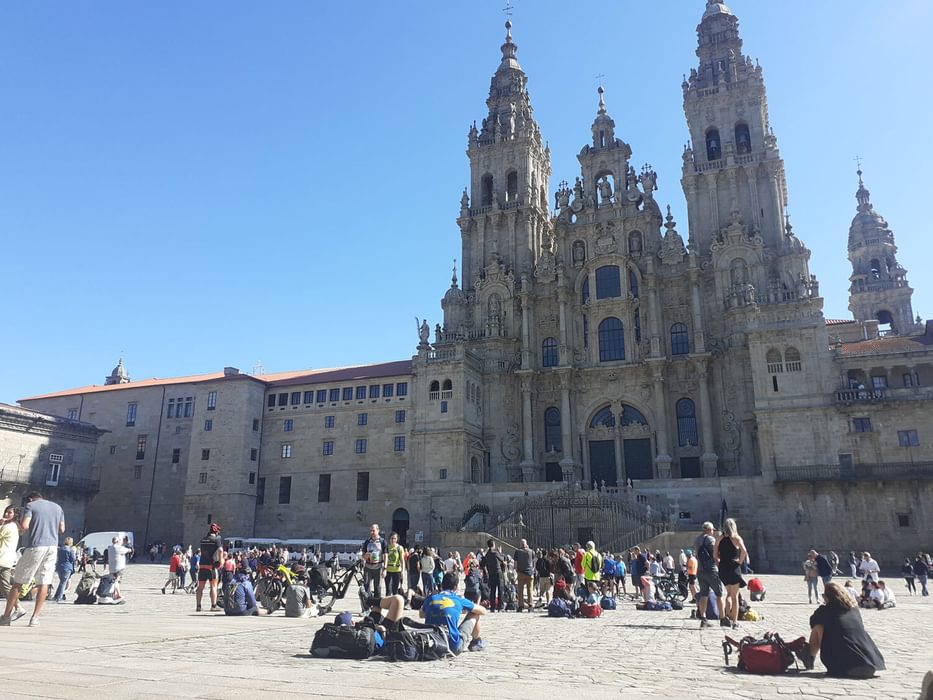 The Cicerone guidebook for the Camino Del Norte also describes the stages of the Camino Primitivo, which is another pilgrim route in northern Spain. It's always good to have ideas of where to hike next, and the Primitivo is firmly on my list now!
To read more articles like this get our newsletter
Sign up today for a 20% discount on your next purchase. Join over 30,000 enthusiasts from around the world. If you don't love our mix of new books, articles, offers and competitions, you can unsubscribe at any time. We will never spam you, sell your data or send emails from third parties.