Camino de Santiago - Via Podiensis
Le Puy to the Pyrenees on the GR65
Guidebook to the Via Podiensis (Chemin du Puy) pilgrim route along the GR65 through southern France to the Pyrenees. The 750km route links Le Puy-en-Velay with Saint-Jean-Pied-de-Port and the start of the Camino Francés to Santiago. Includes Célé Valley and Rocamadour variants.
Seasons
Spring and autumn are ideal: pleasant temperatures and reasonable precipitation. Summer can be hot but it's less crowded and many businesses/attractions have extended opening hours. The route is technically feasible in winter but sees few walkers, and many services close.
Centres
There are very few towns exceeding (or even approaching) a population of 10,000. The major population centres are Le-Puy-en-Velay, Figeac, Cahors, Moissac, Condom and Saint-Jean-Pied-de-Port. Notable smaller places include Conques, Espalion, Rocamadour, Saint-Cirq-Lapopie, Lauzerte and Navarrenx.
Difficulty
No special equipment is required and the route is navigable by all walkers. It is easily scalable to ability, with regularly spaced accommodation and baggage transport available. Most days involve tiring ups and downs on uneven terrain but nothing technical.
Must See
The Aubrac plateau, a stunningly rugged high-level region; the Lot Valley, containing a series of 'the most beautiful villages in France', perched on the winding river; the Célé River Valley, featuring limestone cliffs, prehistoric cave paintings and more idyllic villages; the pilgrimage centres of Rocamadour and Conques; the Western Pyrenees
Overview

Table of Contents

Updates

Reviews

Downloads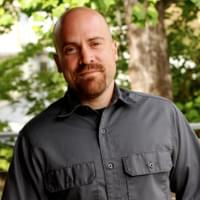 Dave Whitson
Dave Whitson is a high school History teacher in Portland, Oregon and a graduate of the University of Washington. He made his first pilgrimage in 2002 on the Camino Francés and was inspired to return with a group of his high school students, which he did in 2004. He has made long-distance treks in Norway on the Pilgrim Road to Nidaros, in England on the North Downs Way to Canterbury, and in Turkey on the Lycian Way, all told walking roughly 10,000 kilometers on pilgrim roads in Europe.
View author profile