Walking the Camino dos Faros
The Way of the Lighthouses on Spain's Galician coast
Guidebook to walking the Camino dos Faros, the way of the lighthouses, along the Galician coast in northwest Spain. The 200km route is described across 8 stages of between 17 and 29km and takes in some of the area's most wild and enchanting coastal scenery, with dramatic cliffs and deep river estuaries. Incorporates some challenging walking.
Seasons
With mild temperatures the Camiño dos Faros is potentially an all-season walk, although it can be very wet underfoot in the winter. The best time to walk it is April, May and June, when the light and the flowers are wonderful.
Centres
Malpica, Corme, Ponteceso, Laxe, Camelle, Arou, Camariñas, Muxía, Praia de Nemiña, Fisterra
Difficulty
The Camiño dos Faros is a safe walk requiring no technical expertise. The main challenge is daily distance, but this can moderated by taking shortcuts along this very bendy route.
Must See
Galician culture and traditions; lighthouses along the Costa da Morte; Faro Vilán, the oldest electric lighthouse in Spain; Michelin starred restaurant As Garzas; dramatic cliffs and spectacular unspoilt coastal scenery; varied and rare birdlife; old whaling towns and fishing villages.
Overview

Table of Contents

Updates

Reviews

Downloads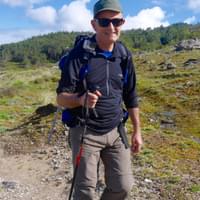 John Hayes
John Hayes is a retired management consultant with degrees from Liverpool University and University College London. Immediately after finishing work in 2011 he embarked on an epic 5,000km trek across Europe, walking from Tarifa in Spain to Budapest. John has written for numerous walking and trekking magazines, and has written four walking guides and a cycling guide for Cicerone.
View author profile