Cycling the Ruta Via de la Plata
On and off-road options on the Camino from Seville to Santiago and Gijon
Guidebook to cycling the Ruta Via de la Plata through western Spain, covering the 924km route from Seville to the coastal city of Gijón and a pilgrimage variant to Santiago de Compostela. With road and off-road alternatives (the latter suitable for gravel bikes), the route offers fantastic cycling and rich cultural and historical interest.
Seasons
Potentially an all year round route, the best times to experience the Ruta are spring and autumn.
Centres
Seville, Zafra, Mérida, Cáceres, Zamora, León, Oviedo and Gijón, plus Ourense and Santiago de Compostela on the Camino Sanabrés
Difficulty
Empty roads and gentle climbs make the route accessible to a wide range of bikes and cyclists. On and off-road versions can be combined for a perfect touring, hybrid or gravel cycle trip.
Must See
Gijón and 8 Unesco world heritage sites (Seville, Mérida, Cáceres, Salamanca, León, Zamora, Oviedo, and Santiago de Compostela). This traverse of Spain takes in the central plateau (meseta) and the unique dehesa landscape as well as the Cantabrian mountains.
Overview

Table of Contents

Updates

Reviews

Downloads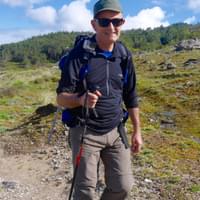 John Hayes
John Hayes is a retired management consultant with degrees from Liverpool University and University College London. Immediately after finishing work in 2011 he embarked on an epic 5,000km trek across Europe, walking from Tarifa in Spain to Budapest. John has written for numerous walking and trekking magazines, and has written four walking guides and a cycling guide for Cicerone.
View author profile