Cicerone to the rescue in Morocco
One of our authors, Andy Hodges assists a struggling Polish climber whilst on a training trip to Morocco.
One of our authors, Andy Hodges, is working towards his International Mountain Leader award and recently took a few 'guinea pigs' from Dartmoor Search and Rescue Team: Tavistock (Andy has been a member of the team for 20 years) to Morocco for some winter skills training and higher summits than Dartmoor has to offer.
After a successful ascent of Jebel Toubkal in high winds and temperatures of around -20C the team chose to tackle a harder route on Ouanakrim the following day. After reaching the col they encountered a Polish climber who had lost his way and was sat in the lee of the ridge. He had neither map nor guidebook and had already foundered on two unsuccessful attempts at finding the route (the most recent 1:50 000 map is better than previous ones but the guidebook is by far the most important source of information). 
Andy is pictured here offering advice, using the Cicerone guidebook, to Tomas who then accompanied the group to the summit and back to the refuge.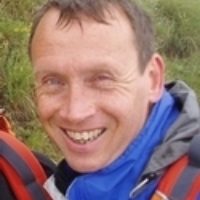 Andy Hodges
Andy Hodges was born in Wigan in 1967. He has been enjoying adventures in the outdoors since joining Cub Scouts in 1976. Learning to read a map and being allowed to tackle adventures were instrumental in nurturing a life-long love for mountains. His student days allowed extended visits to the Provence region of France where he became a modern sports climber, while a summer holiday job saw him leading walking groups in the UK hills and mountains. He has been a volunteer member of Mountain Rescue for 23 years and is part of the Hasty Team, a fell running element of the rescue team.
View Articles and Books by Andy Hodges