Cycling London to Paris
The classic Dover/Calais route and the Avenue Verte
Guidebook to the London to Paris Bike Ride, including both the 500km traditional route, which makes use of cycle tracks and quiet roads plus a ferry crossing from Dover, and the 400km Avenue Verte, a waymarked route via Newhaven/Dieppe which makes greater use of dedicated cycle paths. Each takes 5-7 days and they can be combined for a round trip.
Seasons
Both routes can be cycled at any time of year, though April-October is the best period. Off-road sections of Stages 2 (Pilgrims' Way) and 8 (Coulée Verte) of the classic route are best done after a period of dry weather.
Centres
The classic route passes through London, Rochester, Ashford, Folkestone, Dover, Calais, Desvres, Hesdin, Abbeville, Amiens, Beauvais, Chantilly and Paris. The Avenue Verte passes through London, Crawley, East Grinstead, Newhaven, Dieppe, Gournay-en-Bray, Gisors, Cergy and Paris.
Difficulty
Both routes are straightforward, with gently rolling hills and a few short ascents (the maximum altitude reached is only 204m). City street riding in London and Paris can be avoided by using trains to reach the edge of town. Much of the route follows dedicated off-road cycle tracks along old railway track-beds and canal/river towpaths. Where roads are used, these are mostly quiet country lanes or suburban streets. Mainly asphalt or compacted gravel surfaces in good condition, suitable for hybrid or touring cycles. Off-road options in Stages 2 and 8 of the classic route are suitable for mountain bikes at all times and hybrids or tourers in dry weather.
Must See
The two cities of London and Paris, with their many tourist sights, cultural offerings and gastronomic opportunities; the maritime centre of Greenwich; the North Downs with the Pilgrims' Way and White Cliffs of Dover; the Wealden landscape of Sussex and Kent (England) and the Bray (France); the medieval French towns of Calais, Hesdin, Montreuil, Abbeville and Gisors; the Somme and Oise valleys; the cathedral cities of Rochester, Amiens and Beauvais; the chateau of Chantilly; the limestone plateau of the Vexin
Overview

Table of Contents

Updates

Reviews

Downloads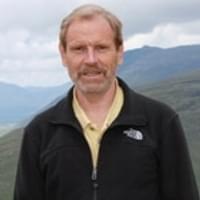 Mike Wells
Mike Wells is an author of both walking and cycling guides. He has been walking long-distance footpaths for 25 years, after a holiday in New Zealand gave him the long-distance walking bug. Mike has also been a keen cyclist for over 20 years. After completing various UK Sustrans routes, such as Lon Las Cymru in Wales and the C2C route across northern England, he then moved on to cycling long-distance routes in continental Europe and beyond. These include cycling both the Camino and Ruta de la Plata to Santiago de la Compostela, a traverse of Cuba from end to end, a circumnavigation of Iceland and a trip across Lapland to the North Cape. He has written a series of cycling guides for Cicerone following the great rivers of Europe.
View author profile