Early days on the Via Francigena in Italy
Melanie Trethowan left her home in rural New South Wales, Australia, to travel the Italian leg of the Via Francigena.
I am a relatively late bloomer when it comes to long-distance walking and completed my first camino in Spain in 2013 when I was just shy of my 50th birthday. That experience triggered a passion I didn't know I had. Since then, I have completed another two caminos (from Lisbon and Seville to Santiago de Compostela).
I wanted to tread a less-travelled path, with a different culture and terrain. I had heard a fair bit about the Via Francigena and thought I would give it a whirl. With somewhat limited time and a more limited budget, I decided I would just 'do' the Italian leg wandering through scenic Italian countryside from Great Saint Bernard Pass in the Swiss/Italian Alps due south to Rome.

Camino signage
My first hilltop town heading to Avenza
After much planning and research, plane tickets and accommodation were booked and then rebooked as I had to bring my departure date to early August. My time was limited as I had to return to Australia for a family wedding as well as to get back to being responsible and serious in the office.
To save some time I thought I would join the two short days at the very start into one pleasant 30km stroll through the Alps.
Over-packed, under-trained and over-optimistic, I set out from the hostel at Great Saint Bernard Pass to walk down to Aosta. There was a happy spring in my step as I navigated the narrow paths and admired the lush alpine meadows and pockets of pure white snow.
Down I went through the alpine forest, past clichéd cows with even more clichéd cow bells.
Down through the quaint stone villages with rushing streams.
Down, down, down.
After about 10km of constant braking, careful stepping and steadying myself with my walking poles, it dawned on me why Day 1 was recommended to be only 15km.
Only 20km to go…

Layered sunrise on the way to Gambassi Termi
Beautiful clouds from San Miniato Alto
Down the Apennines
Up the Apennines
The sun was starting to bite (who knew it could be so hot in the Alps?) and carefree day-hikers warmly greeted me. They were full of admiration that I was walking all the way to Rome, but perhaps a little baffled that I would tackle 30km of alpine descent in one day.
At the 20km mark I was doubting my sanity. Jetlag had kicked in, it was stinking hot, I had run out of water (despite starting out the day with 3 litres) and every muscle in my legs and feet were letting me know that this was indeed an incredibly unpleasant day out and also reinforcing that I must be the stupidest Aussie ever to lace up a pair of hiking boots.
I looked longingly at bus stops (vacant of any buses) and other travellers whizzing by in the comfort of their air-conditioned cars, but decided that it would be pretty poor form to give up on my first out of the 40 walking days to come.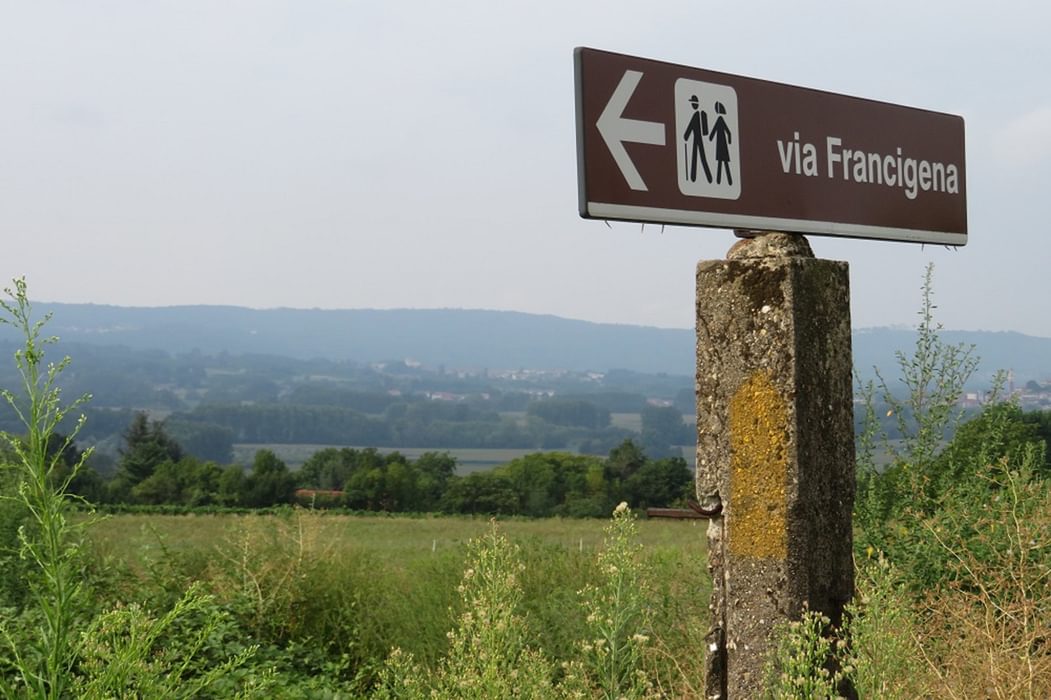 Only 10km to go…
At one stage I fell into a fountain and refilled every water container I possessed and soaked every item of clothing in the cool mountain water. The self-talk was getting louder and the language pretty colourful as I bounced between castigating myself for being such a 'positive Pollyanna' about this path and then giving myself the pep talk to end all pep talks. Who would have thought that the Alps would be so bloody big?
Down, down, down…
Around every bend I hoped to see Aosta, only to meet yet another hill to climb and yet another descent. I resorted to walking backwards downhill – acknowledging how completely ridiculous this looked – as I was unable to lift my legs and feet another step in the normal fashion.
Finally, after over 10 hours of descent, I hit the outskirts of Aosta and collapsed, sweat-soaked and dishevelled, on a low brick fence and hung my head in exhaustion. I was totally and utterly spent.
It was only when I looked up that I realised I had a large audience of very chic-looking Italians, all reaching for their mobile phones to call me an ambulance. I gave them a weak wave, a dark look, collected my walking poles and hobbled, half-crawled off into town.
I am sure Aosta is a wonderful place, but by this point in the day I was past wondering about anything. I just needed to get my pack off, my boots off, have a cold shower and an even colder beer. When I finally found my little hotel, I had yet another key learning (how many learnings can a person cram into one day??) that regardless of where you walk in Italy, your accommodation will always be found on the highest floor of a hostel located on top of the highest hill. Just one final challenge standing between me and that beer.
The season is changing
Welcoming sunflowers
The beautiful sky over the Po
Ever the optimist
Day 2 dawned bright and clear, much brighter and clearer than I was actually feeling, but I had another walk to Chatillon and I was not to be deterred. What was I saying about being an optimist?
The thought of putting a foot on anything resembling a mountain made my blood run cold, so I opted for the flat bike path that connects both towns. Setting off in the early morning darkness I found the path and walked and walked and walked. I tried to pause and enjoy my surroundings, but that day I felt like the path was a job that I just needed to get done. Where was all that bonhomie and spirit of adventure and being at one with the world? Just me and my backpack making the most of every opportunity and connecting to nature? Forget that philosophical crap, I just needed to get to the next town, the next shower and beer. Are we seeing a pattern here?
32km later (Yes, the bike path is much longer than the mountain trail) I crawl into Chatillon in the rain and haul my sore and exhausted body up the inevitable mountain to the ostello and collapse again for another day. Are we seeing another pattern here?
By this stage of the game the self-talk was starting to sound a little more delirious and a little more frantically optimistic: 'Surely tomorrow will be better, surely it has to get a bit easier?'
But, no.

Roadside Shrine
Hello Italy!
Sunrise over corn
Sunrise over rice
Dewy Grapes - later to become delicious wine!
Day 3 from Chatillon to Verres nearly broke me. I think I'm a pretty tough bird and don't mind the odd challenge, but I doubt that I have walked a more dangerous and demanding day (so far) as this one. Yes, there were periods of beauty and stunning views across the valley to the neighbouring mountains, but the loose rock underfoot, the constant sheer climbs and descents, also over loose rock, made me question the safety of this stage and limited the opportunity for me to enjoy said view.
My self-talk that day revolved around constant praise of my walking poles, questioning the ancestry of the people who designed/marked this trail and statements such as, 'you've got to be %$#@ kidding me' as I faced yet another sheer climb. In fact, that day, the f@#$&-word was used in just about every known context. Usually I am quite a mild-mannered individual, but I was reaching the end of my tether.
More limping and stumbling into Verres and I was shell-shocked at the demands of this trail. My expectations of the pleasant stroll through Italy and my assumptions about my fitness and capability were up for serious review. What had I done? Had I finally bitten off more than I could chew? The path to that point had challenged and confounded all my previous long-distance walking experience and I was seriously doubting my ability to make it to Rome if it continued like this all the way.
After completing the usual pilgrim tasks of washing myself and my sweaty clothes, it was time to rest, put my feet up and take stock of the situation. It was only day 3 out of 40 and surely it was still too early to throw the towel in. The much-battered optimist in me told me this was all character-building, but I was wondering how much bloody character a person needs in a life.
Like the movie Groundhog Day, day 4 saw me up in the early morning dark and sneaking out of the hostel to walk to Pont St Martin. It was like I had been sprinkled with fairy dust (bloody brave fairy I have to say) overnight and I developed wings on my feet. Yes, slight exaggeration I know, but the flat, forgiving and scenic terrain brought a smile to my face and a renewed spring in my step. I was in Pont St Martin before I knew it and, at last, Rome didn't seem all that far away.

Pilgrims head to the Po and the Ferryman
Waterfall
Sense of achievement
Despite a pretty rough start, the rest of the way to Rome turned out to be a constant eye opener and each day brought dazzling beauty. It also brought a ton of lung-busting climbs and sweat-inducing kilometres accompanied by the usual colourful self-talk, but this was neatly off-set by the overwhelming sense of achievement as I pulled off my dusty boots at the end of each day.
In an effort to avoid the worst of the heat, I would start out on the path at around 5.30am (at the latest) and this meant that I would be at my destination by 12-1pm. After a hearty lunch and a few domestic chores, I would find a shady spot to relax, catch up on my blog and read. The solitude of this walk came as a bit of a surprise. I knew it would be quiet, but some days I walked all day and did not speak to a soul until I found my accommodation.
Walking during late summer meant that many locals where away enjoying their own vacations and I found many towns and villages were temporary ghost towns. If you insist on a morning coffee at a set time each day, then this walk is not for you. Coffee stops are not evenly spaced (like on a camino) or simply closed for holidays.

Street Art in Lucca
It doesn't get more Tuscan than this
Ta da!
The whole of the walk felt like one constant surprise and it wasn't until I got to Tuscany that I found the Italy that we are spoon-fed in Australia. I was dazzled by the scale and diversity of agriculture, the breath-taking sunrises and the friendliness of the locals, who showed the patience of Job as I did my best not to mangle their language.
Highlights of the 40 days included the stunning cities of Lucca and Siena, more glorious sunrises than I can count and not losing any body parts to the hundreds of ferocious dogs who seem to despise Australians. The absolute kicker though was the surprise arrival of my husband in the town of Montefiascone. He has accrued enough Brownie Points to last him for the rest of his life!
The 1000km to Rome was the most amazing, eye-opening and challenging experience I have ever had. It allowed me to develop a very intimate connection with, and love of, the Italian landscape and built a personal resilience and strength that I never knew I possessed.
The key learning though…when going for a long walk, it pays to be an optimist!

To read more articles like this get our newsletter
Sign up today for a 20% discount on your next purchase. Join over 30,000 enthusiasts from around the world. If you don't love our mix of new books, articles, offers and competitions, you can unsubscribe at any time. We will never spam you, sell your data or send emails from third parties.