Highlights of the Brittany Coast Path (GR34)
The first section of the Brittany Coast Path from Mont-Saint-Michel to Roscoff (around 624km), includes some of the most spectacular scenery of the Breton coast. Carroll Dorgan, author of the Cicerone guide, picks his highlights.
The GR34 is a long-distance hiking path (sentierde grande randonnée) that follows the coast of Brittany from Mont-Saint-Michel to Saint-Nazaire (more than 2000km). It's called the Sentier des Douaniers (the Customs Officers Path).
Those customs officers faced formidable challenges, as the highly indented Breton coast offered many places where a wily smuggler could land or load contraband. But at least those officers – and the smugglers, for that matter – could appreciate the extraordinary beauty of the area.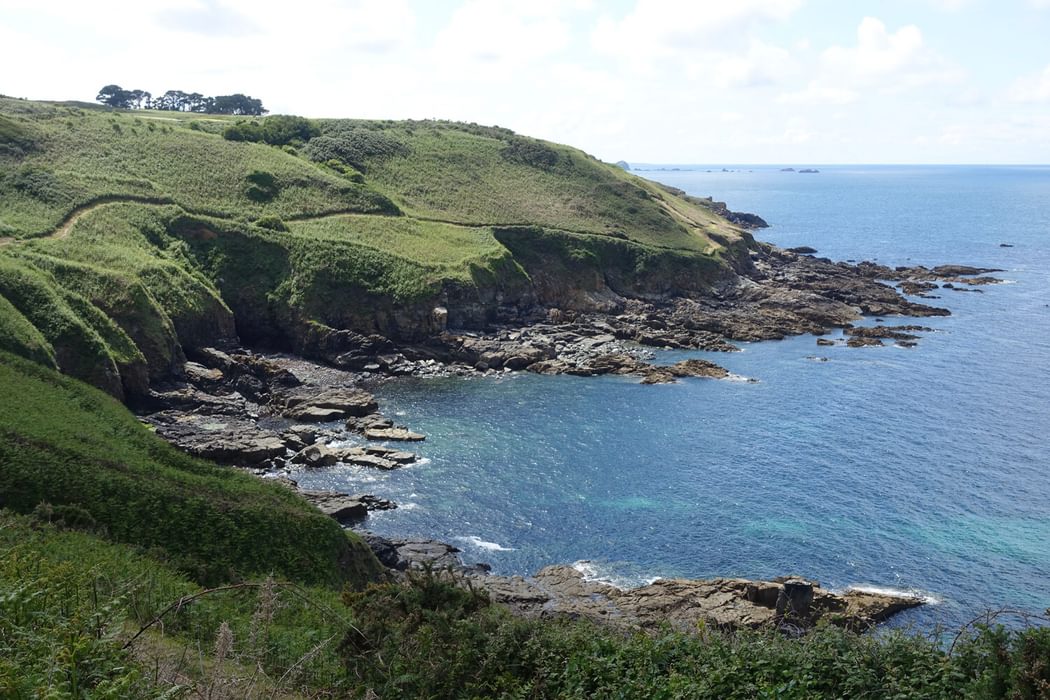 Today's hiker on the GR34 traverses cliffs above rocky shores pounded by waves, walks through forests and across heathland, follows trails around spectacular headlands and returns inland beside bays, coves and narrow estuaries.
Countless beaches
This being a coastal trail, there are countless beaches: some are vast expanses of sand that attract numerous swimmers, sunbathers, kite surfers and builders of sand castles; others are cosy crescents of sand, barely accessible to anyone but a hiker on the GR34.
The joys of a coastal trail
Le Dé dominates the harbour at Coz Pors
The first section of the GR34, from Mont-Saint-Michel to Roscoff (about 624km), includes some of the most spectacular scenery of the Breton coast. The fantastic boulders between Perros-Guirec and Ploumanac'h – the heart of the Pink Granite Coast (Côte de Granit Rose) – will dazzle and amaze you. How were they formed? How did they get there?
You can join the game of giving whimsical names to distinctive rocks. You may recognise the rocks that are called the Overturned Bottle, Napoleon's Hat, the Ram's Head, the Mushroom…

Pink granite boulders offshore between Perros-Guirec and Ploumanac'h
The rocky coast between Perros-Guirec and Ploumanac'h
Further along the coast, you can imagine living in Castel Meur, a house wedged between massive boulders near Plougrescant, and contemplate the brooding profile of Père Trébeurden, a large anthropomorphic rock on Le Castel, a promontory beside Trébeurden.
Hikers on the GR34 benefit from a law enacted in 1976 that established a public right of way along the coast: 'Les propriétés privées riveraines du domaine public maritime sont grevées sur une bande de trois mètres de largeur d'une servitude destinée à assurer exclusivement le passage des piétons.' (Private properties bordering the public maritime domain are encumbered on a strip three meters wide by an easement destined exclusively to ensure the passage of pedestrians.)
The route is well-marked with the standard GR mark, a white rectangle over a red rectangle, along with signs indicating directions and distances to various destinations. In places where the GR34 closely follows the coast, the trail may be submerged at high tide. There are short, inland variants (also well marked) that circumvent those flooded areas.
Local authorities do a good job maintaining the trail. Walking on the GR34 during the spring, you are likely to see workers cutting back grass and bushes that encroach upon the trail. You will appreciate their work if the morning dew lingers along a section of the trail that hasn't yet been trimmed: it's like walking through a carwash!
Emerald Coast
The GR34 is not a mountain trail; there are extensive sections of level walking. The trail does, however, climb and descend many slopes – never for very long, but steep in places. The trail from Locquirec to Plougasnou climbs a total of 900m (and descends nearly as much) as it traverses cliffs above the sea.
Pausing to catch your breath at the top of a climb, you will admire the spectacular views! Walking along the rugged coastal path between Pointe du Grouin and Pointe du Meinga on a sunny day, you will understand why this is called the Emerald Coast (Côte d'Émeraude).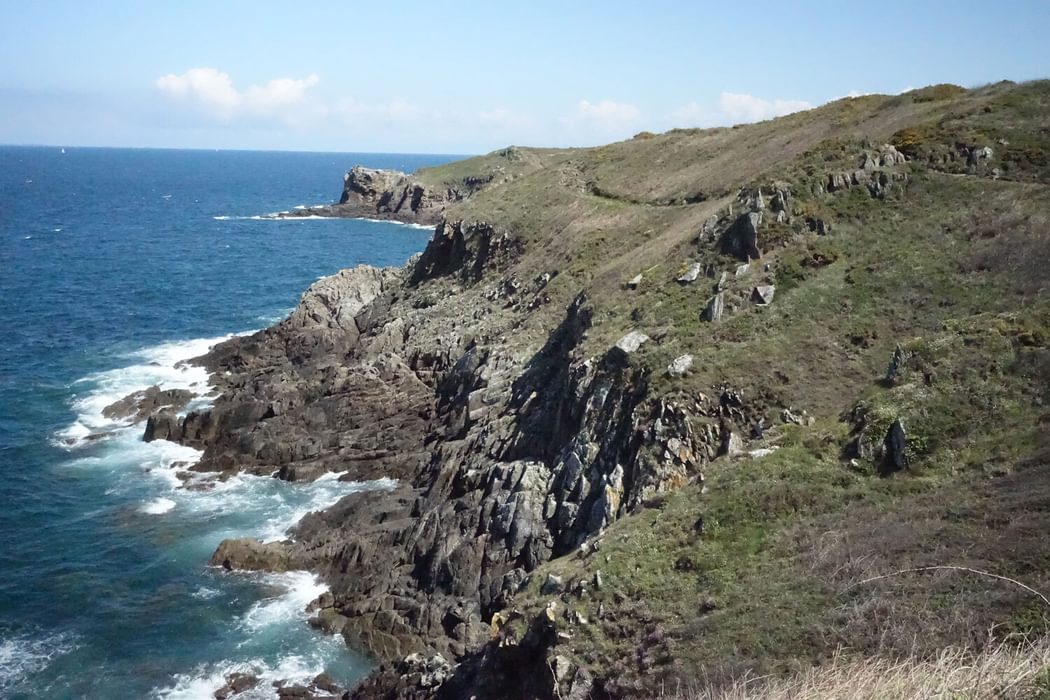 You will enjoy learning about Brittany's distinctive culture and history as you walk along the GR34. You can start (and continue each day…) with Breton cuisine. Walking west on a dyke from Mont-Saint-Michel, you will pass sheep grazing in meadows that are submerged during spring high tides.
Salt meadow lamb (agneau de pré-salé) is a great specialty of the area. Further on (for example, offshore from Cancale), you will see numerous racks supporting sacks of oysters (huîtres) that are submerged and exposed with the changing tides. Countless rows of stakes (bouchots) for the cultivation of mussels (moules) are aligned in the Baie de la Fresnaye.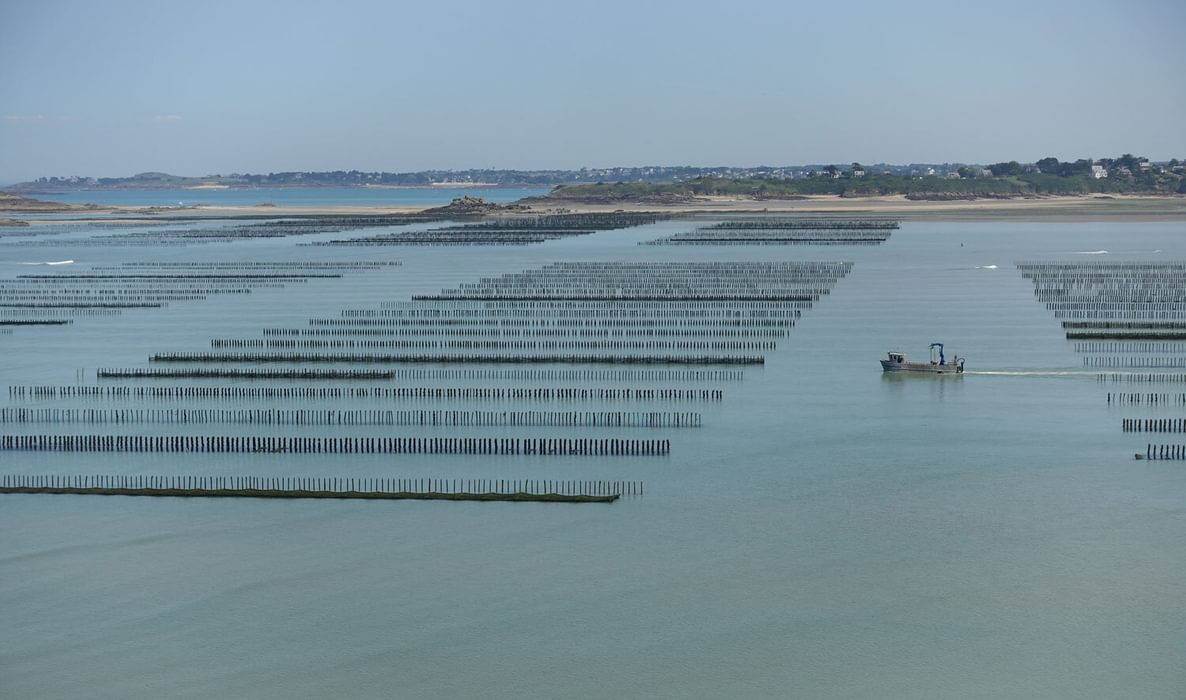 You will not see scallops (coquilles Saint-Jacques) growing – they're on the seabed – but you will be pleased to find this delicacy on your dinner menu.
Crêperies offer galettes (savoury pancakes) and crêpes (sweet pancakes). There are innumerable fillings for this quintessentially Breton dish. I recommend starting with a galette complète (ham, cheese and egg) and working your way through the menu from there – accompanied by locally produced cider.
Brittany's Celtic culture is an important part of its history and identity. The Breton language – closely related to Welsh and Cornish – is now spoken by only a small minority, but efforts to keep the language alive are reflected in the bilingual signs that you will see.
Watch for announcements of a fest-noz (night festival), an event based upon traditional village celebrations in which everyone danced, accompanied by singing and music played on bagpipes and bombardes.
The fest-noz was recently inscribed on UNESCO's list of the Intangible Cultural Heritage of Humanity. Paimpol honours Brittany's maritime heritage during its biennial Festival du Chant de Marin (Sea Shanty Festival). There is contemporary music, too: for example, Saint-Brieuc's Art Rock festival (Pentecost weekend), Lézardrieux's Trieux Tonic Blues festival (Ascension Day weekend) and Binic's Folks [sic] Blues Festival (July). These events have been disrupted by the covid pandemic, so check whether they're back before making plans.

The trail from Pointe de Guilben to Paimpol passes this magnificent tree
Maritime memento mori in the Anse de Pallinec at low tide
Historic structures
The GR34 takes you past notable historic structures, including one of the oldest: Barnénez Cairn, the largest megalith in Europe (constructed during the 5th millennium BCE). The ruins of the Hogolo thermal baths near Locquirec offer insight into the comfortable lives of Gallo-Roman elites during the heyday of Roman rule in the area.
There are formidable medieval castles along the route: the ruins of the Château de Guildo (at the head of the Baie de l'Arguenon) and the restored Fort La Latte (standing on a rocky spur 60m above the sea, near Cap Fréhel). The Château du Taureau, offshore from Carantec, was constructed to defend Morlaix after an English seaborne force sacked the town in 1522.
The château served as a prison in the 18th-19th centuries; its diverse roster of inmates included a Breton aristocrat, Louis-René Caradeuc de La Chalotais (1766), and the revolutionary socialist, Auguste Blanqui (1871).
Brittany's dazzling landscapes and light have long attracted artists. Walking beside Dinard's beaches, you can imagine the inspiration for Pablo Picasso's 'Two Women Running on the Beach', which he painted during a sojourn there in 1922.
Passing Saint-Briac, you walk in the footsteps of Auguste Renoir, Paul Signac and other great painters. In Saint-Quay-Portrieux, you follow Berthe Morisot and Eugène Boudin. When you reach Perros-Guirec, consider Maurice Denis' appreciation: 'Jamais la nature ne m'a paru plus belle qu'à Perros' ('Never has nature seemed more beautiful to me than in Perros').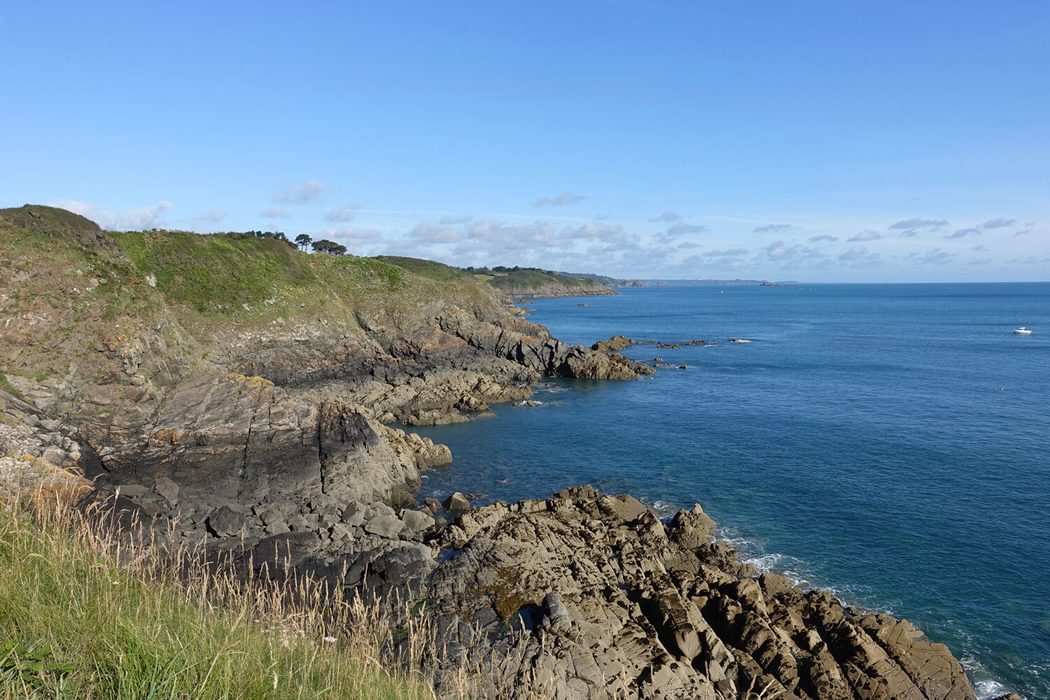 A Birdwatching Dream
A walk along the GR34 can be a birdwatcher's dream – and a delight even for those who aren't as interested. Many seabirds live – or, at least, nest – on Brittany's rocky coast and islands.
There are important bird sanctuaries, such as the Sept Îles, created to protect the Atlantic puffin. About 200 breeding couples of puffins now share the Sept Îles with thousands of Northern gannets. (Excursions by boat to the Sept Îles depart from Perros-Guirec.)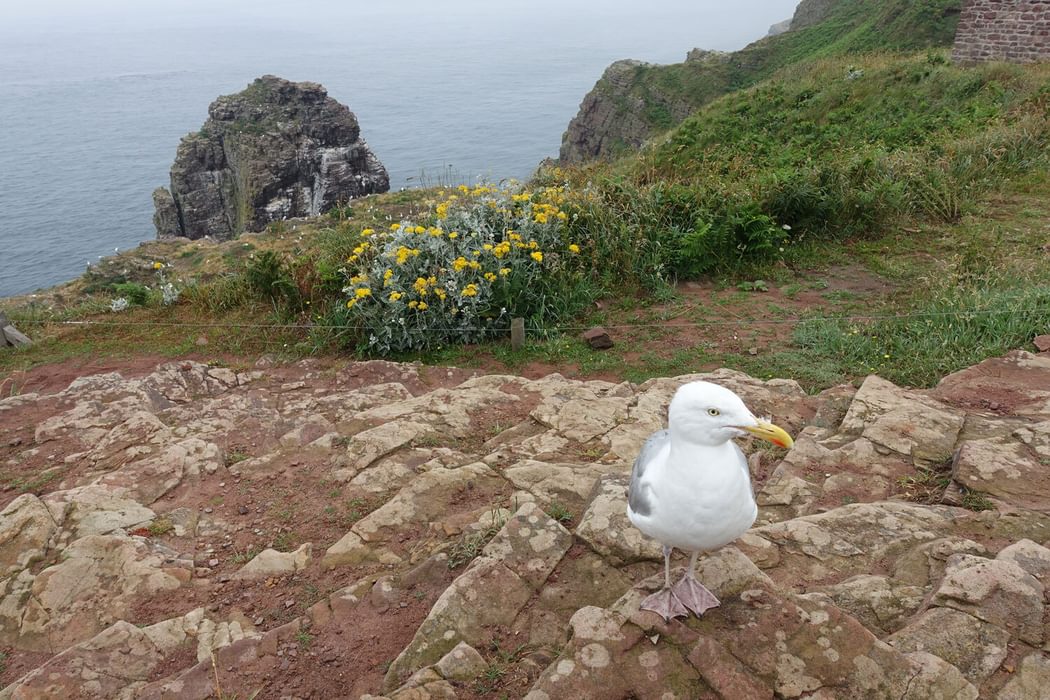 Cap Fréhel, one of Brittany's greatest headlands, is a good place to observe birds, including several species of gulls: herring gulls, great and lesser black backed gulls, black-headed gulls and kittiwakes. Pelagic birds (those that live far offshore and return to land only to breed) come each spring to Cap Fréhel: northern fulmar, Manx shearwater and common murre.
The tidal marshes around estuaries and bays are a distinct ecosystem. The area of mudflats (vasières) that is uncovered only at low tide is called the 'slikke' (a word borrowed from Dutch). Just above the slikke is the 'schorre' (another Dutch word), an area cut by channels and pools of water.
The vegetation here is adapted to the alternation of fresh water at low tide and brackish water at high tide. Sandworms and other invertebrates in the mud and small fish and shellfish in the water attract wading birds such as oystercatchers, grey herons and sandpipers.
Thousands of migratory birds visit the vast Saint-Brieuc Bay during the winter; some pause here during their travels, while others spend the entire winter around the bay. In addition to the waders, there are ducks (mallards and common Shelduck) and geese (brant goose).
The wildlife of this area includes many mammals, of course, but you may get only a fleeting glimpse of them as you walk through their habitat: rabbits and hares, foxes, otters and badgers.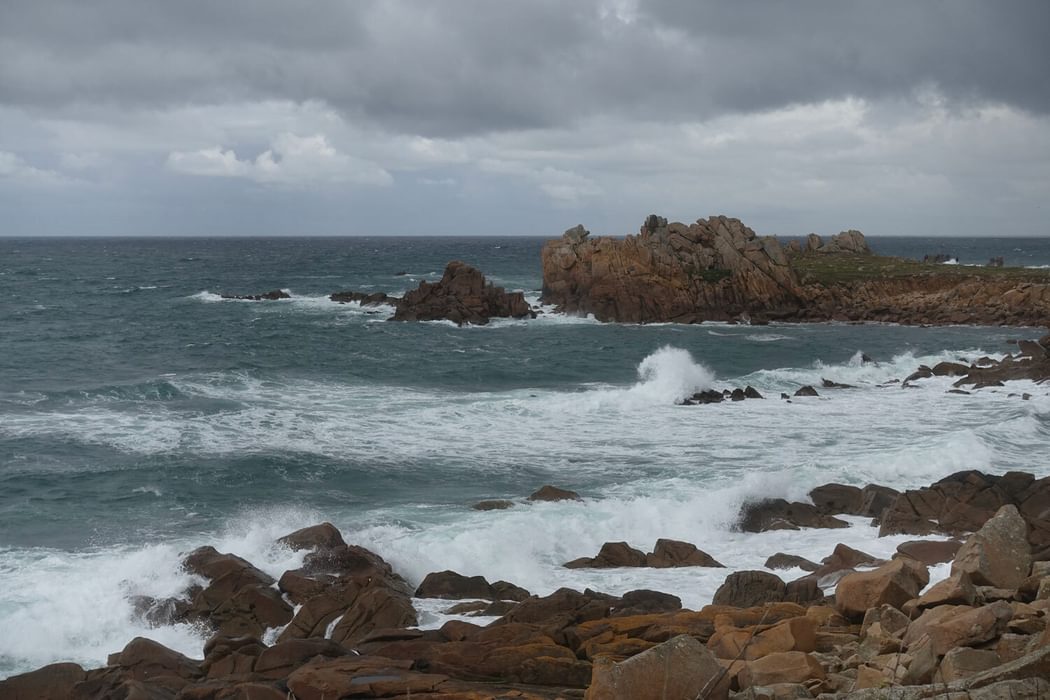 There are also aquatic mammals along this coast: watch for grey seals during an excursion to the Sept Îles and dolphins cavorting in the waters of the Emerald Coast.
When is the best time to hike the GR34? The weather, of course, is a factor to consider. Brittany has a marine west coast climate, so extreme temperatures are rare. The oceanic influence may bring storms (especially during the winter), but it also softens the impact of heat waves during the summer.

You must be ready for rain, but there is truth in the popular saying: 'En Bretagne, il fait beau plusieurs fois par jour.' (In Brittany, the weather is fine several times a day.) Another factor is the popularity of this magnificent region.
Many people spend their holidays in Brittany. Some small towns become large ones: the population of Saint-Cast-le-Guildo, for example, increases from about 3400 permanent residents to over 30,000 in the summer. Many of these folks are attracted to Brittany's splendid beaches, while others will walk on the GR34.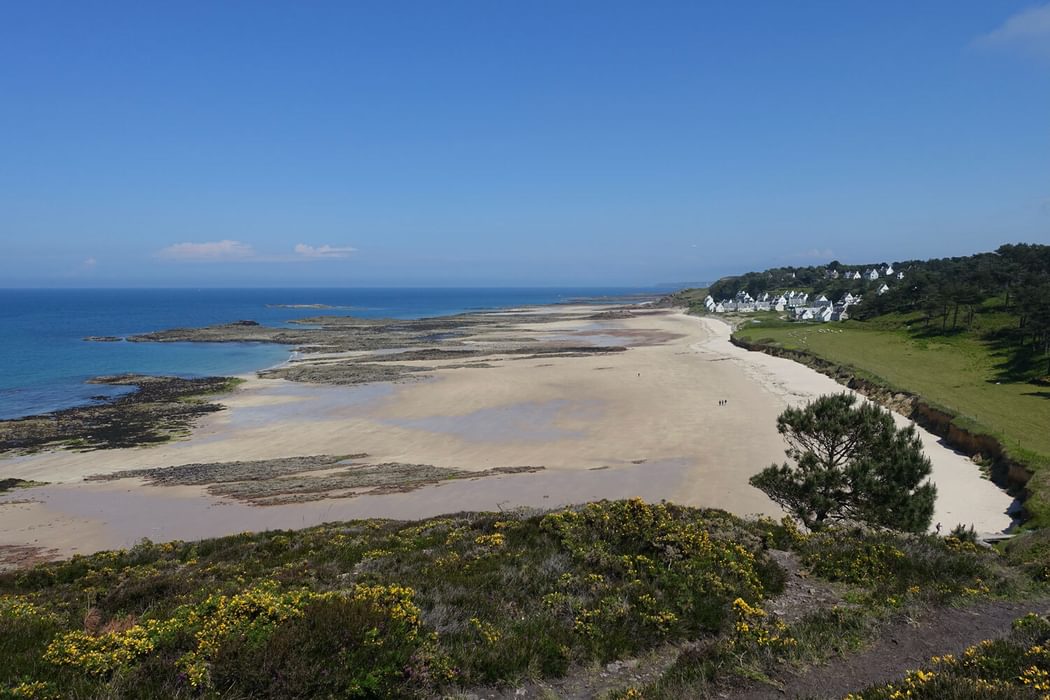 Useful Information
When to go
Considering these factors, many consider the best seasons for hiking the GR34 to be late spring (May–June) and early autumn (September). These are the periods when most places of accommodation are open, but not so crowded as during the summer.
How to get there
There are extensive networks of public transport that facilitate travel to and around Brittany. Railway lines (departing in particular from Paris) serve Pontorson (near Mont-Saint-Michel), Dol-de-Bretagne, Saint-Malo, Saint-Brieuc, Paimpol, Lannion and Morlaix.
Ferry service links the UK and Ireland to Saint-Malo and Roscoff. Inter-city bus lines serve many towns along the GR34 (including Mont-Saint-Michel and Roscoff), while urban bus lines radiate from the principal cities.

To read more articles like this get our newsletter
Sign up today for a 20% discount on your next purchase. Join over 30,000 enthusiasts from around the world. If you don't love our mix of new books, articles, offers and competitions, you can unsubscribe at any time. We will never spam you, sell your data or send emails from third parties.