Walking in the Auvergne
42 Walks in the Massif Central - France's volcano region
Guidebook to the Auvergne describing 42 walks between 5 and 20km in the quiet volcanic hills of central France. Five areas are covered: Cantal, Chaine des Puys, Mont Dores, Haute-Loire and Montagne Bourbonnaise. The volcanic geography provides a stunning backdrop to routes suitable for all walkers. Bases in Vichy, Clermont-Ferrand and Puy-en-Velay.
Seasons
All the routes can be enjoyed from May to October. The summer months are usually hot and sunny, but the winters see snowbound villages and skiing on the higher Auvergne peaks
Centres
cities: Puy-en-Velay and Vichy; villages: Orcival for the Monts Dore and Dômes, Murat for the Cantal, Mayet-de-Montagne for the Bourbonnaise
Difficulty
Grade 1: Short easy walks with few navigational problems and little ascent; Grade 2: Walks that will not be taxing for a fit and experienced hiker. They may be longer, have moderate height gain or require good navigation skills; Grade 3: Challenging walks for experienced hikers. Steep terrain may be encountered with considerable ascents or longer mountain days
Must See
Fascinating volcanoes: Puy de Dôme, de la Vache and Pariou; high summits: Plomb du Cantal, Puy Mary and Puy de Sancy; magnificent abbeys and churches: Chaise Dieu, Lavaudieu and Orcival; chateaux: Montgilbert and Lavoûte-sur-Loire; attractive bases: Le Puy-en-Velay and Vichy; lakes Guery and Pavin, the Grand Cascade and Volvic spring
Overview

Table of Contents

Maps

Updates

Reviews

Downloads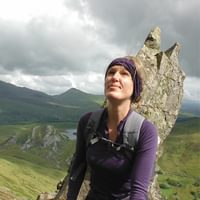 Rachel Crolla
Rachel Crolla is an outdoors all-rounder who loves hiking, biking, scrambling and climbing. Rachel is an outdoors writer and photographer who is also trained as a journalist and teacher. She has hiked and climbed across the UK, Europe and the USA. In 2007 Rachel became the first woman to reach the summit of every country in Europe, and co-wrote the Cicerone guide book Europe's High Points soon afterwards. She is passionate about enthusing the next generation of hikers and cyclists with a love of the outdoors.
View author profile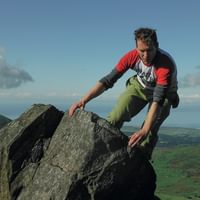 Carl McKeating
Carl McKeating is from Yorkshire. He is the co-author with Rachel Crolla of the books, Europe's High Points and Walking in the Auvergne published by Cicerone. A rock climbing and mountaineering enthusiast, in addition to ascending all of Europe's national high points, in 2010 he completed a long-standing ambition to climb all the routes in Ken Wilson's Classic Rock which he followed with a three-month climbing and mountaineering tour of America. A qualified English teacher, in 2014 Carl started work on a doctorate about Mont Blanc in British Culture.
View author profile