Hiking the Overland Track
Tasmania: Cradle Mountain-Lake St Clair National Park
Guidebook to Tasmania's iconic Overland Track. Described over 7 stages, the 80km trail from Cradle Valley to Lake St Clair takes in glacier-carved valleys, vast buttongrass moorlands, mossy rainforests, rugged peaks, thundering waterfalls, alpine meadows and peaceful lakes. Adventurous side trips are also described.
Seasons
Summer (December, January, February) is the best time for hiking the track as many plants are flowering and the long days make sidetrips more feasible. Tasmania has four distinct seasons, however it's rare that an Overland trip doesn't include rain, hail or strong winds, and snow can occur even in summer.
Centres
Located in the Cradle Valley-Lake St Clair National Park, the Overland Track starts at Ronny Creek in Cradle Valley and ends at Cynthia Bay on Lake St Clair. Along the track are a series of basic huts and camping platforms.
Difficulty
The main track is well marked and maintained with a network of basic huts, boardwalks above boggy ground and bridges over creeks, which makes the track suitable for hikers of average fitness. There are plenty of challenges for experienced hikers too, with sidetrips to mountain peaks and into wilderness areas like the Labyrinth.
Must See
Jagged profile of Cradle Mountain across Dove Lake; panoramic views from sidetrip summits including Tasmania's highest mountain, Mt Ossa; dolerite columns of Mt Oakleigh; tranquil Lake St Clair; thundering cascades of D'Alton, Fergusson and Hartnett Falls; mossy rainforest en route to Pine Valley Hut; eclectic range of endemic plants and animals including Tasmanian devils
Overview

Table of Contents

Updates

Reviews

Downloads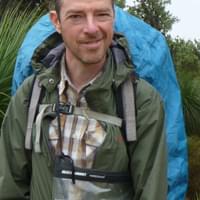 Warwick Sprawson
Warwick Sprawson lives in Melbourne, Australia. After studying engineering he spent many years working and hiking in England, Ireland, Canada, Spain, Japan, Mexico and Costa Rica. Returning to Melbourne, he studied Australian Land Conservation and Management, subsequently working as a bushland regenerator. Since 2008 he has worked full-time as a writer, including as a regular contributor to Wild and Great Walks magazines.
View author profile