How to choose the correct footwear
Jon Halls walks you through the process of choosing footwear for your next adventure and finding the perfect fit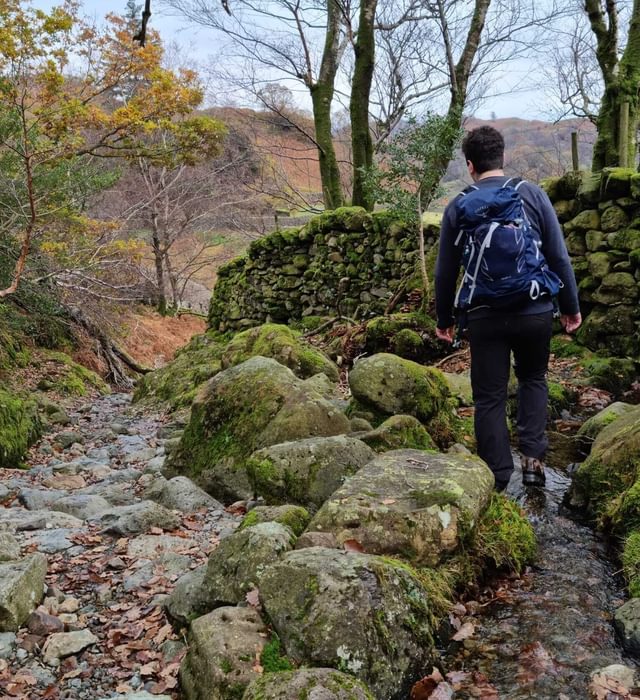 Outdoor footwear are amazing tools that help make the world around us accessible and fun places to engage with. Whether you enjoy walking for peace of mind, the scenery or fitness, fast packing to tick off peaks or testing your own mental and physical endurance, footwear will be vital for your adventure.
While shoes and boots cannot fix underlying issues in your feet, knees and hips, I would rate a good fitting and appropriate set of footwear as a vital investment that, if you take care of them, will repay you with wonderful adventures for years to come.
Despite skiing since I was 5, running since I was 12 and hiking since I was 16, I had never paid much attention to my footwear so long as I could keep doing the activities I loved. However, the right set of footwear can do wonders, giving you security in your activity, improving your ability to perform on the day and reducing your chance of injury.
While I was lucky to have had good staff helping me, and the capacity to invest in the recommendations they offered, I know from many customers' horror stories, that this isn't always the case.
Having now worked in the industry for five years, I therefore want to share a few tips and insights to help you pick the right footwear for your next adventure and find the perfect fit!
What is a boot and what is a shoe?
Hiking shoes and boots are both meant to perform in uneven terrain, giving you grip, a stable platform and control. Not all boots and shoes are designed for the same job, with different degrees of flex, lug depth, materials and ankle supports helping you in your chosen environment. Some boots and shoes are all-rounders, while others are niche. For this reason, the most important question I can ask you is, what are you looking to do?
Whether you're looking to walk around the park or scramble up mountain sides, there is always a best option available. Knowing what you want to put your footwear through, and what you expect to get out of them, helps me to gauge your needs and what I can offer you.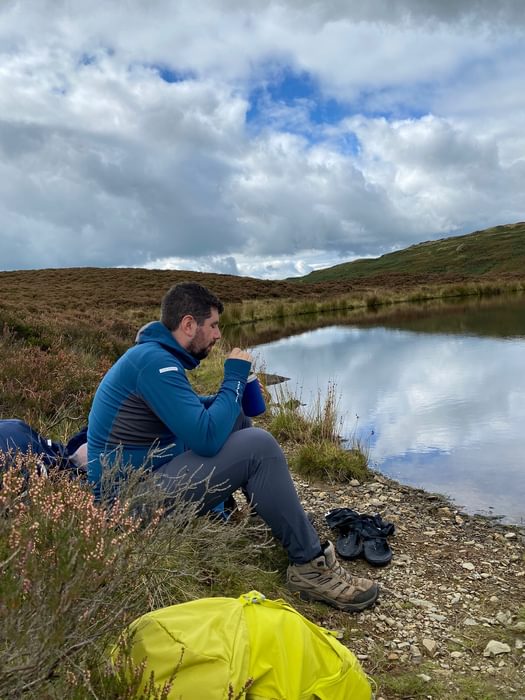 Generally, the shoes we use day to day are there for form over function. However, when you are walking up to 20 miles over rough terrain, protecting your feet is vital. To help gauge this fit, I will ask you to pop your shoes off, put on hiking socks and take a measurement of your feet. I am not only looking for length here, but on the shape, volume, width and any external issues such as a collapsing arch, bunions or the like.
From here I normally bring out two to three options. While some shops have dozens of boots and shoes on the wall, normally only a handful will be the right shoe for your level of activity and for your foot shape. These options will be typically larger in size than your everyday shoes, as we need to create room for your toes, while locking your foot in place through the heel and mid foot. To help judge this, I pull out the insoles and ask you to step on them with your knees flexed forward.
This tells me two things. What your foot size is when you put weight through it, and if your arches collapse as you walk. If your toes stay between two thirds of a thumb and a thumbs width from the end, it is a good fit in length. If your toes are closer to the end, you can bruise them on the toecaps of hiking shoes, and if they are further away, your foot will be fighting the flex point of the footwear which can lead to bruising of the muscles underfoot. Finally, if your feet swamp the sides, you'll generally need a wider fit.
If you pass this initial test, I ask you to securely lace up your footwear and go for a bit of a walk around the shop. After this initial wander, and if it feels comfy, there should be steps or a slope available where you can walk up and down. Walking uphill checks to see if your foot is locked in in the heel. If your foot is slipping inside, not only can you run the risk of blisters, but your foot will move independently of the footwear and the ankle support will be pointless.
Then, on the way down, are you touching the front with your toes? If you are, you will damage your nails and find walking painful, as your feet swell with more activity and this pressure will only get worse. Finally, plant your foot firmly on the ground and see if you can shift your foot side to side internally. If there is movement, the shoe might be too wide or have too much volume. However, if you aren't touching the end with your toes, heel feels secure, your foot is locked in throughout but your toes are comfy, it seems like you are onto a winner!
These tests normally rule out the majority of options, till one is left. If you find that no shoe or boot succeeds in answering these questions, then it is worthwhile looking elsewhere. Often it will be a case of not having a particular brand or model in store in your size. While frustrating for you, I don't want to put a pair of shoes through the till, while knowing you'll be in pain or discomfort and possibly injure yourself on a day out.
This has the knock-on effect of giving you confidence in us as a shop of having your best interests at heart, and hopefully you'll then return for other purchases knowing that we won't try to exploit you.
If you are in the lucky scenario where a shop has not only not options that both work for you, then a few other factors can help you decide. It's at this point where the suitability of the sole, the waterproofing, ankle support and costs can be helpful.
Deeper lugs with more spacing is great in muddy terrain, where you can get better grip. But, if you do a lot of walking on hard ground, can wear away the outsole pretty quick. If you have weak ankles, know you will do a lot as ascents and descents, and like the security of ankle support, then a higher ankle cuff will be useful. If you are lucky enough to live somewhere that is as wet as here in Cumbria, then a quality waterproof membrane or full leather grain will be vital in avoiding soggy feet.
And if you still can't chose, then saving £10 here can go toward a nice mid layer…
Hopefully this walk through of my process has helped you choose a new set of footwear, but my best advice would always be to turn up in store with your hiking socks, lots of time and an open mind to experimenting till you find the right fit.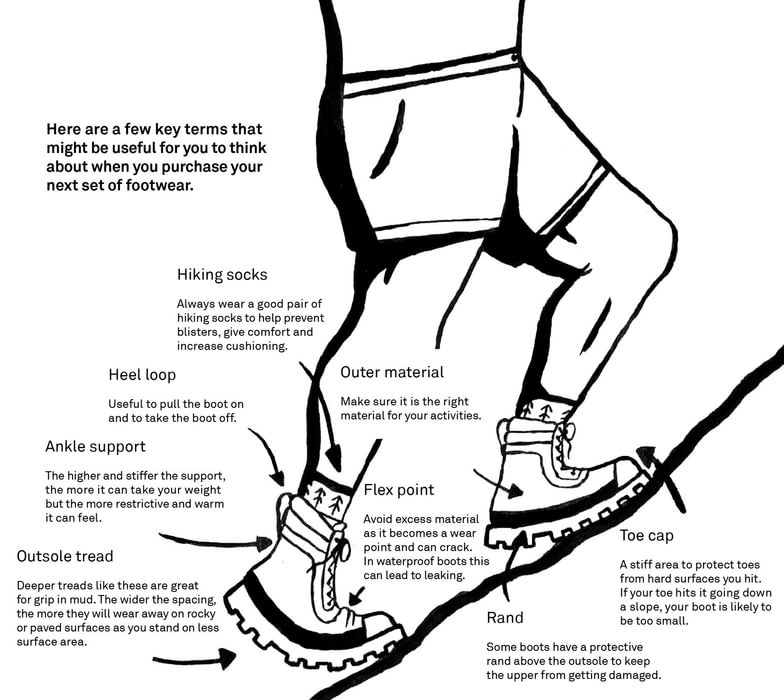 To read more articles like this get our newsletter
Sign up today for a 20% discount on your next purchase. Join over 30,000 enthusiasts from around the world. If you don't love our mix of new books, articles, offers and competitions, you can unsubscribe at any time. We will never spam you, sell your data or send emails from third parties.